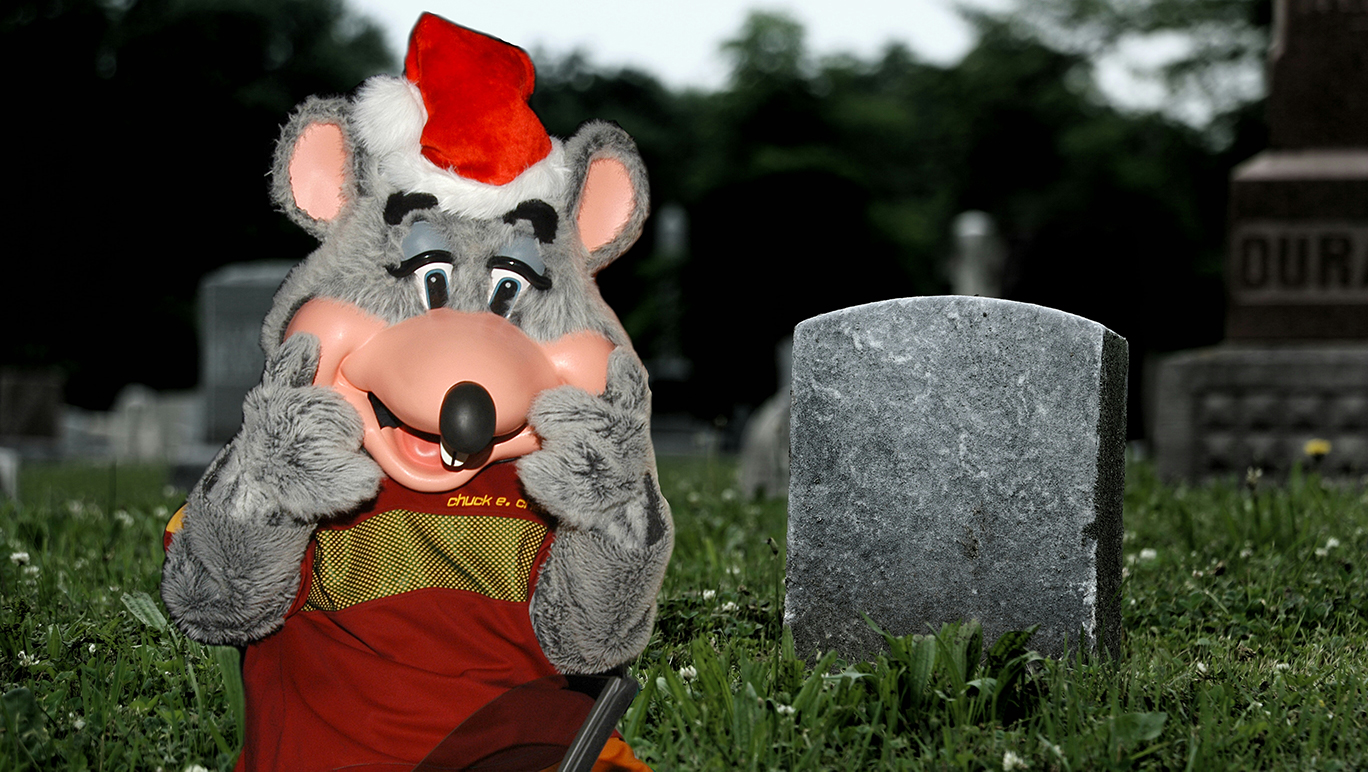 Credit: Getty/Mark Sullivan/Edgar Bibian
Whether you've begged your parents to take you or been dragged there as an adult, just about everyone has a strong reaction at the mention of the infamous Chuck E. Cheese, the mascot mouse of the food/entertainment empire of the same name.
This musical rodent has been the host of thousands, if not millions, of children's birthday parties over the decades, but what many don't realize is that he has a unique and surprisingly dark backstory of his own—not like Five Nights at Freddy's dark, but it may very well taint some childhood memories.
You see, there's a surprising amount of Chuck E. Cheese lore on Wikipedia, and a recent viral tweet did the honor of bringing that to everyone's attention.
Is this origin story … widely known? pic.twitter.com/UMF7gkSbge

— Siddhartha Mahanta (@sidhubaba) August 19, 2019

According to this source, Chuck was raised as an orphan from a young age at St. Marinara's orphanage (this is sad—you're not allowed to laugh), but his birth certificate was lost. As a result, he's never known what his actual birthday is, which is why he makes such a big deal about them whenever they're celebrated at his establishment.
Sure, Wikipedia can be edited by anyone, but as it turns out, the original source for the story is a children's picture book produced by the company itself—it is 100% true, and surprisingly even more sordid than the take over on Wikipedia.
In the book, Chuck Entertainment Cheese (seriously) uses music as a coping mechanism for his hardships at the orphanage. After winning $50 from a Pong tournament though, Chuck finally runs away from his awful upbringing to try and make it in New York City.
There, he stumbles into the kitchen of a pizza restaurant where decides to set up shop as his new home. The place is filled with the scents of Chuck's favorite food and the owner, Pasqually, sings all day, providing the sad little mouse with one shred of musical happiness to which he can desperately cling.
But because ol' Chuck can't have nice things, he's eventually discovered by Pasqually, who corners his new rodent resident with a rolling pin. In a last-ditch effort to save himself, Chuck starts singing, which stops the pizza chef in his tracks.
"A mouse that can sing? My restaurant is saved!" he shouts in a blatantly stereotypical Italian accent, "I'm a-gonna make you a star!"
So Pasqually tosses Chuck onstage, where he proceeds to completely bomb (this is a depressing-as-hell story, guys—I told you). Music, the one thing that gave Chuck hope in his wretched life, looks like it's going to be just another dead end.
But just as the crowd is about to boo him offstage, Chuck sings a rendition of his favorite song, "Happy Birthday," and everyone is impressed! Returning to the restaurant, Chuck and Pasqually decide to team up and take their talents to California to start their very own pizza chain together.
See? The light at the end of one very, very long tunnel.
So, next time you walk into the loud, colorful hellscape that is Chuck E. Cheese, reflect on the long road of toil and hardship it took to build that place, admit that your life really isn't so bad, and then take a sweet dive into that highly questionable ball pit.