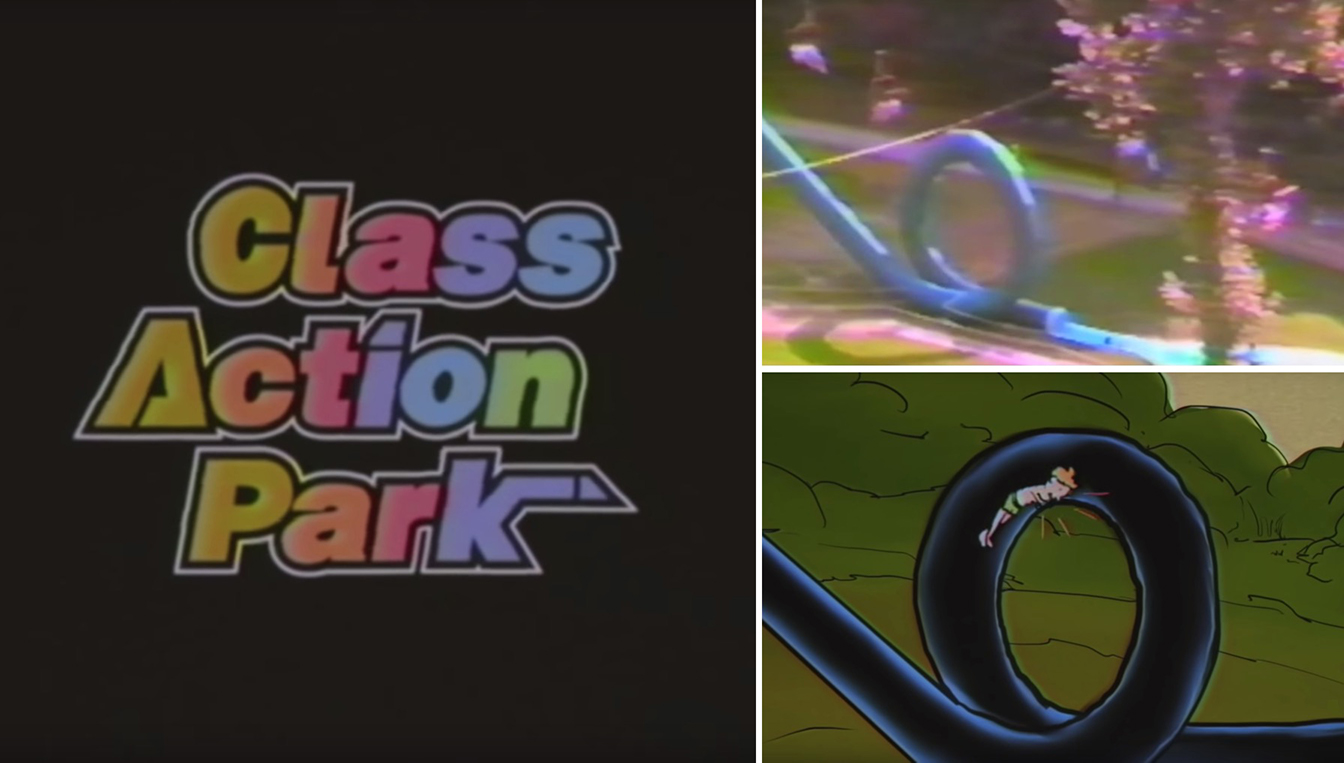 Credit: Class Action Park
Most people have experienced worrisome thoughts about something terrible happening while at an amusement park, but what if horrible accidents were exactly what a park was known for?
The upcoming documentary Class Action Park is diving into the grim legacy of Action Park, an infamous waterslide park in Vernon, New Jersey that is now a legendary piece of history. Sports Illustrated described it as "Jackass-meets-Disneyland for East Coasters."
In a time when there's a warning label for just about everything, it's pretty hard to imagine a place like this ever existing… but hey, it was the '80s.
The grainy VHS-style trailer points out many of the insanely dangerous attractions featured in Action Park, including the ridiculous Cannonball Loop water slide which left many a kid with bloody noses or missing teeth. Many former park-goers recount the rickety rides and how they looked like they were assembled by the very teenagers running the park.
Interestingly, though, it was the risk of life and limb that made the experience that much more alluring. Half a dozen people literally died at the park but many survivors still remember the place with a strange degree of fondness.
One Twitter user claimed he loved it so much, he even went back for a job.
I went as a kid and survived never knew why my parents were so freaked out. I started working there when it turned to mountain creek. I ended up as a 17 year old breaking a guys arm on the ski lift because I probably shouldn't have been doing that at 18. But loved working there!

— NavHazard88 (@navhazard88) September 24, 2019
This isn't the first time Action Park has been featured onscreen, though. Johnny Knoxville starred in a theatrical, comedic version of the park in his film Action Point, which featured similar takes on many of the risky rides but didn't include any of the park deaths.
Class Action Park appears to be avoiding the comedic approach and showing the attractions for what they really were: Dangerous, ridiculous, and downright unforgettable.
There isn't a set release date for the documentary yet, but for those who want to stay in the know and check out additional promotional materials, check out ClassActionPark.com.