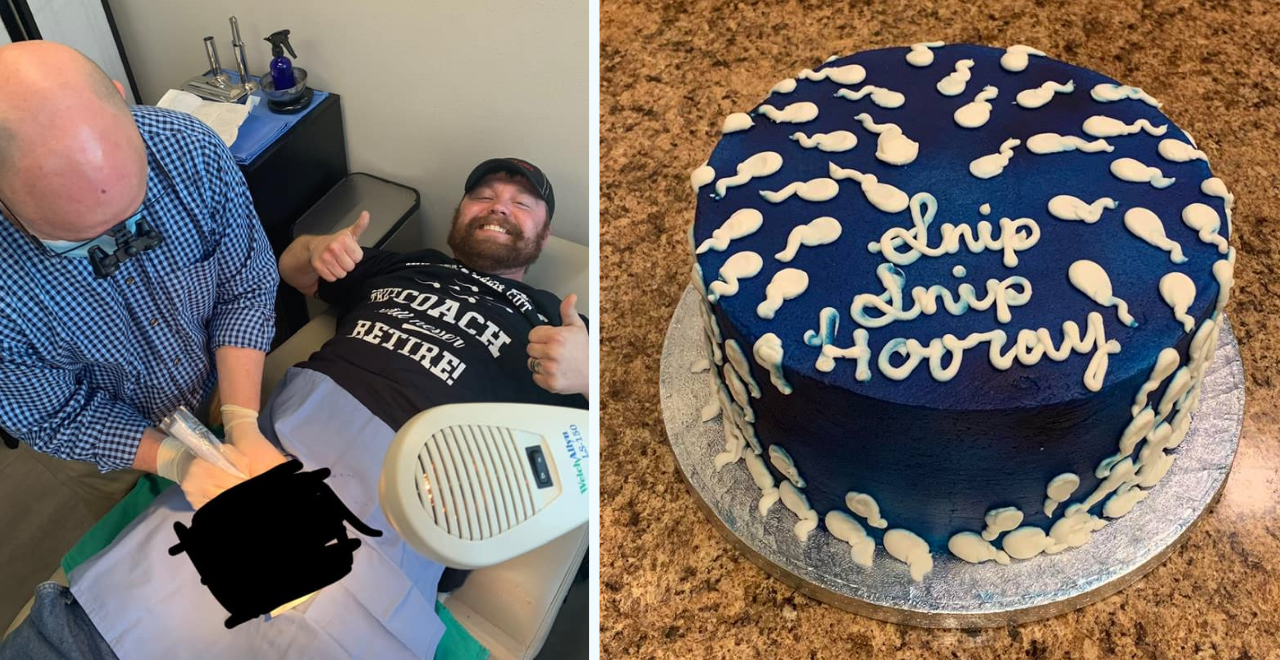 Credit: Facebook/Leah Randall
Every life contains a few major milestones that deserve celebration, and everyone agrees. We all celebrate our birthdays and our graduation days, we throw major bashes for our wedding days, and certain anniversaries get some shine. These are universally accepted milestones for which a cake, some decorations, maybe even some presents are standard accouterments. These days receive special recognition for good reason: they are major landmarks! They signify the end of and beginning of new stages in one's life.
For one family, they decided to add a new day to the mix. And it's definitely – if all goes well – the end of something.
Leah Randall and her partner Willie Randall have three kids together, and to them, that's plenty. Willie scheduled himself a vasectomy to ensure there would be no more "swim team survivors" in him and his wife's future. To mark the occasion, they threw a "Snip Snip Hooray!" party. Complete with a sperm cake. Sorry, sperm-DECORATED cake. No actual sperm was harmed during the baking of the cake. If any sperm were harmed, it was before the cake part. During the vasectomy.
The party included custom t-shirts for the three existing kids that read "Swim Team Survivor" and their birth year (Leah told UNILAD that their conception year might have made more sense), while Willie himself wore a shirt – to the procedure, no less – with "The swim team may have been cut, but the coach will never retire!" on it.
They didn't come up with the idea of a vasectomy party themselves but that didn't stop them from enjoying themselves.
"I saw the idea a couple years ago and thought it was fantastic! I wanted to make it a celebration for him since he's taking one for the team and I was thankful. Plus, it's a great excuse for some delicious cake!" Leah said.
She created a Facebook post featuring pictures of the actual procedure – don't worry, the naughty bits are obscured – Willie and his kids, and the aforementioned sperm cake and captioned it We have some exciting news!"
It has received over 10,000 likes and 37,000 shares, which is hopefully 37,000 more shares than Willie's sperm will receive from now on.