Creative Uber Driver Offers Special Menu for Curated Rides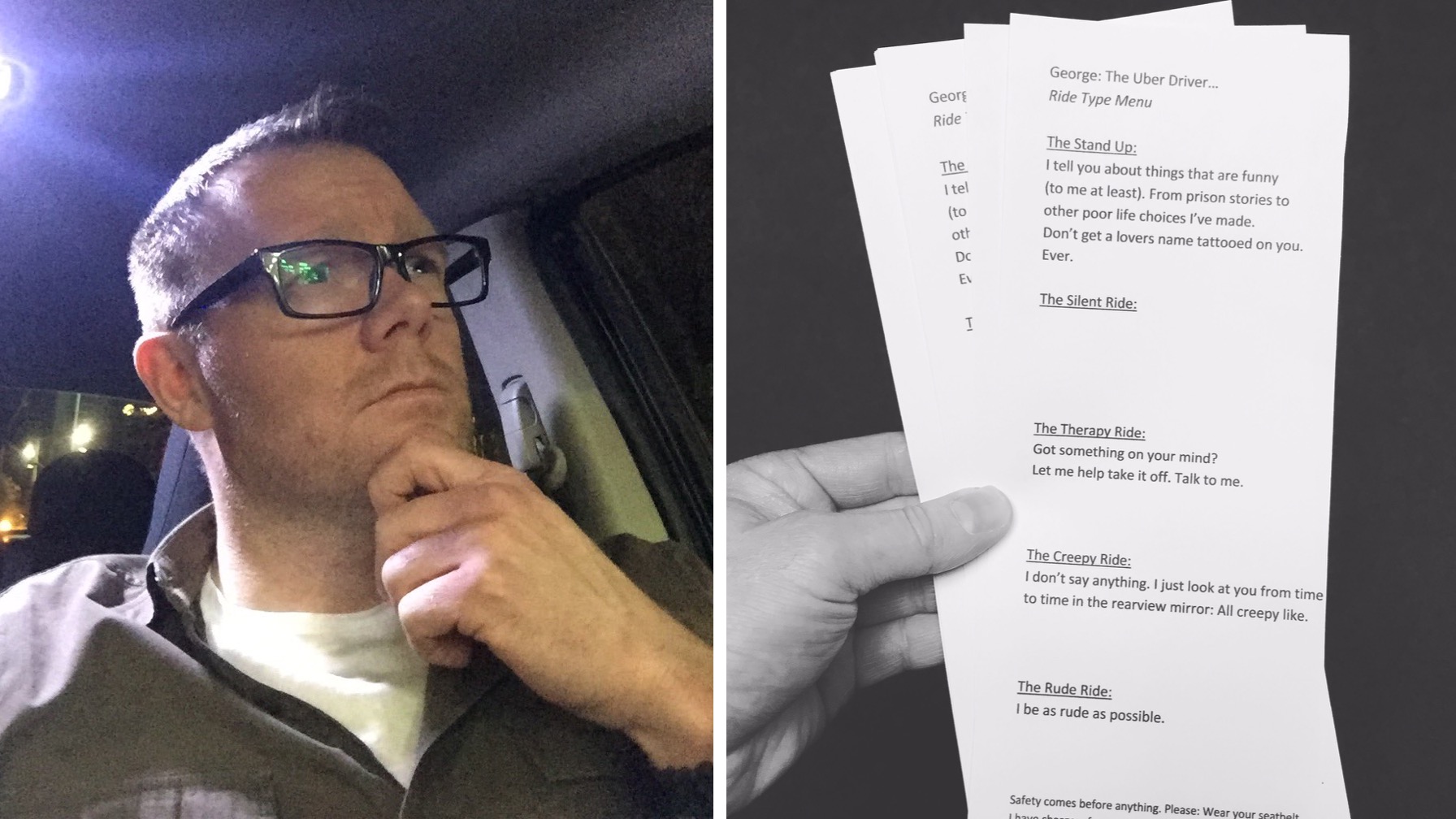 Personally, any Uber driver who offers me a phone charger, zero conversation, and any genre of music besides smooth jazz is getting five juicy stars from me.
However, not everyone shares my preferences when hopping into a car with a stranger. That's why "George: The Uber Driver…" came up with the ingenious idea to curate a personalized menu for his guests whenever he pulls up for a pickup.
When Twitter user @LuisLovesGoats was handed the innovative piece of paper, he couldn't help but share it with his followers.
last night my uber gave me a menu on what kind of ride i wanted , pic.twitter.com/SMBBV4kVpu

— Łuí (@LuisLovesGoats) February 25, 2019
The diverse menu included five attractive options: The Stand Up, The Silent Ride, The Therapy Ride, The Creepy Ride, and The Rude Ride.
Luis, feeling a bit low that day, promptly ordered The Therapy Ride, and George must have been a good listener because Luis couldn't stop raving about it.
i've been trying to message George about this so he's aware of all the love this is getting but Uber doesn't have that option so i'm over here like pic.twitter.com/LT35DWQtzK

— Łuí (@LuisLovesGoats) February 26, 2019
Luis spent much of the following day trying to track George down in order to share his newfound fame but Uber, understandably, makes it hard to find past drivers.
Fortunately, George stumbled across the viral post himself and started his own Twitter account, which his buddy and number one fan promptly shared to his followers.
@uber_george GUYS THIS IS GEORGE !!! HE SAW THE POST ONLINE AND MADE A TWITTER. HE DESERVES ALL THE LOVE <3 <3 <3

— Łuí (@LuisLovesGoats) February 26, 2019
George is now tweeting to over 7,000 followers, sharing additional fun aspects he plans to add to the riders' experience in his Uber. He also tweeted about the viral experience:
I'm so happy that my menu is making so many people laugh. It is humbling and exciting to see this all over the Internet. Special thanks to @LuisLovesGoats for posting, @mccurly911 for letting me know this went viral, and @Uber for the awesome employment. ????????????☝️

— GeorgeTheUberDriver (@uber_george) February 27, 2019
More clear view of my menu… pic.twitter.com/ZWDVl44h1o

— GeorgeTheUberDriver (@uber_george) February 26, 2019
Which ride are you going for if George pulls up as your driver?