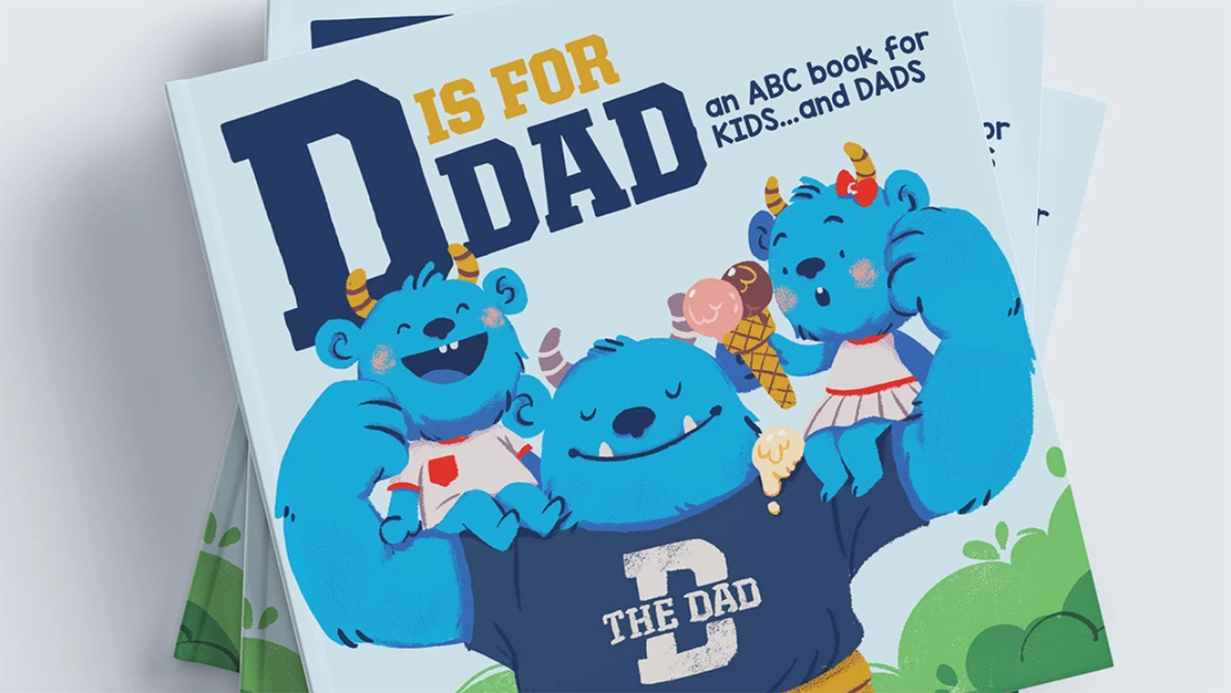 Credit: The Dad
The Dad is all about building a positive community and celebrating modern fatherhood in all of its wonderful, messy glory, and what better way to connect and bond with your son or daughter than by reading together?
Enter: D is for Dad.
This new alphabet book has been specially curated to help your little tikes learn their ABC's along with some primo dad humor along the way.
"There are a bunch of ABC books out there, but none of them are quite dad enough. So we set out to make the daddest ABC book ever made," said Joel Willis, The Dad executive editor and co-author of D is for Dad.
"It's a mix of classic dad jokes, dad-isms, and some sentimental stuff. So dads (and anyone for that matter!) can read the book to their kid and teach them the ABCs and Dad 101 at the same time."
Sure, reading and spelling are important but imagine the pride and joy you'll experience when you hear your toddler mutter, "Nice to meet you, Hungry. I'm dad."
"This book perfect for dad/kid bonding time," commented Ally Probst, deputy editor for The Dad and co-author of the book. "It's funny but it also sends the message to the child that they are loved and their dad is always there for them. That's what reading together is all about, and that's what parenting is all about."
And don't be afraid to grab it for an up-and-coming dad-to-be. While he might not be helping anyone learn their ABC's anytime soon, D for Dad includes tons of dad fundamentals that he needs to know, like what he needs to do with that finger.
While the writing is chock-full of delicious dad humor, what makes the book really pop are the wonderful monster illustrations by Cambridge artist Daniela Sosa.
"When doing the character design, we wanted to make the Dad character relatable for everyone, so we decided to go for a creature/monster instead of a human character," Sosa explained.
"In the end, we went for a big, somewhat bulky body shape to show how dads are perceived by their kids: big, strong, and with huge hands that can lift anything. In contrast to his body, his face is friendly and warm to show his caring nature. As for clothes, this was an easy choice – cargo shorts!"
"As a dad myself, I remember looking for books that I could read with my daughter that I would find fun, too, and that was tough," remarked co-author Dave Campanaro.  "There are lots of great kids books for kids… but not necessarily a lot of great kids books that dads will enjoy just as much. That's what we think we've created."
So, if you're ready to educate some kids and delight some dads along the way, D is for Dad is available for preorder right now at shop.thedad.com/collections/bookstore!
While you're there, check out our other brand-spanking-new products, too! We have a revamped version of the popular Dad-isms day calendar reformatted for the 2020 calendar year as well as a sultry new monthly calendar called "The Objects of Dad's Desire" (hey, we can't always be kid-friendly, right?).