Dad and Son Share Humiliating Viral Story That Will Crack You Up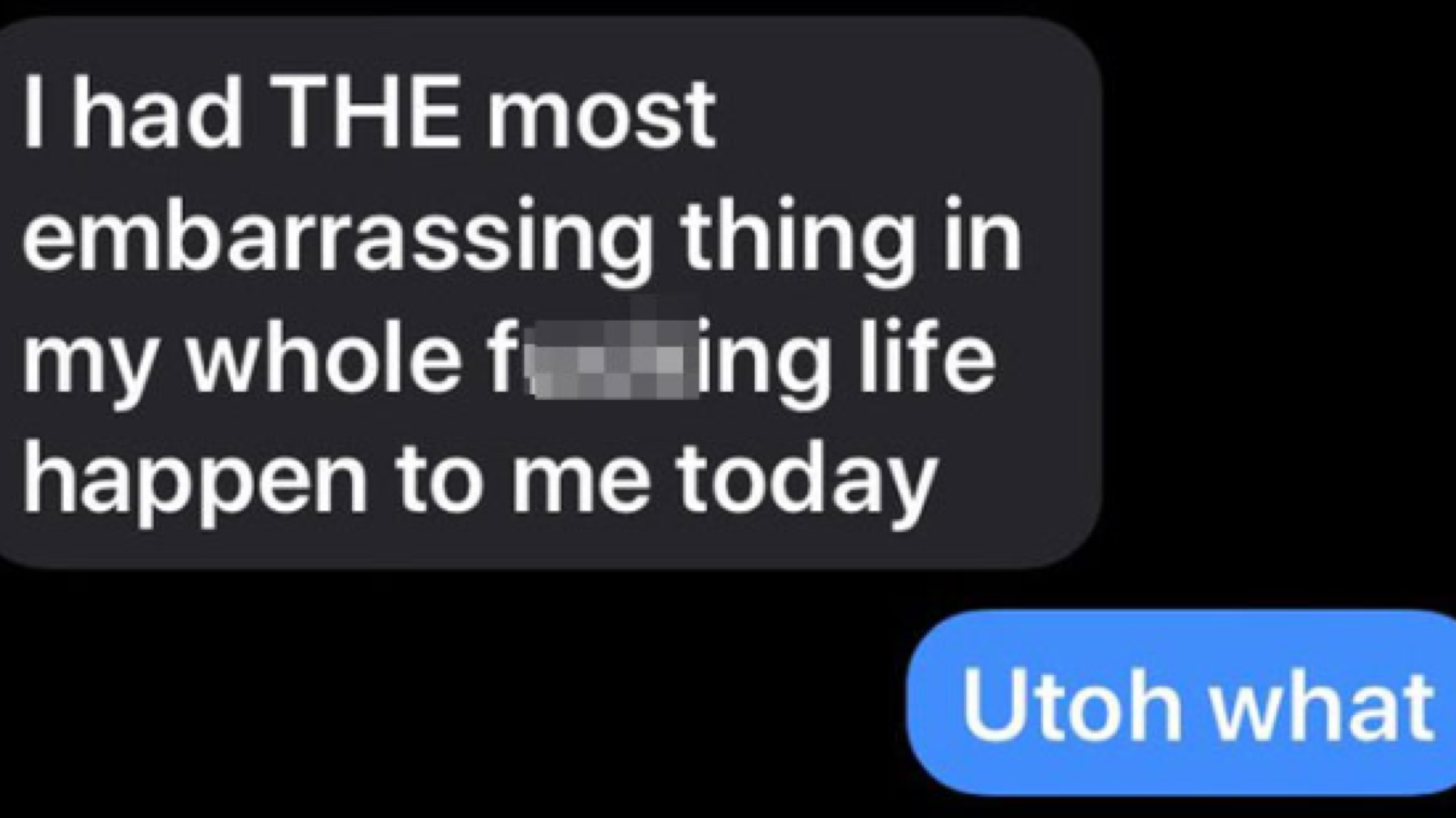 It's only a matter of time until you have a humiliating experience in public. The best thing you can hope for is to have good people in your life to support you (and maybe laugh at you a little) as you deal with the consequences.
Fortunately, for Twitter user and dad Flyaway_k, his son, Zack, feels comfortable sharing such special moments with his old man. In a series of hilarious texts, Zack explained to his dad how he had worn some tighter than normal slacks to work as well as how they subsequently "exploded" off his body when he bent over.
Zack's dad, understandably thinking the story was hilarious, asked his son if he could share his incredible pants debacle with his thousands of internet followers and it has since gone viral, as it should.
Omg I thought I was having a day, this just happened to my son at work. I gotta get him on twitter😂 he fucking slays me! Idk where he gets it from.

(Yeah, he gave me permission 😎🍺) pic.twitter.com/H3HSXdmApL

— 🍺HereHoldMyBeer🍺 (@flyaway_k) December 30, 2019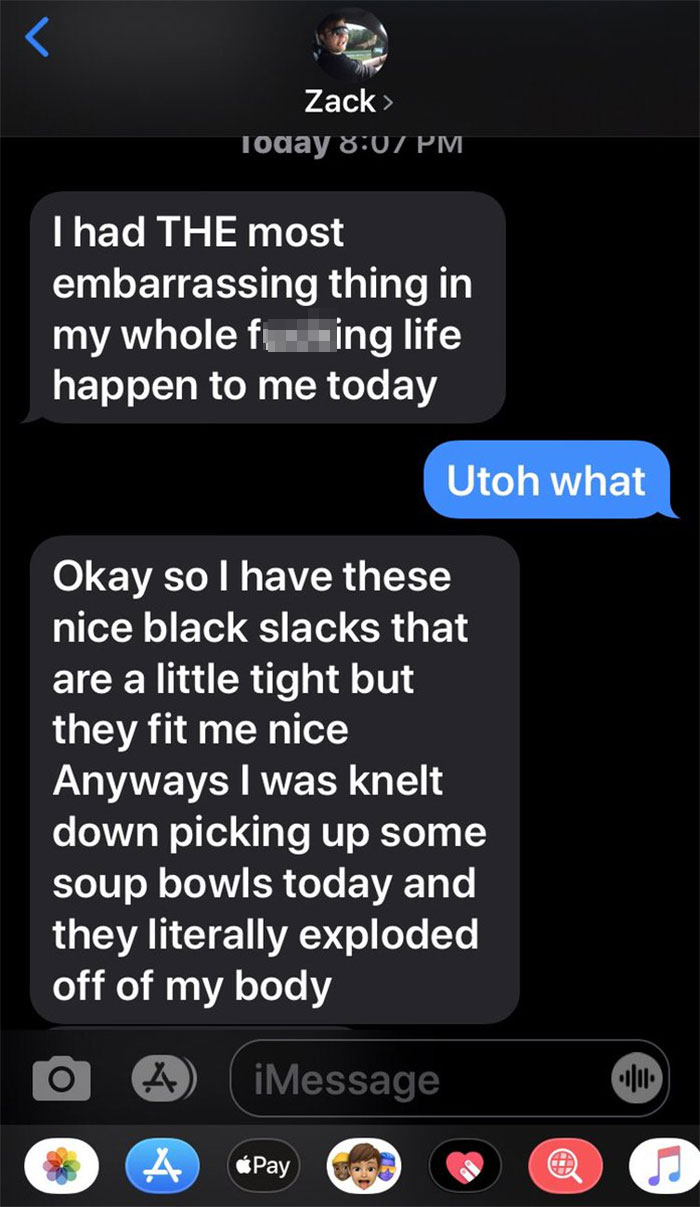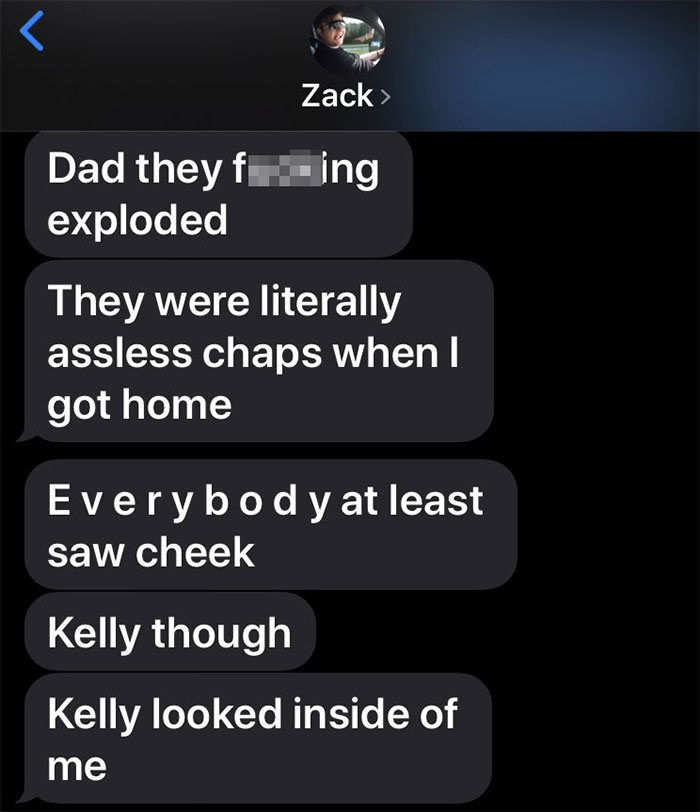 "My initial reaction was to look away from the light and take in some oxygen. Then I got off the floor and told all my friends," Flyaway_k told Bored Panda about his initial reaction after reading son's messages. The pair are clearly thick as thieves and have grown up making each other laugh.
"Twitter's reaction parroted my reaction, which sent me back into the phase 1 fight for my life. It's living on the edge, but this is how we survive the perils of everyday life, by laughing our asses off. My son certainly seemed to grab ahold of this philosophy growing up. That's why he's [so funny]."
"I was a crazyish single dad for much of his childhood so, suffice it to say, he's seen some shit that would blow your hair back," Flyaway_k continued about how well they've learned to adapt when such situations arise in their family. "After all the things we've been through and seen together, we're utterly unshakable at this point in embarrassing situations. If I know him, and I do, he went straight back in there with a sufficiently shielded asshole and made jokes about it the rest of the night. I haven't heard any coworker stories yet, unfortunately, but maybe that'll be a way to keep the story alive later."
"The world needs laughter right now more than ever before, and we're just trying to contribute around here."
I'm sure Zack probably would have preferred the laughs come from something else besides his bare ass in a Panera Bread, but it's hard to be picky in times like these.