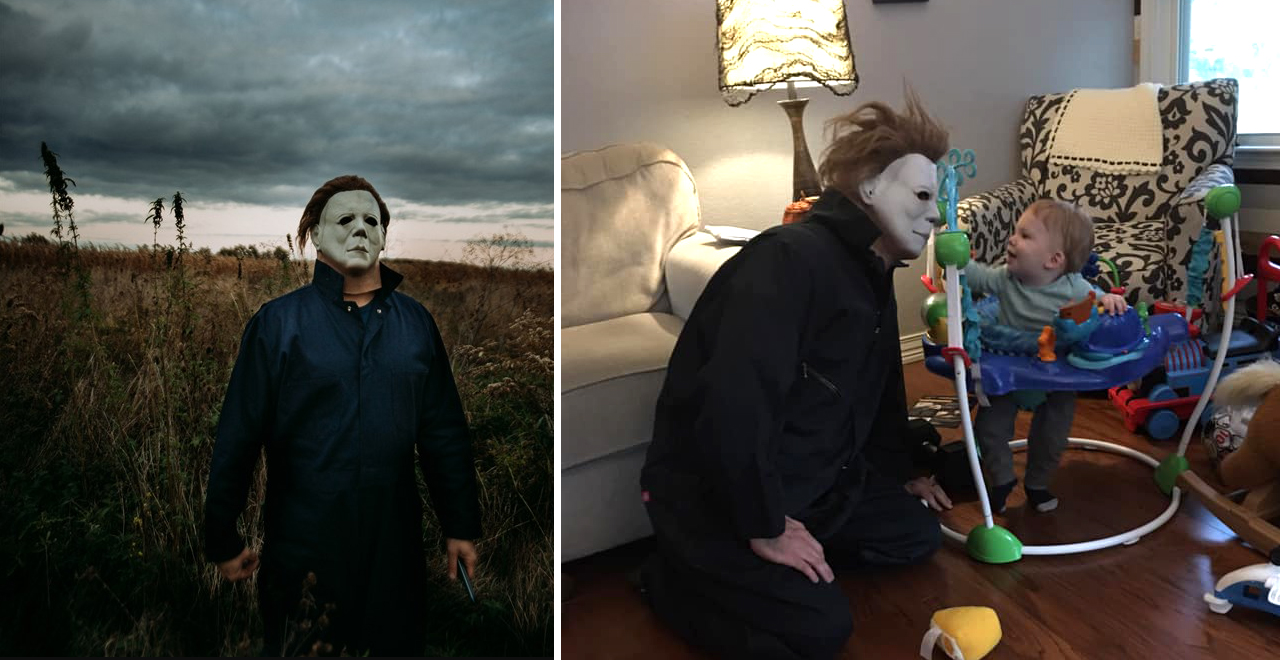 Credit: Facebook/Michael Myers of Decatur /Whiskey and Wine Photography
In my house, my wife is the Halloween person.
Every year, she and my son decide what they're gonna be for Halloween, and then me and my toddler are drafted into service to help complete the theme. My toddler loves it, and I mostly grin and bear it, especially if my costume requires some ridiculous wig or face paint. Which they almost always do.
In Evan Zimmerman's house, he is the one must gung-ho for Halloween, and he doesn't bother doing the cutesy thing. He goes for full-on terror. His three kids don't seem to mind but his wife isn't exactly thrilled about it.
In a Facebook video that is going viral, Sabrina Zimmerman lets her true feelings about her husband's predilection for Halloween horror come out. She was driving home from work and she spotted Evan out in the neighborhood, riding a bike with a toddler wagon attached to the back. And he is in full costume.
The man dresses up in a jumpsuit and Michael Myers mask, and I don't care who's wearing that get-up, it never stops being creepy. Her exasperation at his antics is almost funny enough to dull the fear of seeing him in costume.
"What the hell are you doing?" she asks, following it up with and equally annoyed, "Oh my god, are we those people now?"
Staying in character, Evan doesn't respond, he merely stares at his wife for a moment before pedaling way. It's effective, to say the least.
"There's something about Michael with the white face and the way he walks," Evan, 36, told TODAY Parents. "He creeps people out more than anybody."
"I'll stand in random peoples yards and look at them through the window until they notice me standing there," Evan revealed. "I carry a fake butcher knife."
Recently he was threatend by a man who said he was going to shoot him.
But it's his wife who seems to be his main victim. She captioned the video – which has 5 million views and over 160,000 shares on Facebook – "Soooooo this is happening……can it be November yet!?!?🤦‍♀️🎃☠️Michael Myers strikes again🙄"
Apparently, Evan has been donning his Michael Myers outfit for quite some time.
"I've been doing this costume since 2012, but this is the first year she recorded me," Evan said. You'd think she'd be used to it. But I don't think that mask ever loses its impact.