For many of us, COVID changed the way we work, the way we socialize, and the way we stay entertained. The shift was especially difficult for parents trying to balance work and parenting simultaneously, keeping kids focused on remote learning and still staying productive. Out of necessity, families have found new ways to have fun at home and for some, this spur-of-the-moment creativity has led to incredible results – projects that never would have happened without a bit of desperation.
Alex and Jacqueline Zane are both attorneys, and early on in quarantine, they developed a system for balancing work and parenting. Alex would care for their two kids in the morning while Jacqueline worked, and in the afternoon, they'd swap. One morning when Alex Zane was scrambling for ways to entertain 5-year-old Matilda and 1-year-old Holden, he was hit with unexpected (but extremely welcome) inspiration.
"I desperately needed activities and structure to maintain my sanity and get through the days," Alex Zane told The Dad. "At one point I lugged a large plastic car inside the house for my kids to do a car wash with in the shower. They loved it but of course it took me a few weeks to bring the plastic car back outside. The plastic cozy coupe sat in our living room for a week and one day Matilda climbed on top of it and tried surfing. Something clicked and I was reminded of Teen Wolf and Mike J Fox surfing on top of the van."
Zane taught Matilda the proper way to play air guitar, then snapped a photo of Matilda on top of the Cozy Coupe. Zane sent the photo to his friend Andrew Kelly, a photographer with expert Photoshop skills.
"I asked him if he could make her look like a werewolf. Without any follow up questions or hesitation he immediately transformed her into a werewolf and we posted it on Facebook. We got pretty good feedback and we decided we'd try to do one a day five times a week. We somehow did that for eleven straight weeks."
View this post on Instagram
Since the pair started their creative journey, Matilda and her dad have recreated over 80 iconic movie scenes and accumulated nearly 40,000 followers on Instagram. The duo's creations are both nostalgic and brilliant (and on a $5 prop budget per shoot, with Matilda's mom stepping in as the on-scene hair and makeup expert), inviting the next generation to appreciate some of the best films of all time.
View this post on Instagram
"It's fun to try and figure out a way to kidding an unsettling scene and suck all the weight and dread out of it," Zane explained. "The best part of this is getting to introduce Matilda to some 80s and 90s classics that age might have otherwise missed – she's pumped when her scene pops up in a film. We pause it and she screams and screams."
View this post on Instagram
Scrolling through Zane and Matilda's Instagram page (which you absolutely need to do), it's immediately evident that some scenes aren't exactly – uh, child friendly. And as kids do, Matilda asks seemingly endless questions about each scene. Zane has expanded his creative range outside of the photos themselves, weaving stories that seem plausible enough to a 5-year-old to end the line of questioning.
"One time she was showing a cousin some of the photos and I heard her say 'thats about a wizard who took his mouth away …' I had to look over to realize she was telling them about The Matrix. I can't stress enough that she thinks silence of the lambs is about a man who accidentally dropped a quarter down a well…"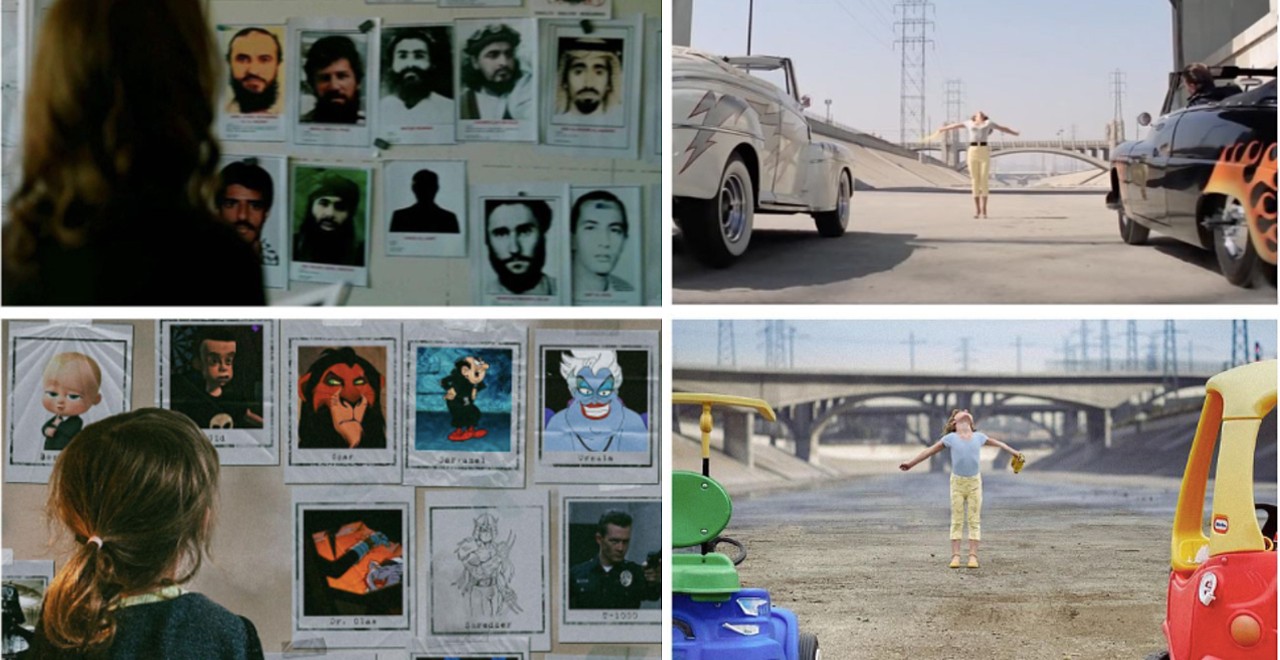 We truly cannot get enough of these photos, and fortunately, the Zane family is still going strong.