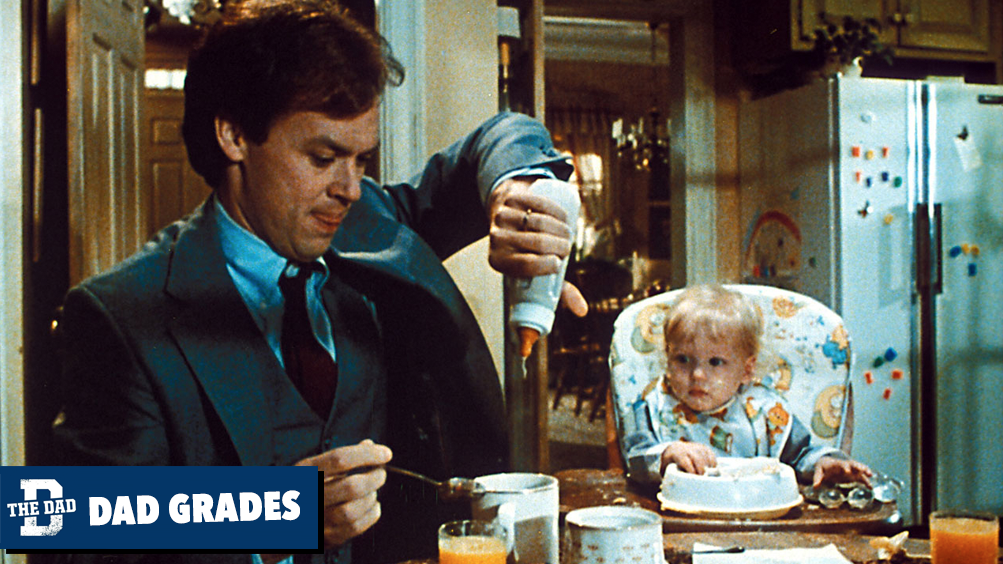 Credit: 20th Century Fox
1983 was some year. Mario Bros made its debut at an arcade in Japan. Motorola made mobile phones available to the general public. And all across America, moviegoers were busting guts and slapping knees at the idea of a man doing… l-l-l-laundry?!? Welcome to Dad Grades for Jack Butler from Mr. Mom.
STRENGTHS
We feel it's important to judge Michael Keaton's character within the context of his time. The movie's premise is rooted in the antiquated, quite sexist notion that women, not men, should treat home as a natural domain. It's worth noting that John Hughes wrote this movie in the thick of a downturned economy, as more and more women shook the shackles of traditional gender roles and entered the workforce.
With that in mind..
WOW!
Check out this Super Dad! Grocery shopping? Don't mind if he does.
Vacuuming? Good heavens. That's incredible, and certainly not the lowest possible bar that could be set.
You may be thinking to yourself, "Hey now, grocery shopping AND vacuuming? This is just one guy, right? Surely no one man could wield such maternalistic aptitude."
I hope you're sitting down. He also gives them a bath.
The stay-at-home dad was virtually unheard of in 1983, making the character of Jack Butler quite difficult to assess fairly. Thirty-some years later, stay-at-home dads are commonplace, and no clean dishes, folded laundry, or braided daughter hair should conjure the feelings of emasculation that Mr. Mom mines for laughs.
Wait, did we mention he changes a diaper? Amazing. Every other dad is competing for bronze at this point.
WEAKNESSES
It's difficult to pinpoint the weaknesses in Jack Butler. The movie itself is built on domestic incompetency; Jack does not possess the rudimentary parenting skills of a dude whose wife works. The man is a brilliant engineer, but a disastrously inept stay-at-home father.
Picking him apart for flaws is pointless. The movie's plot is his flaw. Look. Look at the way he's warming up this grilled cheese.
We get that you're trying, dude. We really do. But even your kid knows that's not what an iron is for.
Worry not though – by the end of the movie Jack shapes up and ends up owning his role as the house spouse.
VERDICT
Obviously, no one is batting an eye at this behavior in this day and age. Oh, you shoulder the basic responsibilities of parenthood, rejecting the archaic, chauvinistic idea that your wife should be relegated to the position of homemaker? Cool. No one is hoisting you up on their shoulders for bare-minimum fatherhood in 2019, guy.
But in 1983, this shit was groundbreaking.
FINAL DAD GRADE: B+
Check out our previous edition when we graded Sonny Koufax from Big Daddy!