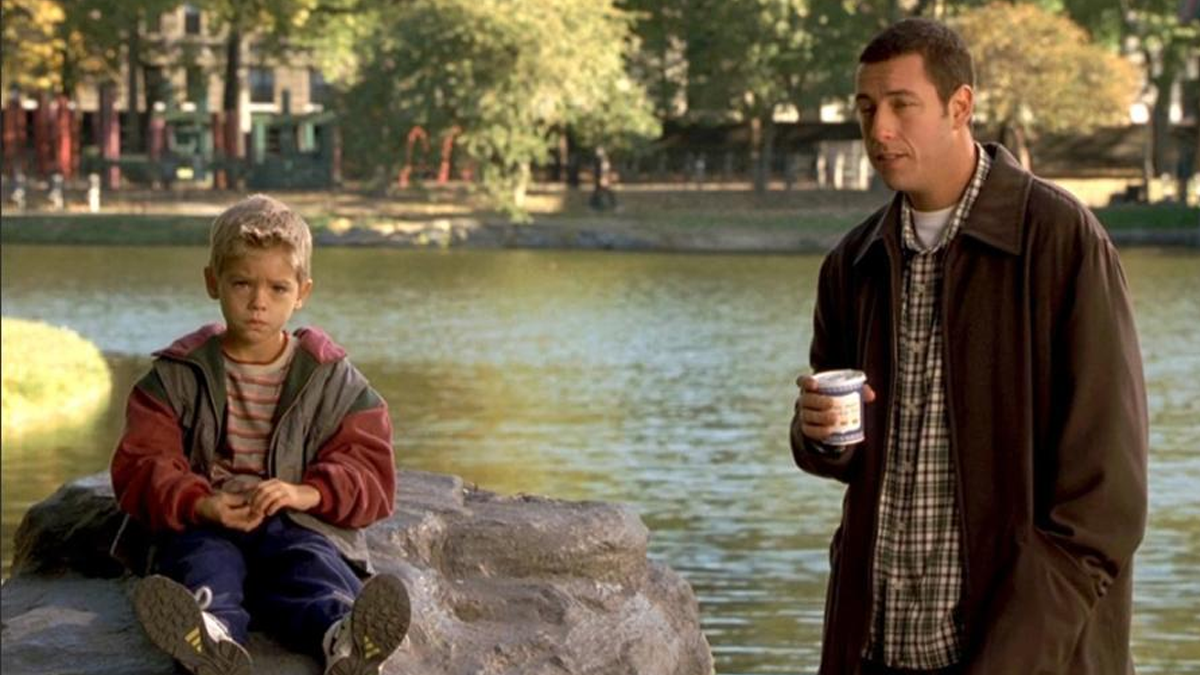 Credit: Sony Pictures
In 1999, Adam Sandler starred as Sonny in the box office smash Big Daddy. In a desperate attempt to convince his ex-girlfriend he's responsible, Sonny adopts a kid named Julian, played by Zack and Cody from The Suite Life Of Zack & Cody. How does Sonny do as a dad? Let's take a look.
STRENGTHS
The secret to being a good dad is one word: attitude. Some guys huff and puff and kick dirt when presented with the duties of fatherhood. Other guys make the most of it and say, "Hell yeah! I get to do dad stuff!" Sonny Koufax is the latter.
Case in point: Scuba Sam. When Julian refuses to take a bath, Sonny dresses up as the father of Scuba Steve, Julian's favorite toy. This proves to be more effective than simply yelling.
This deeply held attitude is on full display in the courtroom scene when Sonny fights tooth and nail for the custody of young Julian.
Sonny takes the stand and gets questioned by his own dad: a lawyer, gravely disappointed in his son, believing him to be the last guy on earth who should have a kid. Sonny manages to convince him and the judge otherwise, expressing an enthusiastic, gung ho approach to parenting.
"You can be scared that I might get pickpocketed in a bad neighborhood or break my legs skiing. But don't be scared about me being a dad, because I will not fail," he tells daddy Koufax.
This is the sort of determination we like to see in a dad.
WEAKNESSES
When we first meet Sonny, he is irresponsible, lazy, and anything but goal-oriented. When he's not working one day a week as a toll booth operator, he's either napping, lounging, or getting scolded by his dad for his unwillingness to take the bar exam.
Sure, he grows up by the end of the movie; but the immaturity and apathy initially weigh heavily on his parental instincts. When Julian spills milk or wets the bed, Sonny's gut reaction is to cover up the messes with newspaper.
When he and Julian miss McDonald's breakfast by a half hour, Sonny's anger issues are front and center. We at The Dad would like to give a resounding "don't do that" to yelling at service industry workers, especially in front of your children.
Sonny also loses points for the original motive behind this adoption. Do not, we repeat, DO NOT adopt a child to demonstrate maturity to an ex.
VERDICT
Despite his shaky start, Sonny Koufax proved himself to be a fully capable dad. Immature, yes; but we feel he's exhibited an eagerness to grow. Could probably stand to be less lenient. Can't say we recommend letting your kid pick their own names, especially if the name they run with is Frankenstein.
FINAL DAD GRADE: B-
Check out our previous edition when we graded Homer Simpson.