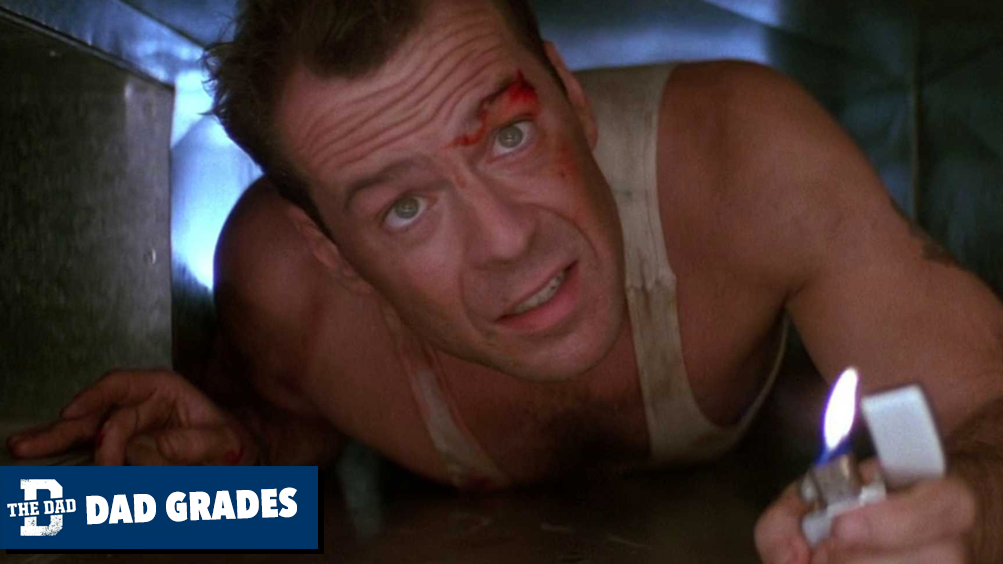 Credit: 20th Century Fox
You knew it was coming. The big one. John McClane, baby. Die Hard. Christmas movie. But hey, The Dad, can we really classify it as a— Shhhhh shh shhh sh sh. Do you wanna rehash the most tedious debate ever, or do you wanna see shit explode?
Whoa! Hell yeah!
STRENGTHS
John McClane is an NYPD detective with a Bruce Willis gruff in Los Angeles for the holidays to win back the affection of his estranged wife Holly, and give his daughter Lucy a big stuffed teddy bear.
Then there's a scene later on where Lucy is home with babysitter Paulina. She wonders aloud where daddy is, unaware he's busy besting terrorists in a fiery game of cat-and-mouse down at Nakatomi Plaza.
Their relationship isn't really explored until the fourth Die Hard. And that one doesn't take place on Christmas Eve. Soooo…
Fuck yeah! Bomb on the roof? Firehose around the waist? Shoot through the glass? Pump this shit directly into my veins, please.
What's that? Did you say bad guy down the elevator with the taunting threats of a former foe scrawled on his sweatshirt? Two questions: where do I sign, and give me the pen.
Oh man. That is so badass. Die Hard is a Christmas movie in that every consecutive scene is like opening a gift. Holy shit. Did you know they told Alan Rickman they'd drop him on "1, 2, 3, drop" but dropped him on 2? That look of fear and surprise on his face is genuine.
Oh and Alan Rickman. Alan fucking Rickman, ladies and gentlemen. Does it get much better than Alan Rickman? I submit to you that it does not.
Um, yeah, let me get another piping hot bowl of THAT. Who won Best Supporting Actor at the Academy Awards that year? Not even gonna look it up. If I look and it's not him I'll just get angry. Alright, I looked it up and it was Kevin Kline in A Fish Called Wanda. Not even nominated. Unbelievable. Can your precious Kevin Kline do THIS?
OH. And the scene where McClane is like WELCOME TO THE PARTY, PAL at the dad from Family Matters. Just describing this movie is fun.
Holy shit. So impossibly badass. Seeing here it wasn't even nominated for Best Picture. Did this so-called "academy" even watch this fucking movie? Too busy fawning over their beloved Kevin Kline.
Who names a fish Wanda. Anyways. What were we talking about. Oh right, Dad Grades. John McClane's probably a good dad, sure, fine, who cares. Here's the "yippee-ki-yay, motherfucker" scene.
DIE HARD: A+
Check out our previous edition of Dad Grades where we rated Clark Griswold from Christmas Vacation.