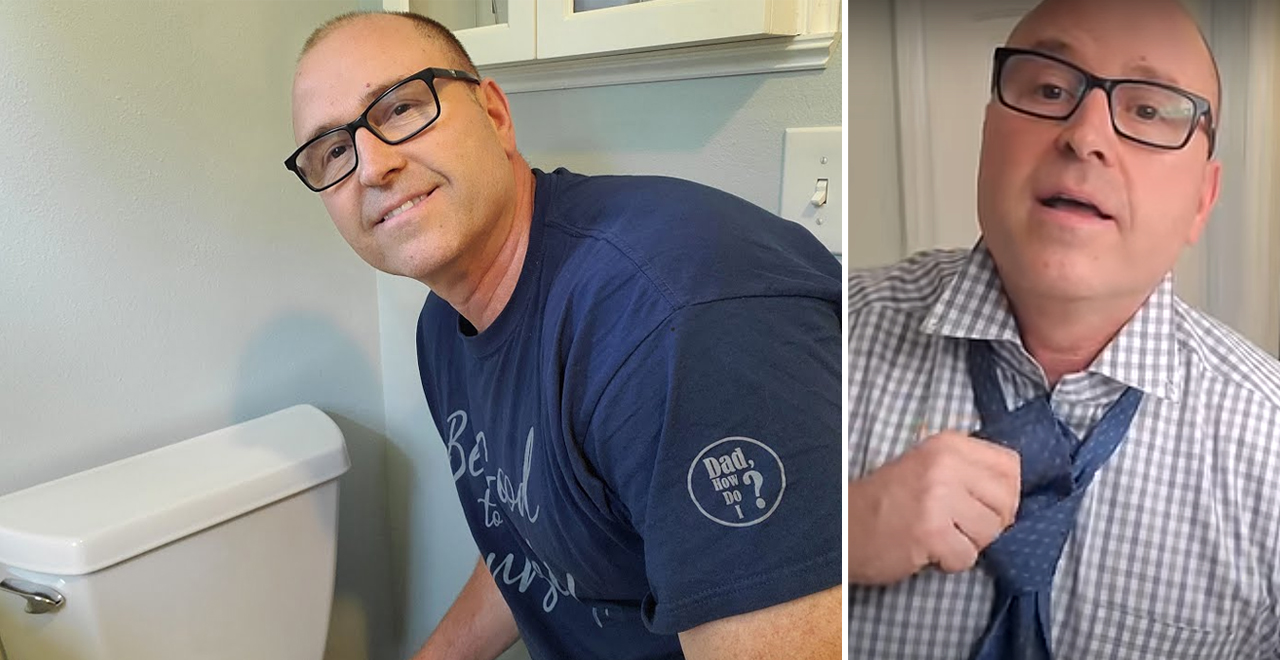 Credit: YouTube/Dad, how do I?
Dads are good at fixing things. (At least, many dads are. I am terrible at it and am failing my children.) Growing up with a dad who is handy and does do-it-yourself projects and enjoys trips to Home Depot can be a blessing, especially when that dad hands that knowledge down to his kids. My father is a lawyer, and growing up I learned a lot more about doing crossword puzzles than I did about checking my oil or building my own coffee table.
The good news is, we have the internet, and Google, and YouTube, and when I need to know how to fix something, I go online. And now, thanks to one compassionate guy who knows what it's like to need some help, you can learn some basic skills from a dad.
His name is Rob Kenney, and his dad left when he was 12. He never got the DIY knowledge many fathers hand down to their kids, so he decided he wanted to help make sure other kids who don't have that kind of father in their lives can get those skills from him.
He started a YouTube channel called "Dad, How Do I?" where he shares videos of his DIY tips that he calls "practical dadvice," and includes things like how to fix a running toilet, unclog a drain, and even tying a tie.
He had about 40,000 followers, and then a dude named Chris Hart shared his channel on Facebook.
Clearly he wasn't the only one who loves what Kenney is doing, as Hart's post went viral, and Kenney's YouTube subscribers blew up to over 951,000!
Kenney quickly shared a video thanking everyone for the incredible response he's received for his YouTube channel. He explains that he chats with his daughter and son every day about more than how to fix things, but also "how to manage your life and adulting."
He's obviously a tad emotional at the response – and at the time of the video he only had 400,000 subscribers, so he's probably, even more, overwhelmed now. Let's keep that going by heading over and subscribing now. God knows I can use the help, and I'm an "adult" dad myself!