Dad Invents Peanut Butter Pump and People Are Going Nuts [WATCH]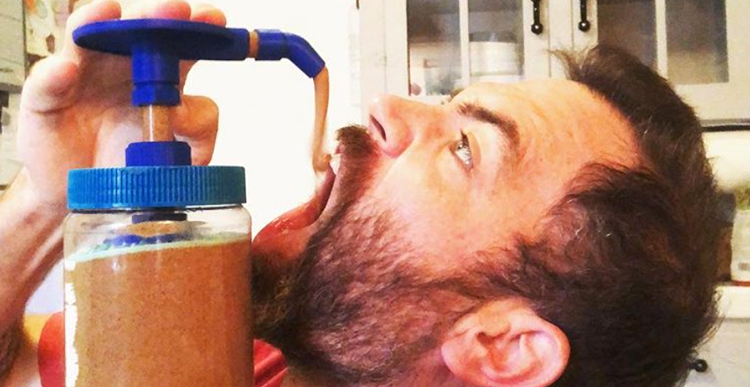 Get pumped, peanut butter fanatics! As if we needed another reason to fill our bodies with peanutty goodness, a new gadget is making snacking, sandwich-making, and any other peanut butter-related task an absolute breeze.
Sick of scooping out peanut butter the old fashioned way, Andy Scherer, a recently retired dad, and avid inventor designed and created the "Peanut Butter Pump." The Indigogo online fundraising campaign he launched last month to develop and distribute the product has raised an astonishing $75,000 to date.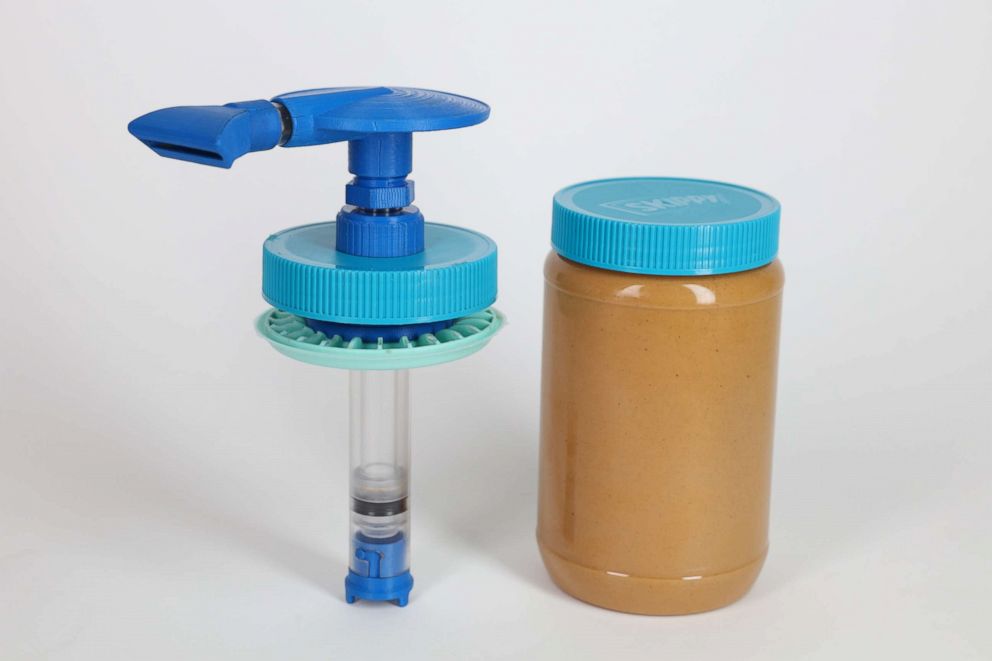 "If the Keebler Elves could do it, I could too," Andy told Good Morning America, regarding the initial concept. "I sort of had to think like a molecule of peanut butter. If you block out the air, the peanut butter actually performs differently."
His creation includes a screw top that secures to just about any brand's 40oz container of peanut butter and dispenses the peanut butter through a vacuum sealed nozzle system which, according to Andy, makes all the difference for an easily sliding pump.
"There are other peanut butter pumps out there but what they don't have is that sliding airlock," he explained of the design, which makes his product superior to other models.
And don't worry—the pump includes two separate nozzles for the perfect stream of peanut butter, no matter the task—a ribbon nozzle pushes out a  flat (approx 1.5-inches wide) strip of peanut butter (perfect for slapping together sandwiches) and a stream nozzle that will dispense a thick tube of it instead.
And, yes, this bad boy even works with crunchy peanut butter (the superior peanut butter—DON'T @ ME).
View this post on Instagram
Andy's family have supported his dream of creating the perfect P.B. pump since he first started tinkering away at it in 2017, but few of them realized just how successful it could be.
"One of my sons was in college and he said, 'I thought you were kinda crazy at first, but it's really a trip to see the peanut butter coming out, it's a lot cooler in person," Andy recalled.
Bravo, Andy. My taste buds will thank you. My waistline will not.
Yeah this ends with a permanent pump jar of peanut butter next to my kitchen sink like soap. https://t.co/La7XX9V0XO

— Greg (@gregonabicycle) February 23, 2019
Check out the promo video: