Dad Lands Vacation Dates for Sons With Funny Classified Ad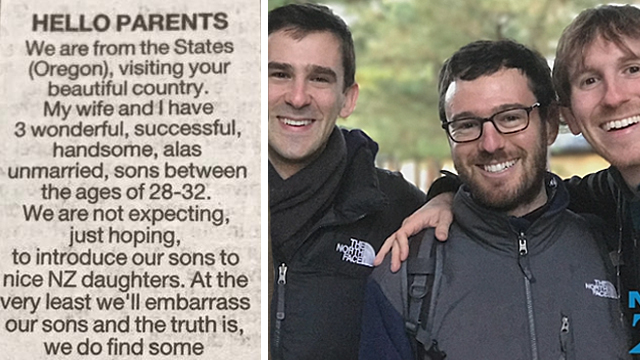 If you reach a certain age and aren't in a relationship, parents simply can't accept it. In their eyes, you are their little prince or princess and anyone would be damn lucky to be with you.
So, bless their hearts, they do their best to help you out with setting up blind dates and plan, planning social events, or just incessant prodding about their need for grandchildren.
One particular dad from Portland, Oregon went above and beyond, however, when he placed an ad for not one, but all three of his sons in a New Zealand newspaper while they were there on vacation.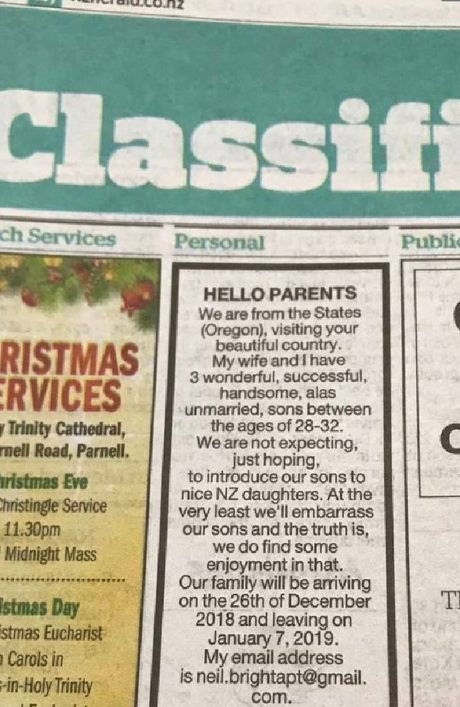 "Hello Parents. We are from the States (Oregon), visiting your beautiful country. My wife and I have three wonderful, successful, handsome, alas unmarried, sons between the ages of 28-32," the ad in the NZ Herald read.
"We are not expecting, just hoping, to introduce our sons to nice NZ daughters. At the very least we'll embarrass our sons and the truth is, we do find some enjoyment in that."
Neil, the proactive father, said the ad immediately received over 200 replies and he was doing his best to sort through them all since his sons still had no idea any of it was happening.
"I'm somewhat surprised that I have got quite a lot of responses," he said.
"It is hard to tell how many are genuine. A few are maybe just scammers but for the most part, people are really amazingly nice in your country."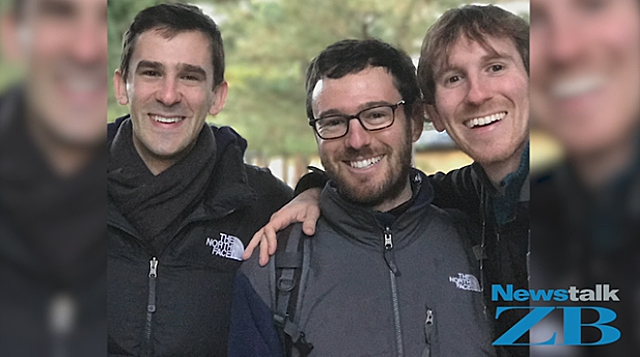 Neil's sons—Matthew, Jeremy, and Benjamin—range from ages 26 to 31 and all have steady jobs in the Pacific Northwest region. According to their dad, though, their dating lives haven't really been a serious focus for any of them.
"I know one of my sons uses these dating sites and is always going on introductory dates and meeting somebody, but he hasn't had a serious relationship in quite a while," Neil told the newspaper.
"I decided to help. I have no idea what will happen, but at least we will be able to meet some people."
Neil says he's still deciding when and how to tell his sons about the ad, probably waiting until they are actually on the flight to New Zealand or casually slipping it in while they disembark.
"I might say, 'Oh, by the way, I did place a little ad for you guys'," he chuckled.
"I am sure they will be surprised and annoyed, but I am sure they will laugh. We have a good relationship and are always joking with each other. They know I am a little unusual in that regard."
As it turns out the brothers were all good sports about it. In total the ad sparked more than 600 responses and even resulted in a few dates.
"Between my brothers and I, we went on a few one-on-one dates," Benjamin told the Daily Mail.
"[New Zealand women] are very intelligent, kind, friendly people. We love their accents. They were a lot of fun, everyone we met seemed nice.
"I think we will continue to stay in touch with the people we met. We really want to come back – it was a beautiful country."