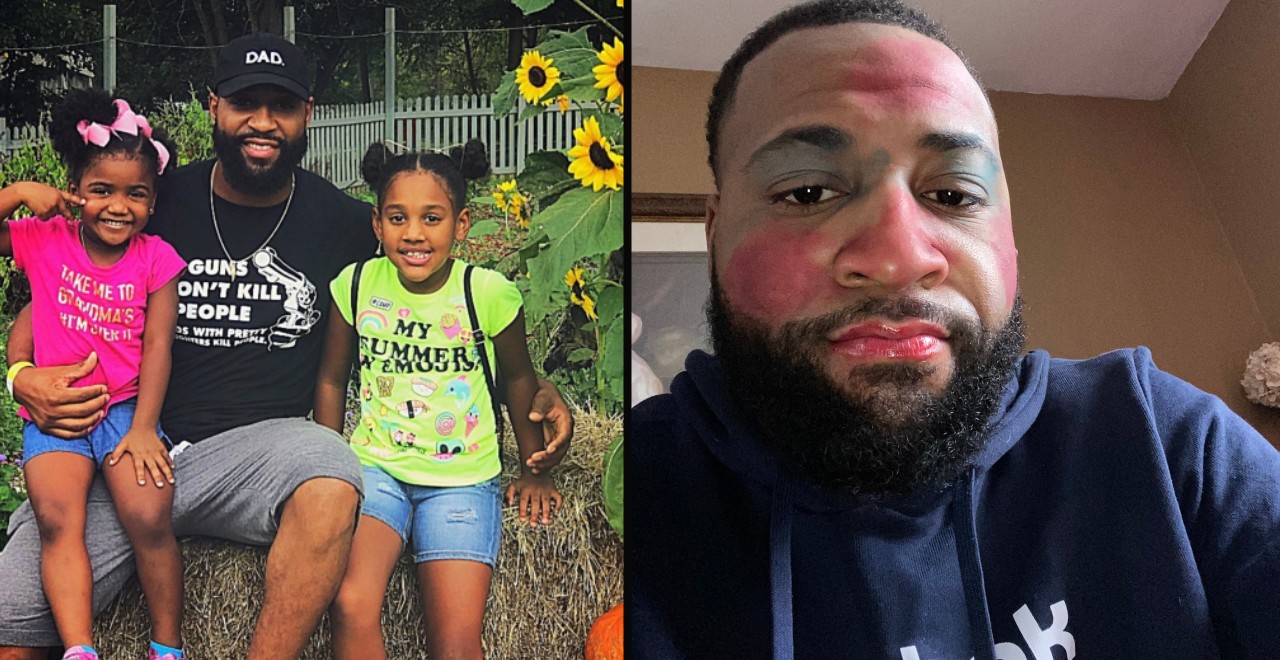 Credit: Instagram/bcube40
The #GirlDad movement is strong these days, as dads take more pride than ever in raising daughters. And it's not without its share of *unique * challenges, to be sure. One Ohio dad went viral around the holidays for showing the price dads can pay when their daughters get makeup for Christmas…and need a test subject to use it on.
A Dayton dad, Brad Cubbie, got his two daughters, aged 10 and 6, makeup kits for Christmas. This came after he repeatedly tried to talk them out of it, telling them they didn't need makeup and 'they were so pretty without it.' It was their mom who told him it was just for fun, so he got the kits for them. And then the 6-year-old wanted to see it in action…on him.
View this post on Instagram
Listen, we have ALL been here before. This is something any dad of daughters has gone through, whether it's makeup, dress-up, nails, etc. It's almost a rite of passage to be a hilarious canvass for your daughters to play on. I'll never forget the first time my daughter begged to do my nails, nor will I forget the reaction from my friends when I met them at a sports bar that night.
But, again, we have ALL been there. Just the fact that the picture resonated so hard with people is because they can relate. The tweet was shared tens of thousands of times, with hundreds of thousands of likes, he spoke to Good Morning America and a number of other media outlets. But the coolest part of the story was seeing how many dads in the comments had their own story, different elements, same result.
"To see how many people it's reached and how many dads … it's become a thread people really enjoy," he told Good Morning America.
The official Girl Dad rite of passage 😂 pic.twitter.com/GpUeEsExl0

— George B Alexander 🏁 (@KoachAlexander) December 26, 2020
They'll treasure that forever. I still remember when my dad let me put his hair in what could best be described as "pug tails". Unfortunately, #PancreaticCancer took him way, way too young. But these memories, I'll always have them. #Dad pic.twitter.com/eLQJqg9DTs

— Kara Karlson (@KaraKarlson) December 26, 2020
Got my own makeover earlier this year. These kids know how to pamper their dads! pic.twitter.com/JfSGZ6vT2I

— Hamilcar Barcalounger (@yesmandroc) December 26, 2020
It happens to best my brother. #girldad ✊🏾 pic.twitter.com/dKM3jo2FnW

— Jeremy Taylor (@jtsports12) December 26, 2020
Same pic.twitter.com/wTAHdi02he

— punkmcpunk (@punkmcpunk) December 26, 2020

Nothing more dad than Girl Dads looking fresh.