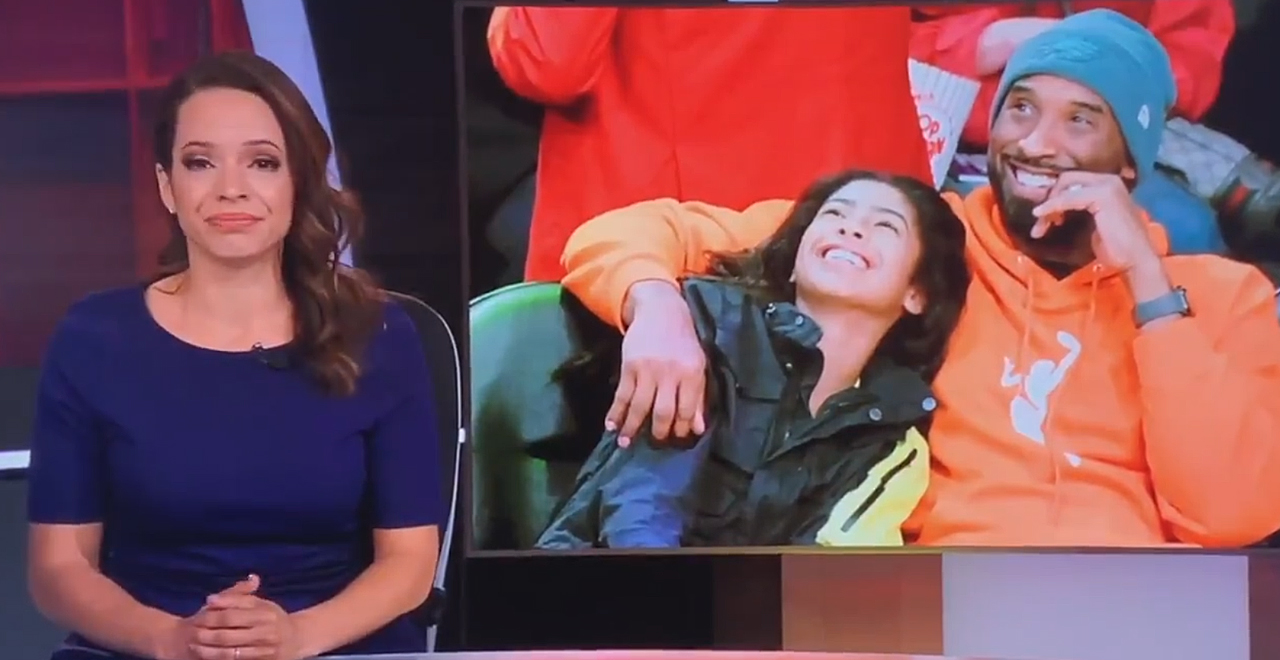 Credit: Twitter/michaeleaves
The sports world was rocked by the tragic death of Kobe Bryant over the weekend, and tributes to the legend and the others on board have been emerging ever since. People have praised Kobe's curiosity, his competitiveness, the early stages of his second chapter. The Athletic did a beautiful piece on Gigi. Newspapers have chronicled the other victims and their stories.
But one of the most emotional, and widely shared, tributes came from ESPN anchor Elle Duncan.
As I knew she would, @elleduncanESPN brought a much-needed perspective to the death of #KobeBryant. Proud of you, Sis! pic.twitter.com/VfbuAgg6AN #Kobe

— Michael Eaves (@michaeleaves) January 28, 2020
She described her only meeting with Kobe, which occurred when she was eight months pregnant. Kobe gave her a huge hi-five and gushed when he found out she was having a girl and talked at length about how girls were awesome and how much she'd enjoy it. He told her to be grateful for that gift because "girls were amazing" and "I'm a girl dad."
Fighting back tears, she recounted how he talked about his daughters and how much he loved them. When it came to sports, he talked about how his oldest was an accomplished volleyball player and the youngest was a toddler, so he wasn't sure what she'd do. But the middle one, he told her, was a basketball player.
"The middle one, she was a monster, she was a beast," he told her. "She's better than me at that age. She's got it." That girl, Gigi, also died in the helicopter crash on Sunday.
Duncan tearfully closed by saying the only small measure of comfort for her, reflecting on their meeting, was that Kobe died doing what he loved.
"Being a dad. Being a girl dad."
It wasn't long before #girldad was trending on Twitter, as people claimed the mantle or simply shared the moving tribute.
I'm a #girldad this is my most proudest position EVER!!! pic.twitter.com/TpEdk7NwoJ

— £££ (@esymoneycollins) January 28, 2020
This video had me in tears. Being a girl dad has been the best part of my short life. I wish I knew about this part of Kobe. This will be his lasting impression on me. Not the wins, rings, or records. #girldad https://t.co/6UBBaGtLDV

— trey hardee (@treyhardee) January 28, 2020
The last time I remember John crying, aside from this week, was when Luna wrapped her little finger around his at the hospital when she was born. There really is something magical about girls and their dads. Thank you, @elleduncanESPN https://t.co/P4VL5Z8dC4 pic.twitter.com/hgWWB0DHcB

— christine teigen (@chrissyteigen) January 28, 2020
My favorite title: A girl Dad.
You give me life, you are my air, you are my heart. I wish you only knew, just how much I really love you, kid. 💜💛 #girldad #KobeBryant pic.twitter.com/k9wE81WgWq

— J.T. Yuodis,PIO (@PIOYuodis37) January 28, 2020
Kobe was 100% correct! Being a #girlDad is an amazing experience.

Every Dad should be blessed with a daughter. Lets see a pic of you and your daughter too. pic.twitter.com/hwC4Msi1zZ

— Matt Chernoff (@RealMattlanta) January 28, 2020
I'm so moved by the outpouring of support behind my story about Kobe. And I love that #girldad is trending.. so for all those proud fathers who still have their girls to love on can you flood my timeline with pics of you and your flock. Honestly I need it as much as anyone rt now

— Elle Duncan (@elleduncanESPN) January 28, 2020
As a #GirlDad myself, it was awesome to see how people responded to her beautiful tribute and made being a great dad a way to honor Kobe's legacy.