Dad Goes Viral for His 2-Year-Old Son's 18th Birthday Gift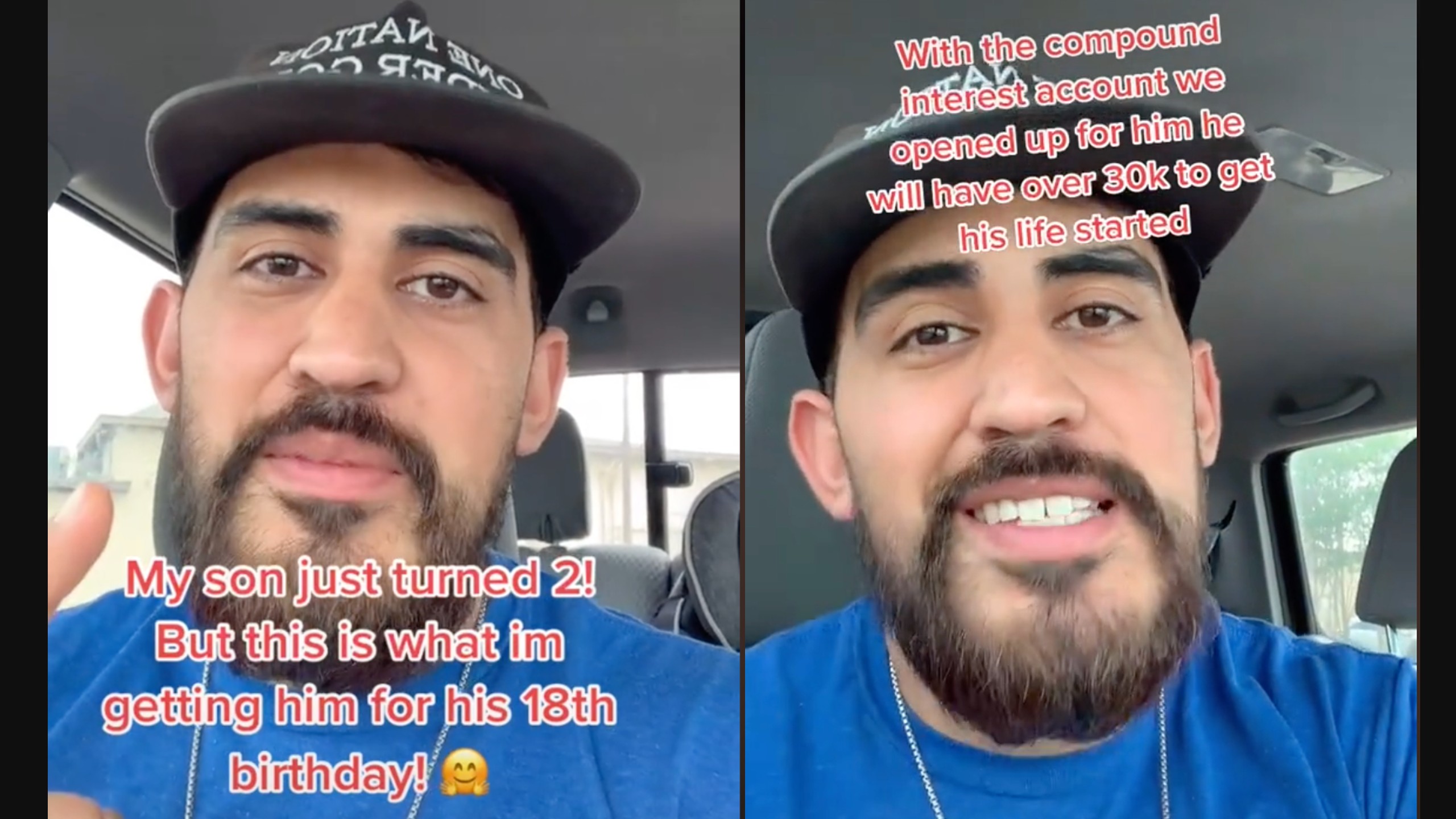 Shopping for gifts is often difficult, especially when the gift is for a toddler. 2-Year-olds have the unique ability to completely change their interests at the drop of a hat, deeming things they couldn't stop talking about yesterday "boring" and "stupid" today. One dad named Ben Garcia came up with a brilliant plan to make sure his 2-year-old would one day have a gift he could cherish for the rest of his life, and though he won't actually get the gift until he's 18, Ben's work-in-progress is off to a touching start.
Ben shared his brilliant gift idea on TikTok, quickly going viral for his wholesomeness and forethought (though hopefully, he sets his account to private by the time his son is old enough to potentially stumble upon it and ruin his surprise). Instead of asking for toys for his son's birthday, Ben asked for contributions to a college fund.
"The reason I did this is because he has a ton of toys anyway, and they're just going to get recycled or thrown away at some point," he said. "And I did the math and with the compound interest account that we have for him, he's going to have $30,000 by the time he turns 18 to help him get his life started."
Very few of us remember the gifts we got as little kids, but Ben's gift is one that will stick with his son forever. On top of the $30,000 fund to help his son get a head start on his adult life, this incredibly clever dad set up something no amount of money could buy.
"But one of my favorite gifts that I'm going to give him when he turns 18 is an email [account] that I've been sending emails to and videos to since he was born, and even before he was born that he's going to be able to have when he's 18," Ben explained. "I'm going to give him the email and password, and he's going to get to see all the messages from myself to him from the time he was not even born until he turned 18."
Sure, money is great. When Ben's now 2-year-old son turns 18, he'll be undoubtedly thrilled with his dad's generous monetary investments over the years. But having potentially thousands of messages from his dad, having photos and videos celebrating his entire life, the thoughtfulness that goes into a gift like that is truly priceless.
One day, when Ben is a grandfather, his son will be able to show his own kids his dad's touching gift. During difficult times, he'll be able to look back at photos and videos that remind him of his father's love. The gift of memories is something we all wish we had, and Ben was creative enough to make it a reality.
The TikTok inspired other parents to set up similar accounts for their own kids, sparking a trend that we can absolutely get behind. Set a reminder for 2037, and cross your fingers that Ben gets the epic gift reveal on camera.