A major part of being a parent is making sure your kids appreciate the things you loved growing up. Few things hurt more than your kid yawning during an iconic moment in Star Wars or asking to play Minecraft when you're teaching them how to use the warp tubes in Super Mario Bros.
Fortunately, Back to the Future superfan James Napier has never had a problem getting his kids to share in his excitement for his favorite movie franchise, in no small part due to his DeLorean, which has been immaculately restored to resemble Doc's time machine from the 1985 classic.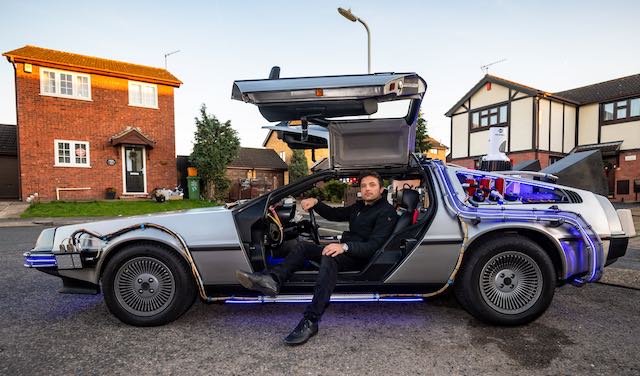 "I take it out on weekends and I drop my kids off at school or football sometimes. They like it and their friends find it quite amusing!" says Napier. "You see other people's jaws drop when we drive past. The family adores it—although my wife Emma probably doesn't want to know how much it has cost me in total to restore!
"We drive it everywhere we go—you've got to make the most of it."
Folks in the area can't seem to get enough of the stainless steel coupe, especially since there's reportedly only one other like it in the U.K. Napier's youngest daughter, Daisy, says she loves when people honk their horn as they drive past.
"It's really cool. Dad is probably a bit crazy to build something like that!" the 8-year-old reports.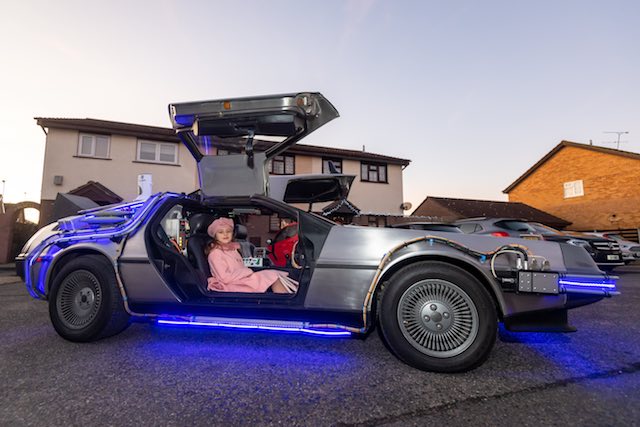 It took time, money, and a lot of elbow grease to get the vehicle to the pristine condition it's in today. When Napier bought it for £55,000, someone had already tried to convert it into the iconic time machine but with really shoddy workmanship.
"It was quite run down. It needed a lot of work," says Napier. "Somebody had tried to make it into a Back to the Future car—but it was really quite bad! The car was an absolute mess. I was completely nuts.
"I thought maybe I could salvage some of it, but in the end, I needed to get rid of everything and start from scratch," he added. "I probably spent around 1,200 hours working on the car and it was quite expensive to do. It was a seven days a week job.
"It might have took a while, but it's definitely worth it."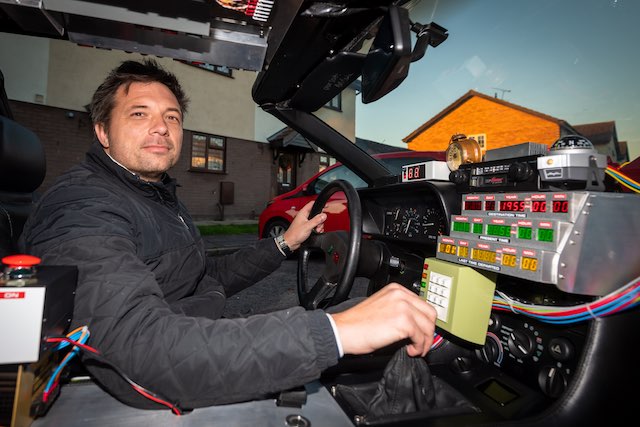 He says the project cost approximately £80,000 from start to finish.
Now, Napier drives the art piece in charity events around the U.K. and is always happy to indulge people who want a photo op. He even added all the bells and whistles to give it the same flair as the DeLorean from the films.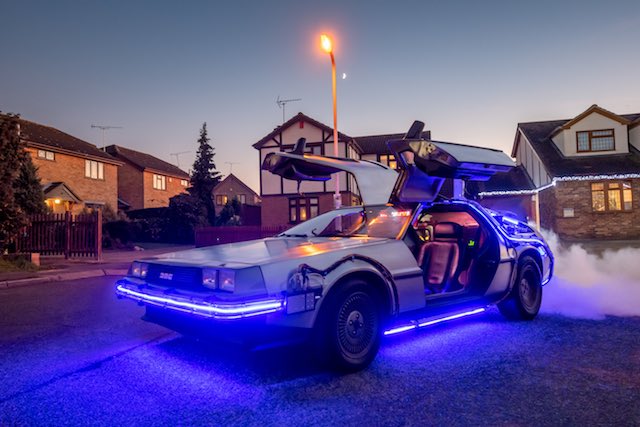 "In the film, you see white plumes of smoke and that's done by fire extinguishers in the film," he continued. "We've done something similar—we've used CO2 fire extinguishers with a remote control.
"We have a smoke machine inside the car too so when you open the doors smoke comes out so it's like you've traveled in time. A lot of the props inside makes the exact same noises. We've got the iconic car doors and lights too."
It's been a long road to get Napier's DeLorean up and running to such exact specifications, but with the machine they have now, they don't need roads.