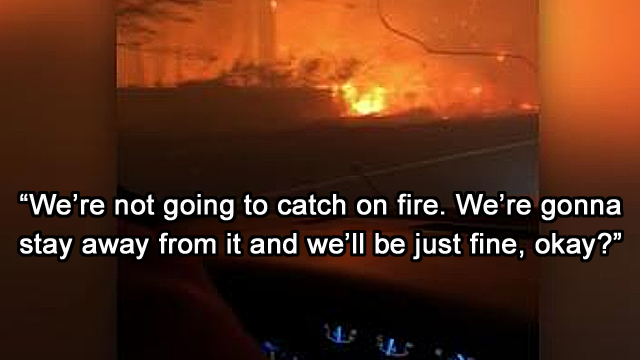 Credit: Facebook/Whitney Allen
Hundreds of thousands have been affected by "Camp Fire," the massive wildfire raging in Northern California. At the time this is written, the death toll is at 29 and the fire has been deemed the most destructive in California's history with over 200,000 people fleeing to safety.
Joe Allen and his family were among those trying to escape the flames by leaving their hometown of Paradise, California. Driving two vehicles—Joe's wife and eldest daughter in one and Joe and 3-year-old Olivia in the other—the family attempted to stay together on the congested roadways to safety.
"There's so much fire here. We're gonna get on fire," Olivia can be heard nervously saying to her father from the backseat. Joe pans the camera around showing a long line of vehicles desperately trying to merge onto the smoke-filled highway.
"Hey, guess what? We're not gonna catch on fire," Joe promises his daughter, a completely justified undertone of anxiety in his voice. "We're gonna stay away from it and we'll be just fine, okay? We're doing all right."
Whitney Allen, Joe's wife, commented on the dire situation the family faced to Fox News affiliate KTVU: "He was, of course, worried. At one point we both thought we weren't going to make it out."
Despite this, Joe remains calm and manages to comfort little Olivia the entire way, singing "Baby, it'll be all right" while embers spark across the windshield and emergency vehicles speed by.
After a few tense moments, Joe finally reaches the end of the fire lane and the orange haze of the nearby inferno dissipates.
"You did it!" Olivia exclaims from the back.
"We did it together," Joe responds over the sound of his revving engine, accelerating them to safety.
The harrowing video, which has reached over 116k views on Facebook, has resulted in hundreds of comments praising Joe for his level-headedness while still making sure his daughter felt recognized and heard.
The Allens still celebrated Olivia's third birthday that night upon reaching safety despite not having a home to go back to.
"As our lives drastically changed today, we are reminded what is most important," Whitney said. "Tonight, we celebrated Olivia's birthday because even though we lost everything today and so did my family… we didn't lose each other and that is truly what matters."