Smooth AF Dad Commutes to Home Office Via Surfboard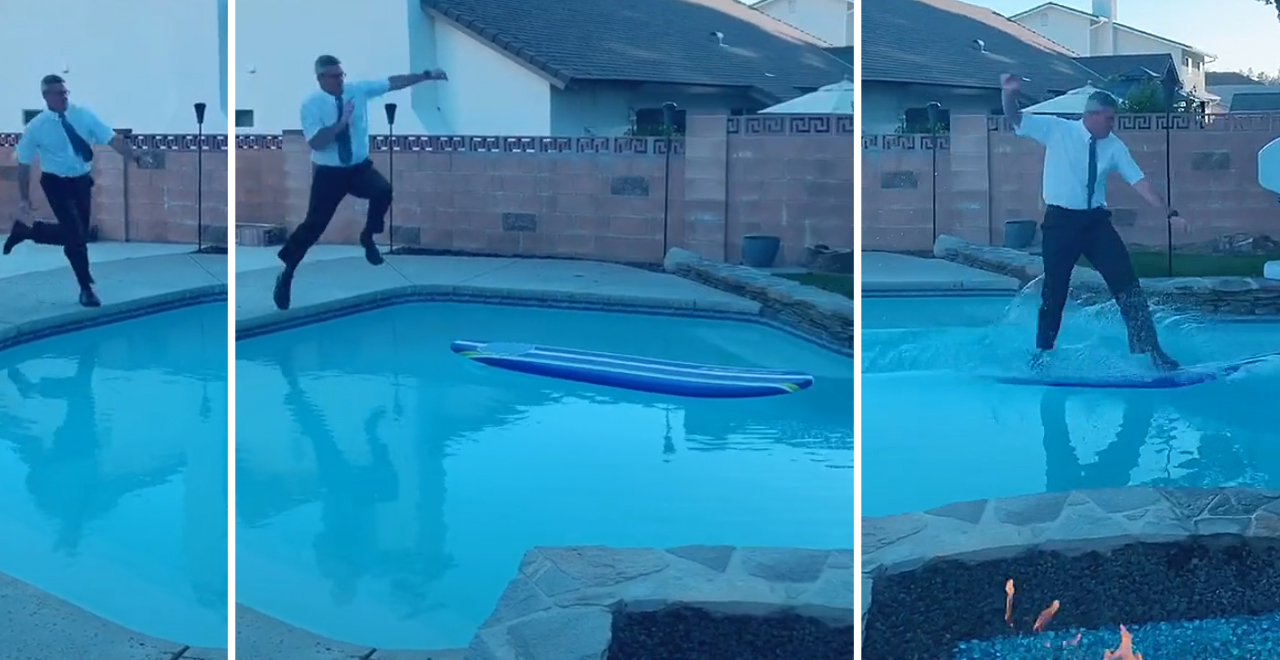 Life in the era of a pandemic has forced us to settle into a new kind of normal. Events such as "going out" and "doing things" have been canceled indefinitely. Instead of going out to bars and restaurants, we're building our own – but, you know, for squirrels. Instead of going to work, we're bringing work home (with varying success). Conference room meetings are a distant memory, and Zoom has become the place where all-important business is discussed (again, with varying success). One man took another long-forgotten memory of life before COVID, the dreaded commute, and brought it back with a splash.
A TikTok user named Dylan Johnson shared a clip of his dad on May 23rd with the caption "Like Father Like Son". The video shows Dylan's dad taking a running start before jumping onto a surfboard that sat waiting in a pool, with the phrase "Working from home" written across the screen. He then gracefully(ish), flawlessly, catches some non-existent waves before landing at the other side. This absolute boss walks casually to his computer and takes a seat.
As if he's peering into our wonderstruck souls, this dexterous dad then rips off his glasses and winks at the camera. If someone could tell him he doesn't have to impress us anymore, that'd be great. He's done more than enough.
The TikTok community flooded the video with comments expressing their appreciation for this dad's impressive ride.
"CEO of having the coolest dad", one viewer gushed.
"What a legend" applauded another.
Here's hoping that someone develops a surfboard-only transit system by the time we all head back to work.