Quarantined Man Creates Tiny Restaurant for the Local Wildlife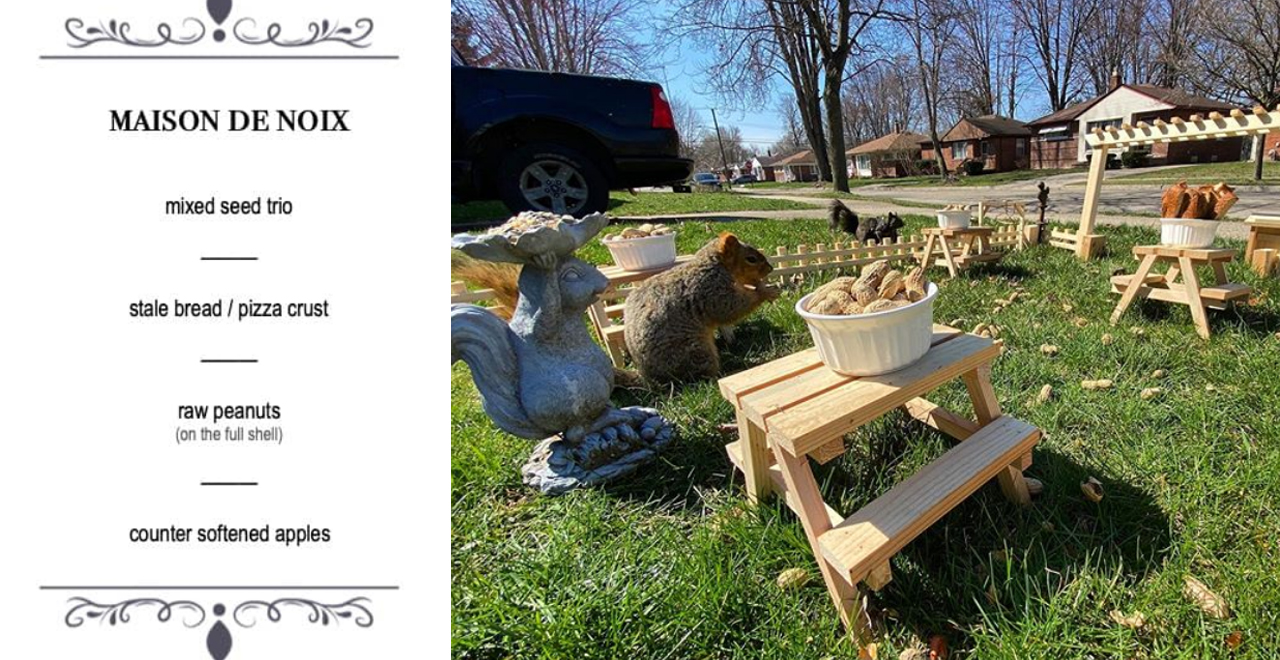 This quarantine has given us all a lot of extra time to fill. It's a great time to pick up a new skill or get started on that project you've been delaying. Maybe you're learning a language, or how to play guitar. Maybe you decided to finally Marie Kondo your home to clear out the clutter that doesn't bring you joy, or maybe you've gotten back to that novel you were writing.
There's no wrong to survive this thing, but there are a lot of right ways. As demonstrated by a man in Michigan, who found a hilarious way to pass the time. He created a tiny little restaurant in his backyard, for the local wildlife. And business is a-boomin!
James Vreeland posted images of the delightful little eatery, Maison du Noix (the Nut House), on Instagram. He created tiny tables, a fence, even a sign featuring the day's menu.
"We've been offering an opening course of a seed medley, followed by peanuts on the full shell, house-cut bread sticks, and a dessert of counter-softened apples," Vreeland told The Dodo.
He shared some photos of his furry neighbors checking the place out.
View this post on Instagram
James took a time-lapse video of the restaurant's busy day, featuring some hungry squirrels.
View this post on Instagram
A blue jay even dropped by, clearly having read some good Yelp reviews.
View this post on Instagram
James often live-streams the cafe on Facebook, much to the delight of actual human beings interested in the goings-on at Maison du Noix.
"The response from humans has been pretty great with people stopping all the time to take a photo or watch the frenzy," Vreeland said. But it's the animals who are really benefiting from his ingenuity.
Hopefully, they're leaving at least 20%.