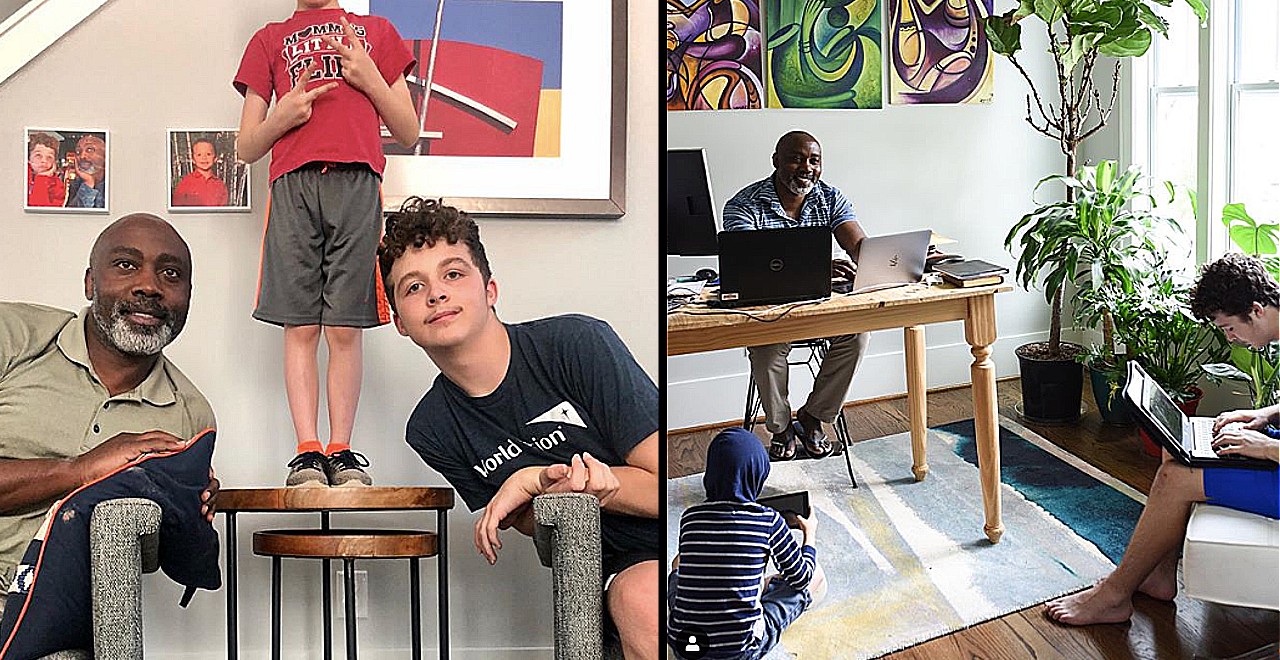 Credit: Instagram/fosterdadflipper
Peter Mutabazi won our hearts in November of 2019 when he adopted 13-year-old Tony, who had been abandoned by his adoptive parents when he was just 11 years old. Before meeting Tony, Mutabazi had been a foster parent for three years. That alone would have been enough to earn him hero-dad status, but Mutabazi was far from done making the world a better place for kids in need. Upon meeting Tony and taking him in as a foster child (Tony was really only supposed to stay with him for two days), Mutabazi decided that this bright, kind, young boy had been through enough. Since the day Tony came into Mutabazi's life, the two haven't separated. When Tony was 13, Mutabazi legally became his father.
Mutabazi was born in Uganda, and at age 10 he left his abusive home. He was fortunate, to a degree – 10-year-old Mutabazi, scared and alone, met a man who became somewhat of a father figure to him. This allowed him to complete school and, although he grew up extremely poor, he was eventually able to move to America to build a life for himself. Because of his own challenging childhood, Mutabazi is enormously passionate about helping children in need. He knows firsthand just how scary and daunting the world can be when you are completely and utterly alone.
This big-hearted superdad saved the day once again when he received a call from a social worker in the middle of a pandemic. Mutabazi was asked if he could take in a 7-year-old who urgently needed to be placed in a foster home, which is even more difficult than ever due to so many families being in quarantine.
Mutabazi shared his thoughts in an Instagram post, stating that while Tony's safety was his priority, he couldn't let this child slip through the cracks. The Instagram post continued, "We had been in quarantine for 3 weeks at the time the request came in. I was truly torn between keeping my son and I safe and taking in a child that I had no idea the environment he was coming from. At the same time, I could not imagine where this little one would go if we did not step in to help. I trusted my heart and agreed to the placement."
The Mutabazi household is fuller than ever, and so is Mutabazi's heart. "I LOVE being called 'Dad' more than I can even put into words," he shared in another Instagram post, "but hearing it yelled from 2 kids every 10 seconds is a lot to handle." Mutabazi isn't complaining though – he's thrilled that Tony has another kid to play with, and he's even grateful that he was able to take in his new foster child during a time that they can be together 24/7. This has helped ease the 7-year-old's transition enormously, and it has allowed the family to bond more quickly.
Follow Peter Mutabazi on Instagram to stay up-to-date on their heartwarming story.