Dad Transforms Precious Moments Figurines Into Horrifying Nightmares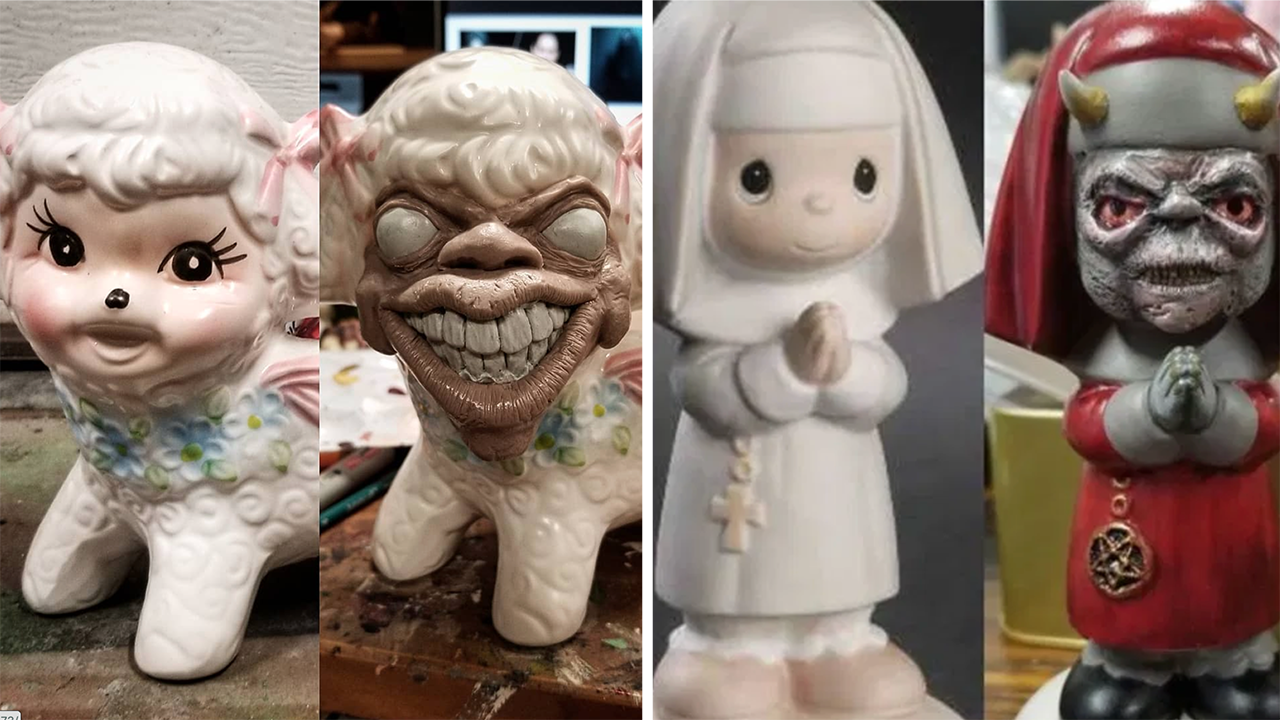 You've seen them gracing the shelves of antique shops and your grandmother's house, Precious Moments are known for their innocent, doe-eyed appearance and are incorruptible in many of our minds. That was, however, until artist Keith Busher got ahold of them.
At all started when Keith bought a collection of the cherubic stone children at his local thrift store for ten bucks. Imagining a fun project, he invited his kids to help him change the figurines into beings a smidge more gruesome.
Now being sold online under the name Precious Moniker, Keith and his kids change the angelic figures into ghosts, ghouls, zombies, and other horror movie tropes, many coming directly from classics like Texas Chainsaw Massacre and Evil Dead.
"I was looking for an inexpensive hobby to distract our kids from the amount of TV they were watching," Keith said. "We wanted to find something crafty that they could do, so we decided to try and upcycle items into interesting things."
He uses epoxy clay and paint to build onto the little statues, seemingly converting a wholesome baby into a flesh-eating undead creature with very little effort. To date, Keith has made upwards of 250 of the figures, selling them on both Etsy and eBay.
The creative process isn't exactly a science, though.
"I take a look at each piece. They may sit on my shelve for a few months at a time before I am inspired," Keith reported. "It could be the way the character is standing or just the awkward situation they are in; something will click in me."
While the figures are undeniably creepy and gross, Keith says he really just wants them to make people laugh and remind us that things can always be observed from a different perspective.
"If they're stressed and if they're dealing with something that is tough, they can ask: How can I look at this maybe a little different? How can I change it so I can see it from a different point of view? Hopefully, I solicit someone to have more of an imagination, not only for these dolls, but for their own lived experiences as well."
Check out Keith's Instagram account (@preciousmutator) for more terrifying figurines and pictures from behind-the-scenes.