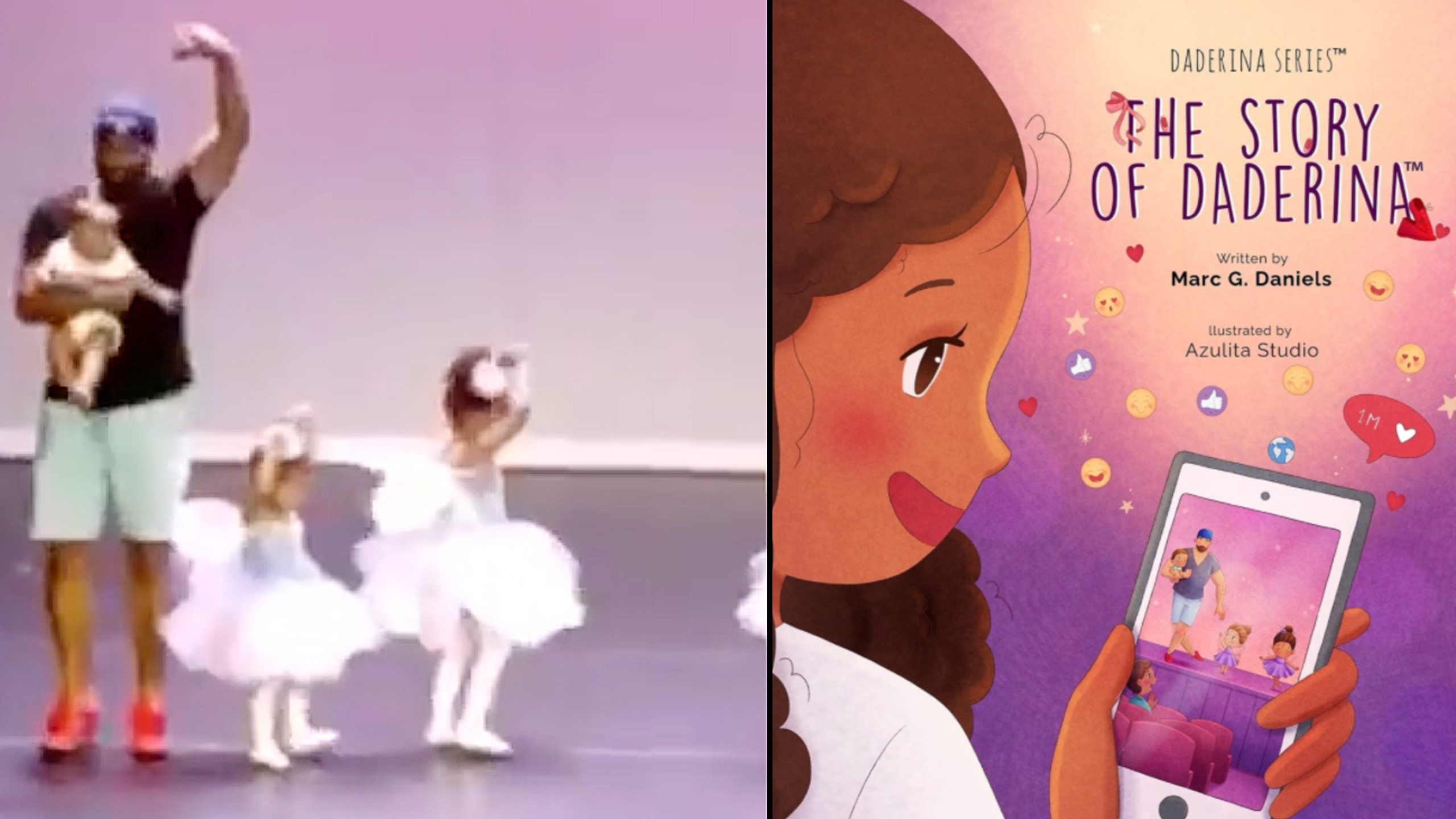 Credit: Facebook/In Motion School of Dance, Amazon
In 2018, Marc Daniels, a father of three, experienced the life-changing impact of sudden, unexpected internet fame. While attending a ballet recital for his then 2-year-old and 4-year-old daughters, Isabella (2) became frantic at the thought of going on stage. With his wife Kim helping out backstage and his baby Suri in his arms, Marc came up with a plan. The quick-thinking dad chose to lead by example, showing his daughter there was nothing to fear by joining her on stage.
The video of Marc, baby Suri still in his arms, dancing on stage with his daughter's dance class quickly went viral. The In Motion School of Dance shared the video on Facebook, and to date, it has over 800,000 views.
Isabella made it through her recital thanks to her dancing dad, and Mark Daniels fully embraced his role as 'Daderina' – so much so, that he recently turned his experience into a book. Though Marc spends his days working as a lawyer, the impact of his viral video stuck with his family over the years.
"My wife, Kim, encouraged me to write this book as a way to celebrate the joy of being a 'girl-dad,'" Marc told The Daily Mail. "We thought that if our children loved the story this much, perhaps other children would as well."
After completing his first Daderina story, Marc's three young daughters wanted more. Together as a family, they recalled fond memories and reflected on impactful experiences. Marc includes multiple stories in the 'Daderina' series, all of which celebrate the joys and challenges of being a girl dad.
"Some of the stories in the series are incredibly funny and detail the real side of parenting: the messes, the mistakes, and the opportunities to teach valuable life lessons. Others are more fanciful," Marc explains.
"But all of our stories try to reflect a valuable point for our girls; whether it is about sharing, or demonstrating love and compassion, or exercising patience and mindfulness to others. The stories are designed to demonstrate ways within which both parents and children can learn from one another."
The Story of Daderina is available for purchase on Amazon now.
Just a heads up, if you buy stuff using the provided links, The Dad may collect a small commission.