Dad's Before-and-After Photo of His College Football-Playing Son Goes Viral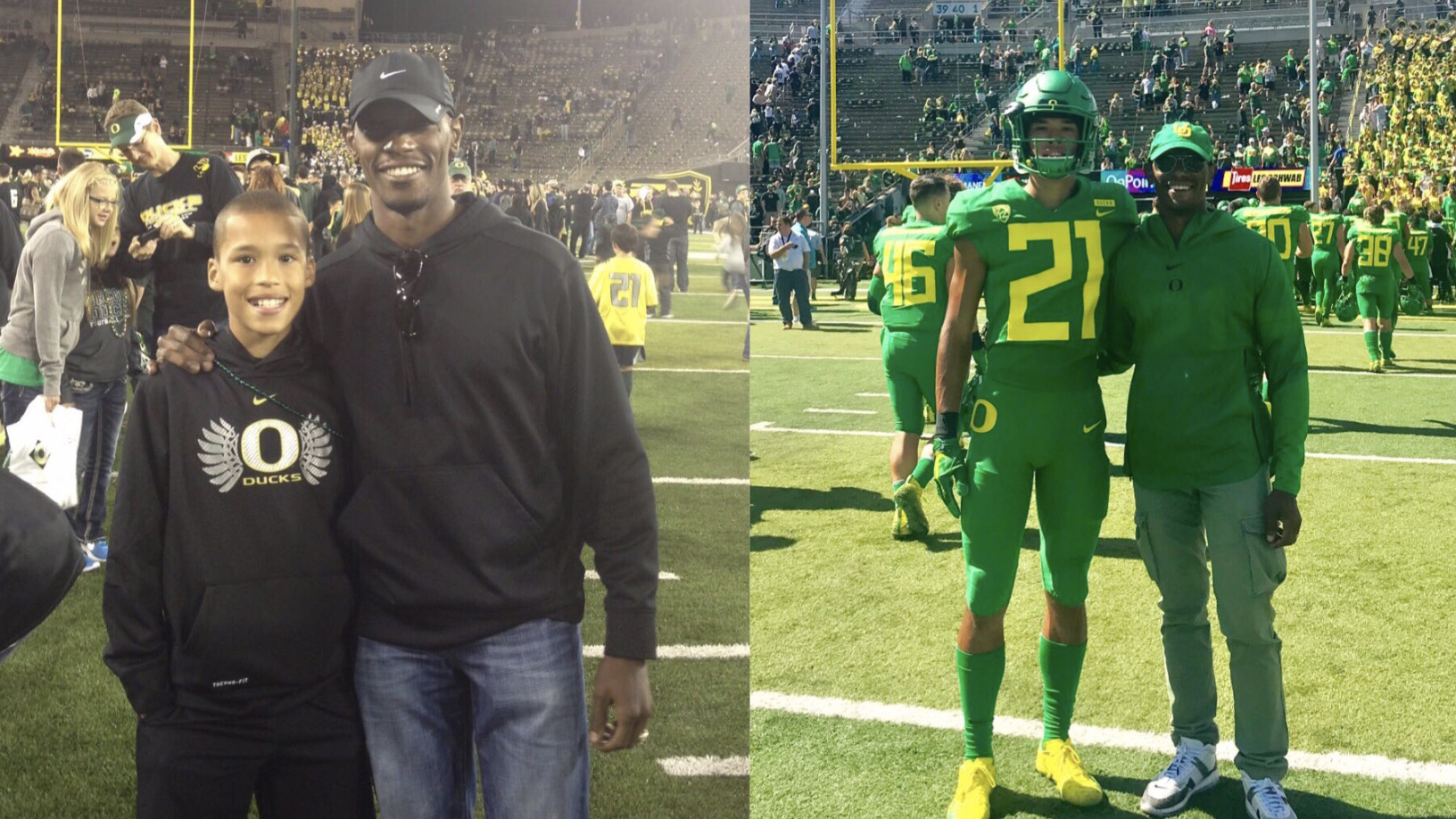 They say a picture is worth a thousand words. But when it comes to the journey of a father and son – these two combined are worth exponentially more.
"We were down on the field and I just remember it was a crazy feeling to just be on the field," Tevin Jeannis told The Athletic. He continued to reflect on the moments after his first Oregon Ducks game in 2012, "And then my dad was like, 'Do you want to do this someday?' And I was like, 'Yeah.' "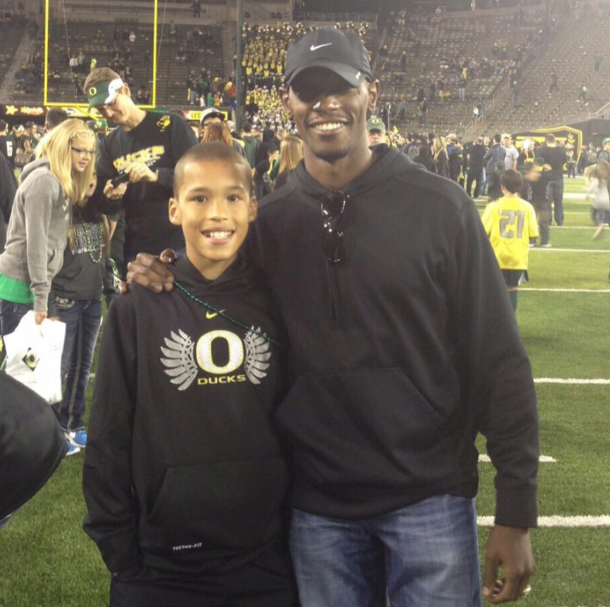 Jude Jeannis, Tevin's father and University of Oregon graduate, might not have known it at the time but that short exchange on Autzen Field was a defining moment in his son's life. That was the night Tevin dedicated himself to playing football.
Running track, doing CrossFit, altering his diet—Tevin flourished on his high school field. At wide receiver, he led his team with 39 receptions for 632 yards and six touchdowns to earn second-team 4A All-State status as a senior last fall.
As impressive as his numbers were, Tevin lived in Scappoose, Oregon: a farming town of about 7,000 and not exactly a hotbed of NFL prospects. An offer came in from Division II Western Oregon, and FCS member Portland State showed some interest. That's typically as good as it gets in Scappoose.
Then something interesting happened. The University of Oregon—Tevin and his father's team—offered a preferred walk-on position.
"It was unreal," Tevin told The Athletic. "I didn't know what it meant. Like, I thought it just meant I could be only on the scout team and not to get to do any of the cool stuff. But they were like, no, you're part of this team. You get your own uniform, your own jersey number and you get to ball out."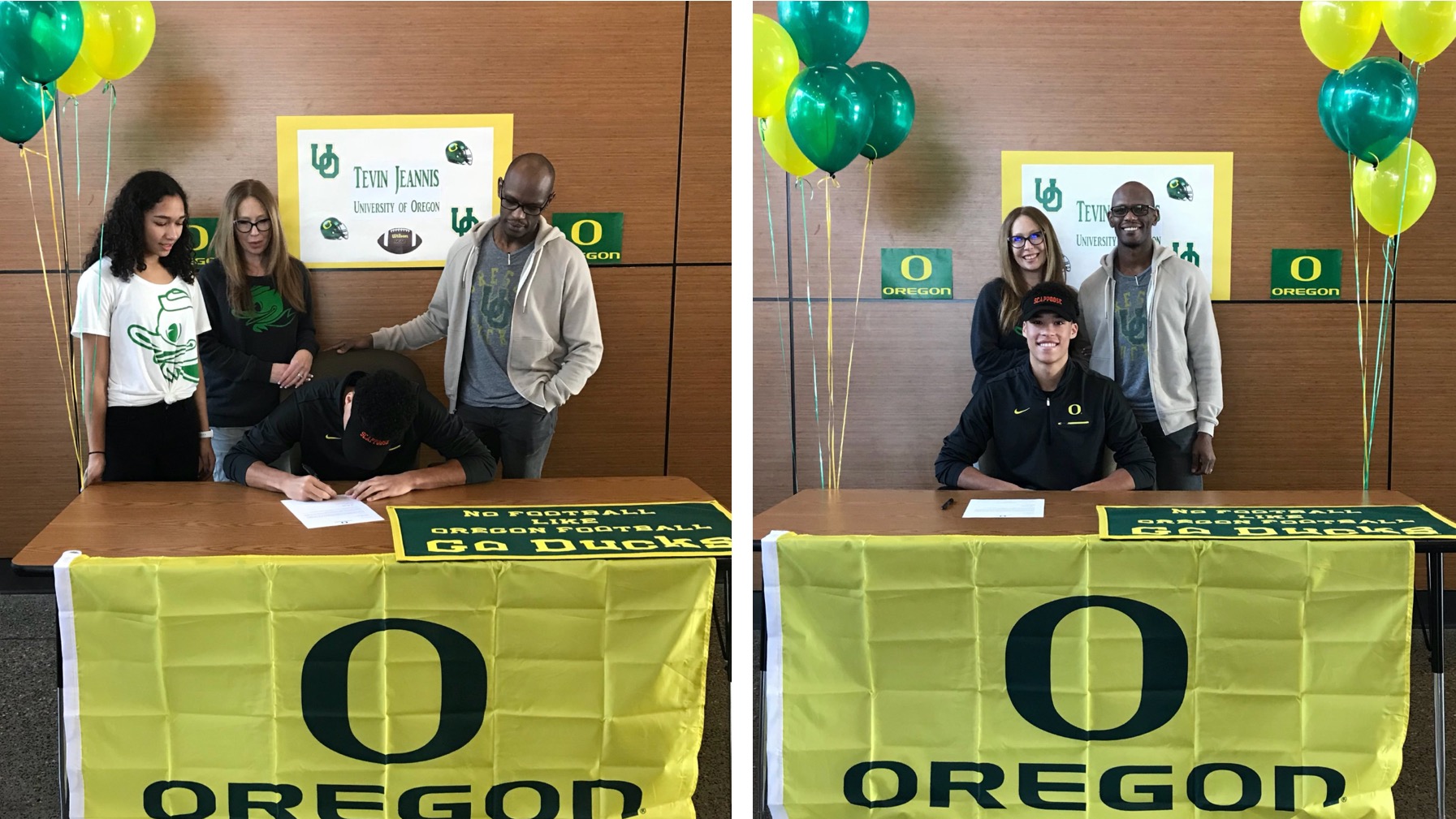 On September 8th, Jude Jeannis and his son took another photo at Autzen Field. They're standing in nearly the same spot as they did in 2012, but a lot has changed.
It was all a dream. pic.twitter.com/85DwMAjbYv

— Jude (@JudeJeannis) September 8, 2018
At 6'2″, Tevin now towers over his father. Jude settles for an arm around the waist instead of the shoulders. Tevin has traded in his black Oregon hoodie for a green Ducks jersey—a yellow "21" plastered across his chest. The proud smiles, however, remain the same.
Jude posted the before-and-after photos on Twitter with the caption, "It was all a dream."
Despite Jude's relatively small social media following, the photo has received tons of attention, garnering over 500 retweets and over 5,000 likes.
"He had like 30 followers and he got like 60 likes and was all happy about it," Tevin said. "Then I retweeted it, some big names started retweeting it and we just blew up from there."
While Tevin's career at Oregon might only be beginning, the Jeannis father-son duo is clearly in its prime.