Dancing Dad Vows to Post Dancing Videos Daily Until Son is out of NICU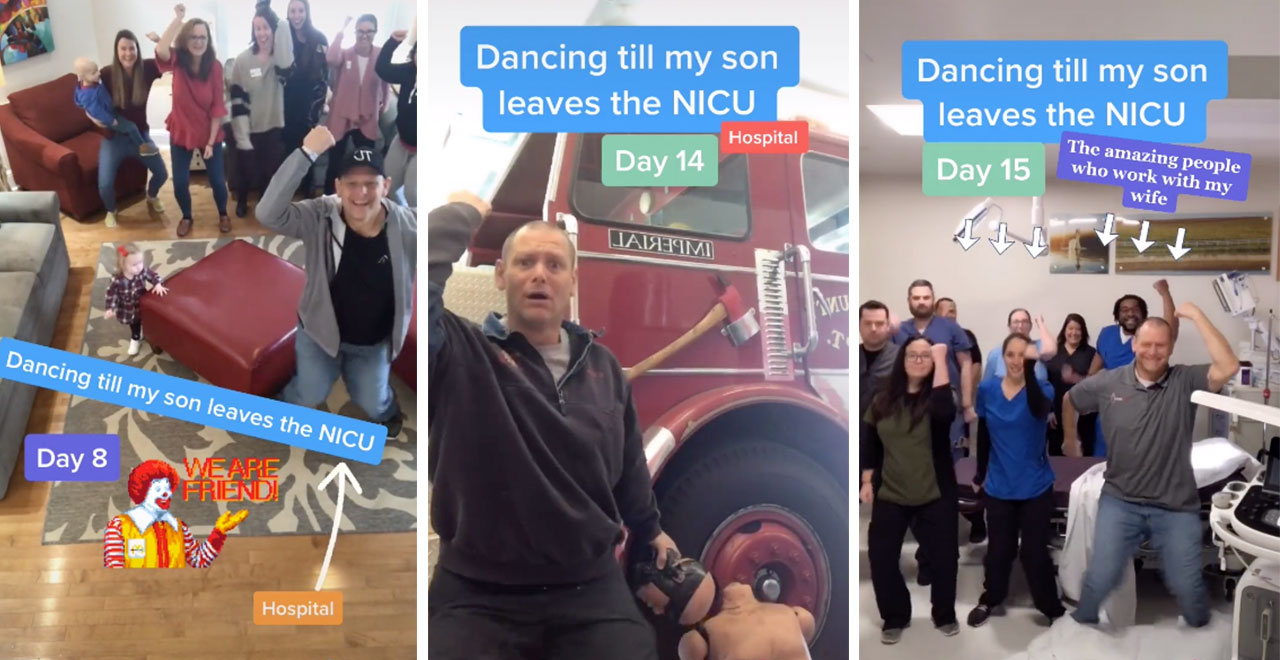 Parents know that learning to take things in stride is often the only way to deal with life's never-ending barrage of complications. But when a father of four recently learned his newborn son would be stuck in the NICU, he decided to do the only thing he could: dance it out.
Chris Askew and his wife Danielle welcomed their son Dylan 10 weeks sooner than they were expecting. Due to a complication, doctors acted quickly to bring baby Dylan into the world, but it meant the next several weeks would be spent in the hospital as he slowly gained enough weight to go home. Entering the world weighing just four pounds, the family knew they were in for a long stay at Winnie Palmer Hospital in Orlando, Florida. So Chris decided to find a unique way to cheer on both son Dylan and wife Danielle by posting daily videos to TikTok.
The first was posted while the family stayed at the nearby Ronald McDonald House. Askew, doing laundry and just trying to keep a smile on. "I posted it and went to bed," Askew recalled in an interview with TODAY. "I woke up and I had like 400,000 or 500,000 views. And then the messages started coming in — there's been an outpouring of support for my family, and it's also helping other people somehow. People are thanking me and sharing their NICU success stories … it's helped some families who lost babies in the NICU get through a tough situation and smile. I figured as long as that's happening, I'd keep dancing."
Almost immediately, the videos took off, spreading to evening newscasts and social sites in just days. Now a month later, Chris' videos are racking up hundreds of thousands of views across his profile, spreading his positivity and message of support worldwide.
The dancing dad recently sharing "Dylan's had a couple of bad days, but for the most part it's been really positive. They haven't set an exact date when he'll be able to come home, but they're projecting maybe another two to three weeks."
Until that day, Chris vows to keep on dancing, giving his son not only encouragement, but enough embarrassing videos of his dad to last a lifetime.
Here's to the Askew family and everyone trying to stay positive, even during the most difficult of situations.