Data Expert Beautifully Charts Top Selling Video Games of Last 30 Years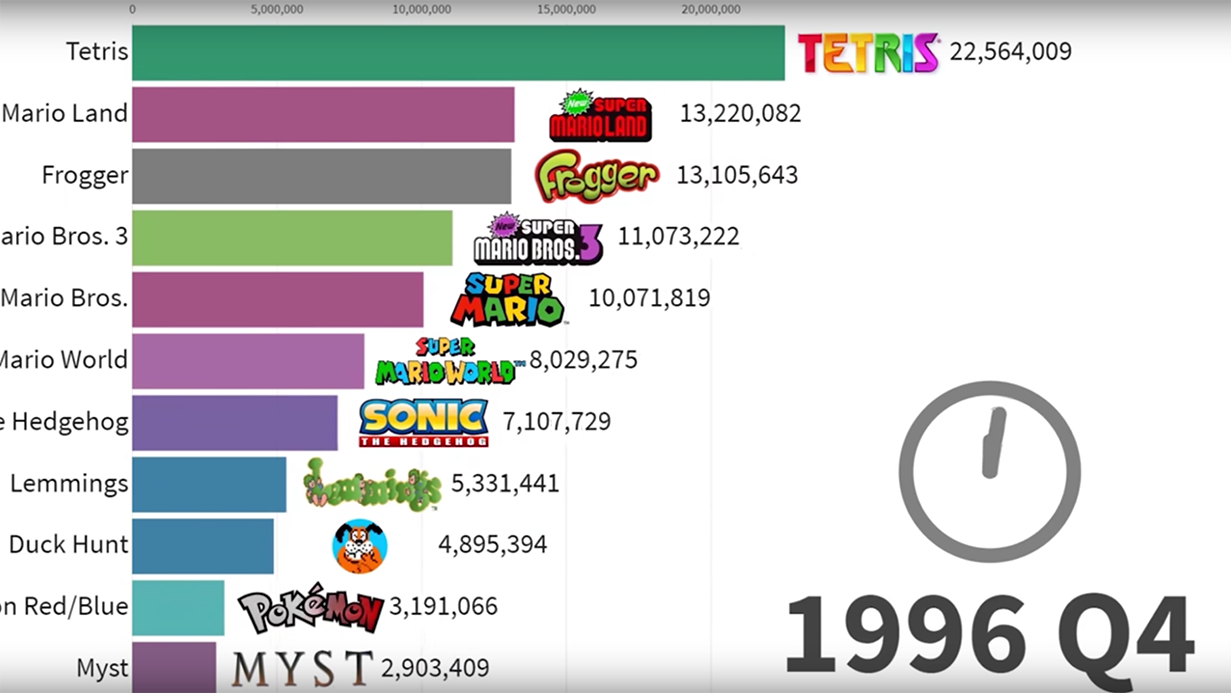 Video games hold a special place in our hearts. The virtual worlds and competitions we've explored on consoles and computers have shaped who we are and occupied tons of our headspace over the decades. Hell, dads love video games so much, we created a whole group just for them.
But just because a certain game means a lot to you doesn't mean it necessarily does to everyone else.
YouTuber and first-year PhD student Data Is Beautiful dove into the history of video games to do what he does best: take us on "a fun trip down memory lane together so we can relive the colorful events we all experienced."
Specifically, he charts video game sales worldwide over the last 30 years. These are measured by cumulative units on both PC and game consoles excludes both mobile app sales and free-to-play games (e.g., Fortnite).
Talk about some serious twists and turns! The video perfectly illustrates the radical changes that swept through the industry over the decades – some you surely expected and others you probably didn't.
Frogger held the top spot for 3 years before finally being toppled in 1992 by everyone's favorite Italian plumber in Super Mario Land. Soon after, though, Tetris saw an impressive rise to the top of the charts where it remained for two decades, despite several popular franchises like Pokemon and The Sims experiencing cult-like popularity in the '90s and 2000s.
Tetris and its iconic falling blocks remained king of video game sales for what felt like an eternity until another block-centric title came seemingly out of nowhere to take the title spot in 2013: Minecraft. The sandbox video game saw a meteoric explosion of popularity, essentially leaving all the other titles and franchises in its dust.
So, for all of those who dream of designing a video game of their own one day, learn from history: Make a game with some damn blocks.