Daughter Sticks Cheez-It To Dad's Wall—Goes Unnoticed for 4 Years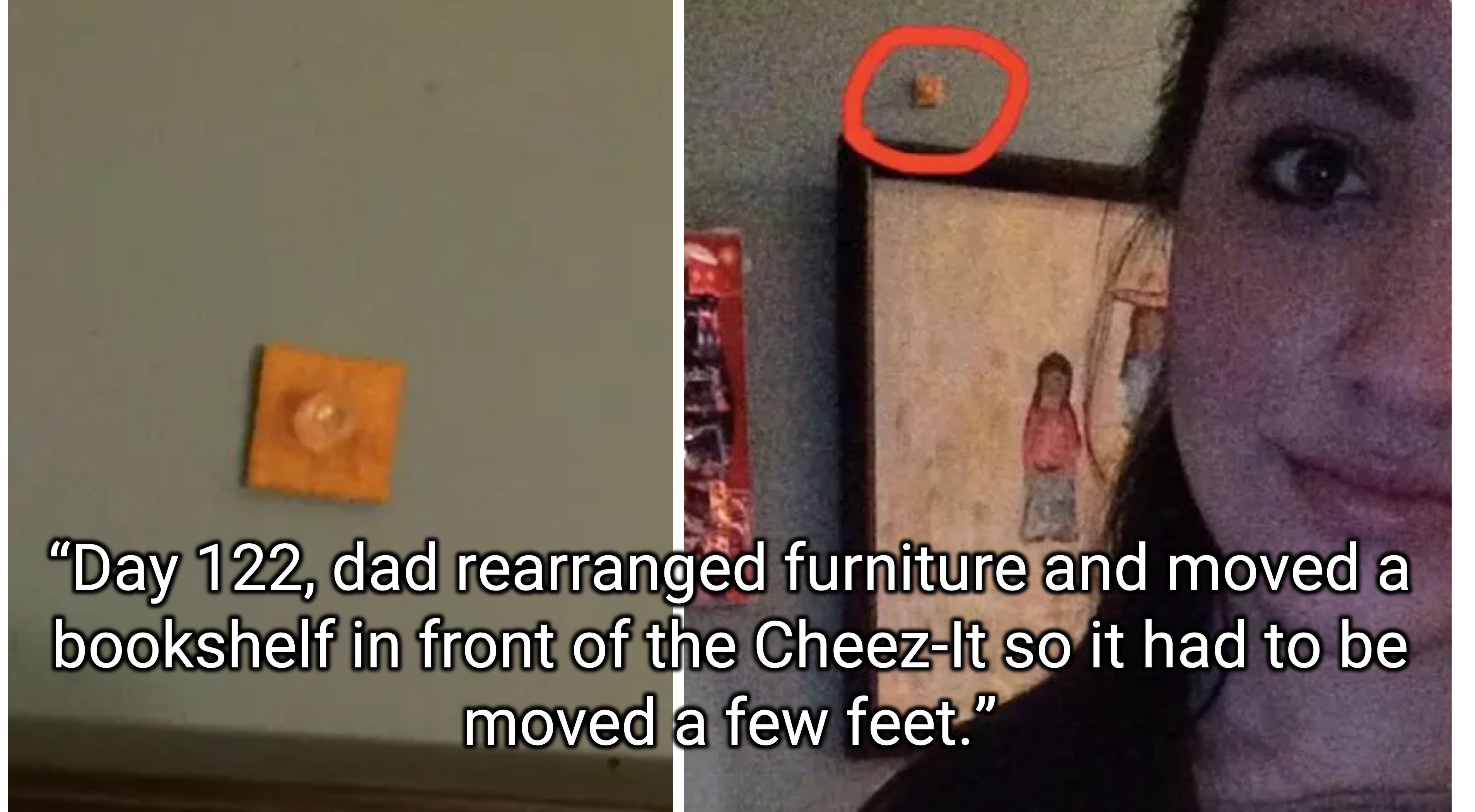 While obviously not the case across the board, quite a few dads and husbands get called out for their lack of attention to detail. Sure, we overlooked the socks on the floor, but only because we were busy thinking about whether or not today is trash day, how we're going to fix the dishwasher, and whether we can make it to and from the kids' various sports practices in time. We're big-picture guys.
Nowhere has an example of a "big-picture dad" been so perfectly illustrated than when Sara Smith stuck a Cheez-It to her father's wall.
The epic tale starts on November 26, 2015, when Sara decided to tack an actual Cheez-It to the wall. You see, not only did her dad not notice the orange cracker, but he was completely oblivious to it… for years.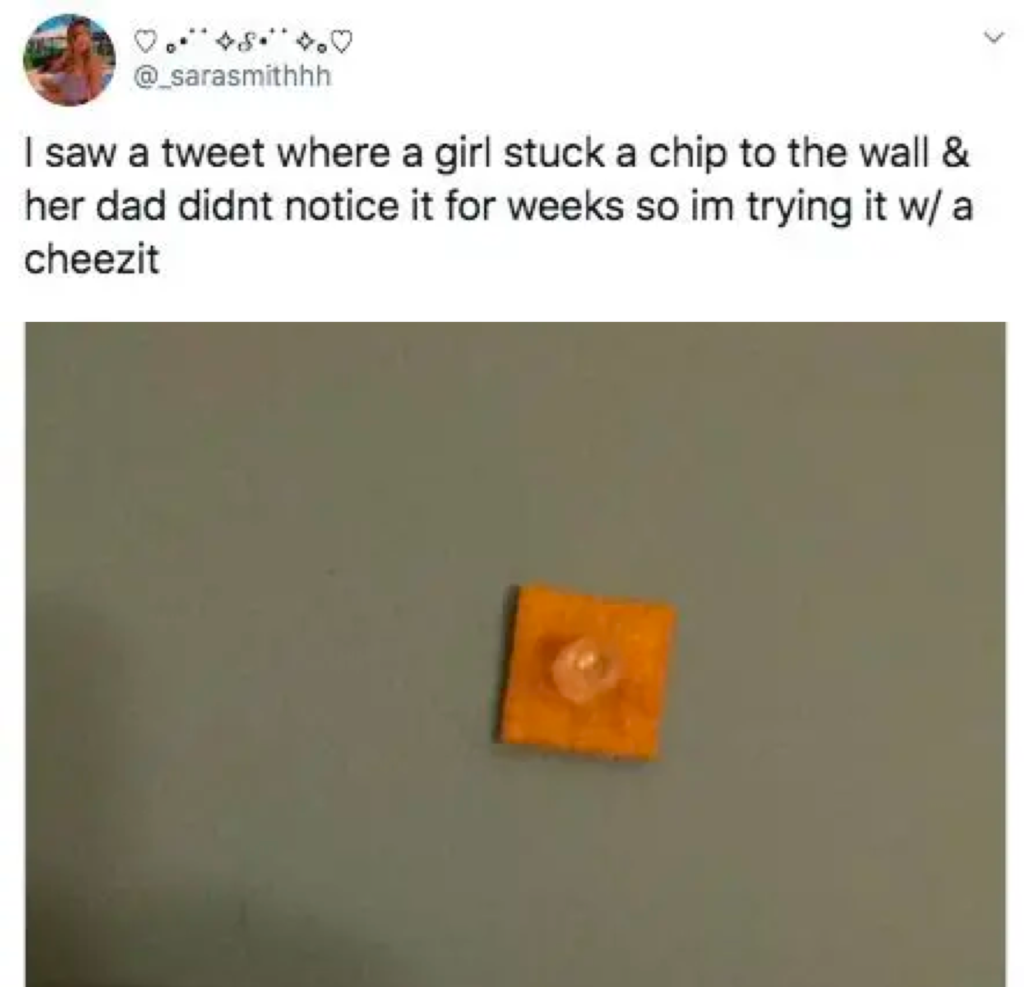 Little did Sara know that this little cracker would turn into her online legacy.
Weeks passed without so much as a word from her dad, and it's not like it was hidden away in some obscure location. It was literally right at eye-level. Above a framed painting. Bright as a traffic cone.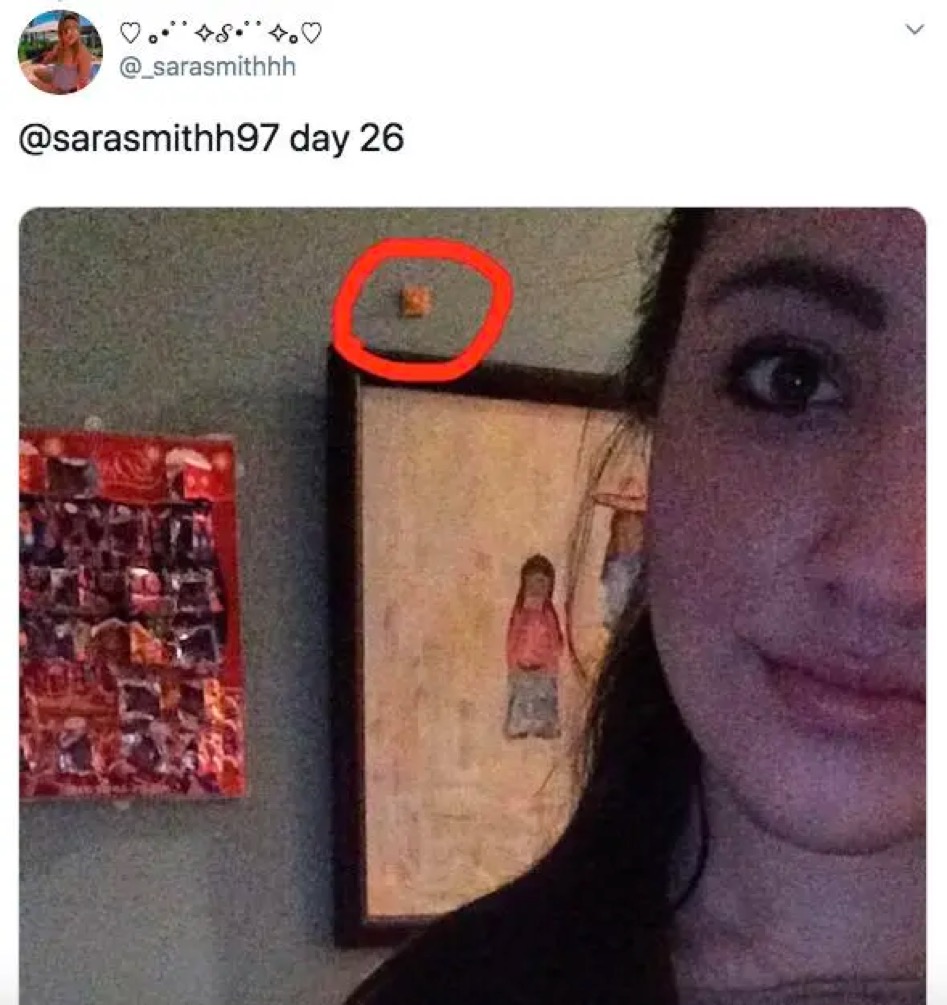 And it just keeps getting better.
Roughly four months into this charade, Sara's dad decides to rearrange the furniture. The man moves a bookshelf directly in front of the Cheez-It. Just… how?
Sara, clearly a woman of science, decides to move the cracker to a new painfully obvious location in the room, preserving the integrity of her experiment.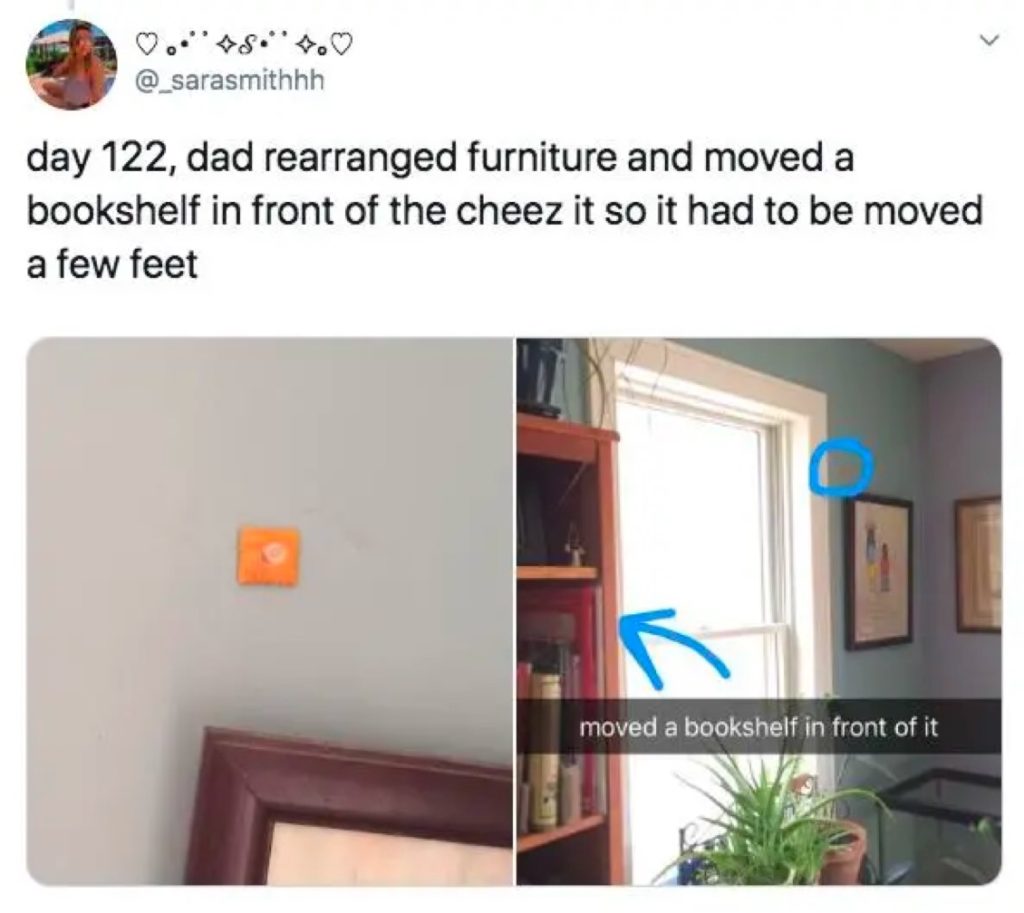 Fast-forward about a year-and-a-half later. Has Sara's dad discovered the Cheez-It?
Of course not. She simply needed to replace the cracker since they were never made to withstand such hilarious conditions. In fact, this was the second time she had to replace the cheesy bite.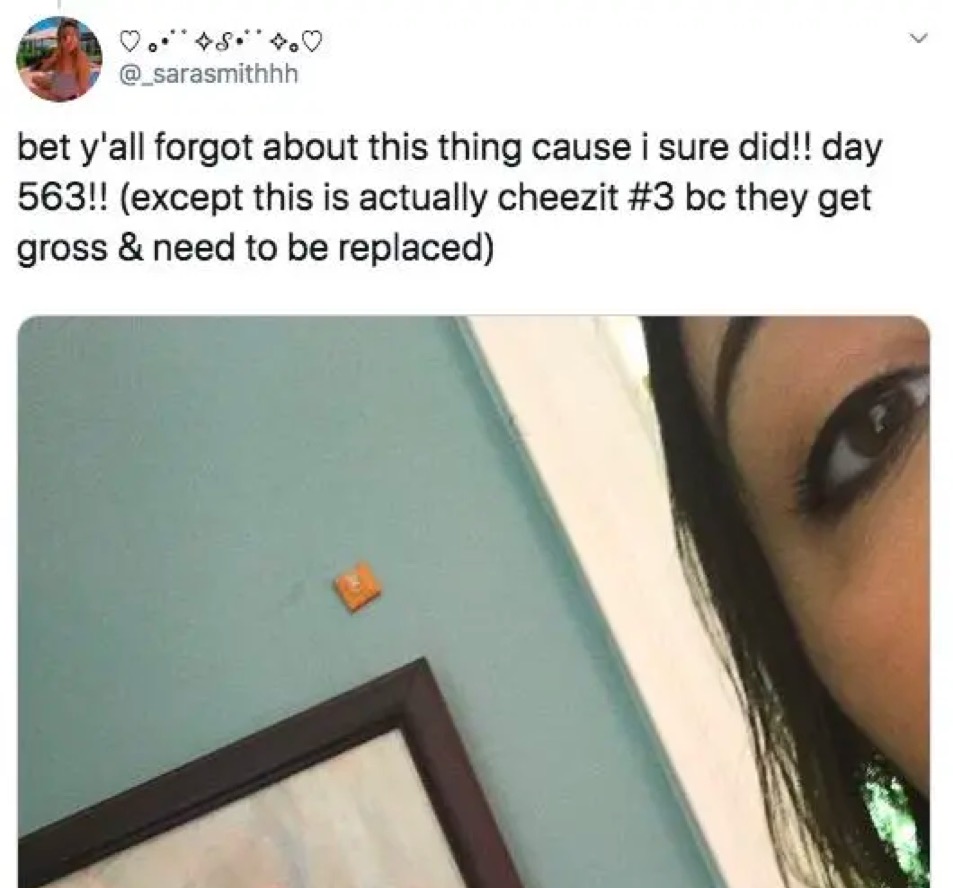 Two years after she originally tacked the Cheez-It to the wall, Sara actually ended up moving out of her dad's place, but she was determined to keep the experiment going. Literally thousands were following this hilarious escapade now.
She received regular updates from her stepmom about the cracker's status and she even trolled her dad one year with a box of Cheez-Its.
Just look at that adorable, oblivious face.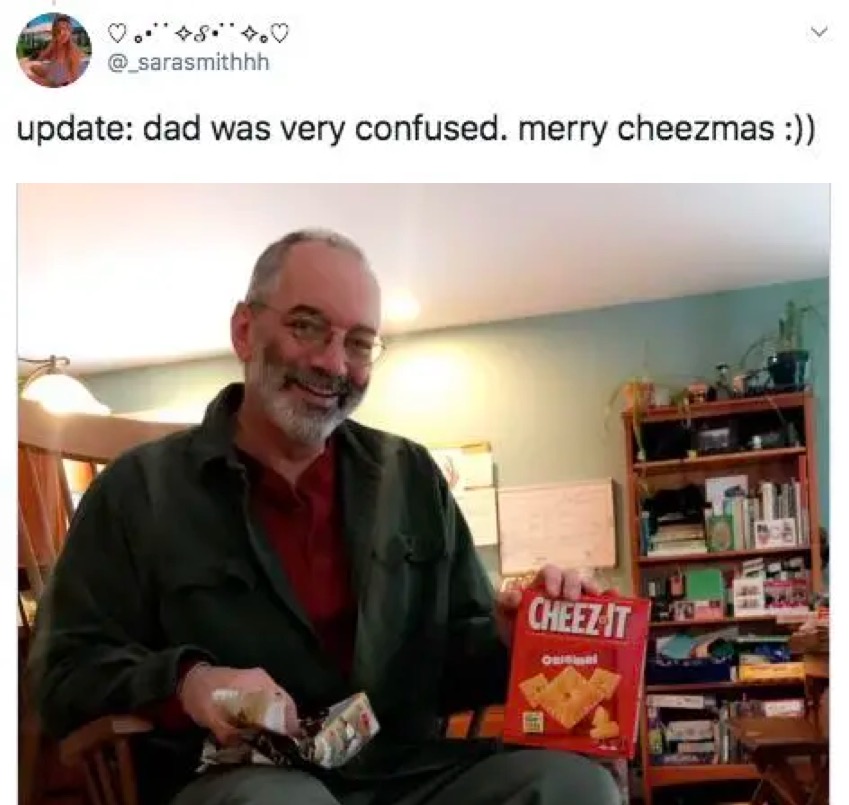 At the end of December 2018, over three years from the original Cheez-It hanging, Sara decided to once again swap out the old cracker for a new one. She even posted a comparison shot to show just how much they change over time.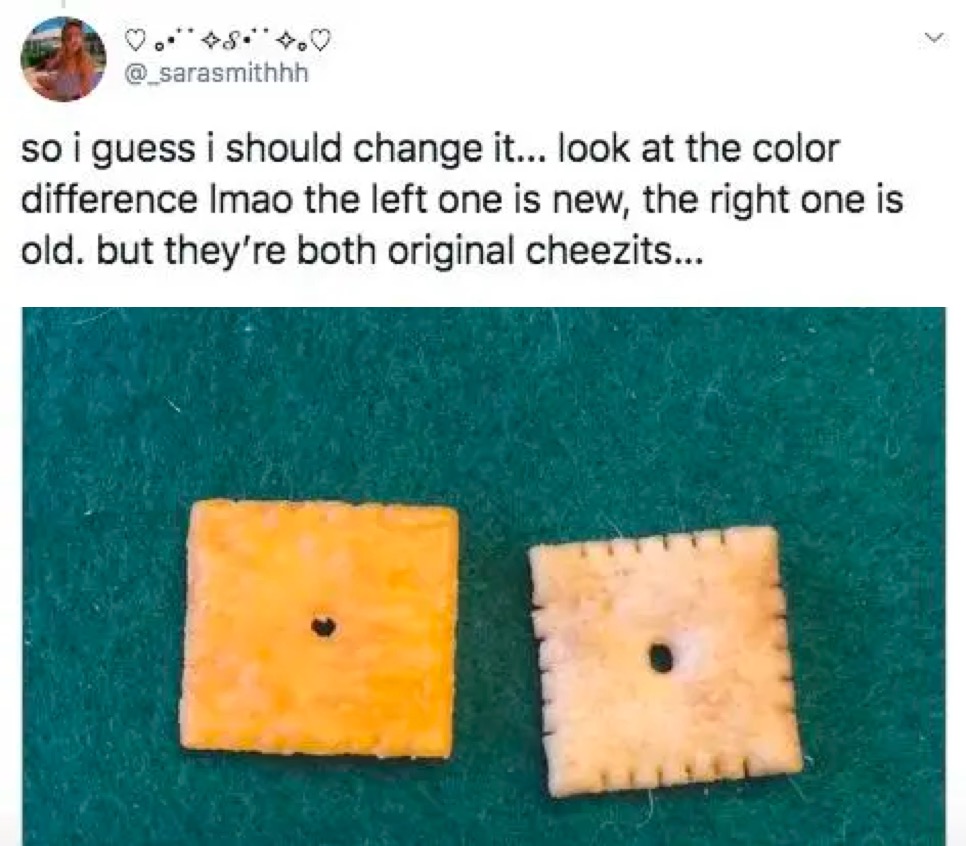 However, on October 6, 2019, the great Cheez-It experiment ended as abruptly as it had begun 1,140 days prior—not because Sara's dad suddenly realized there was a bright orange cracker on his wall, but due to a simple slip-up from her brother-in-law.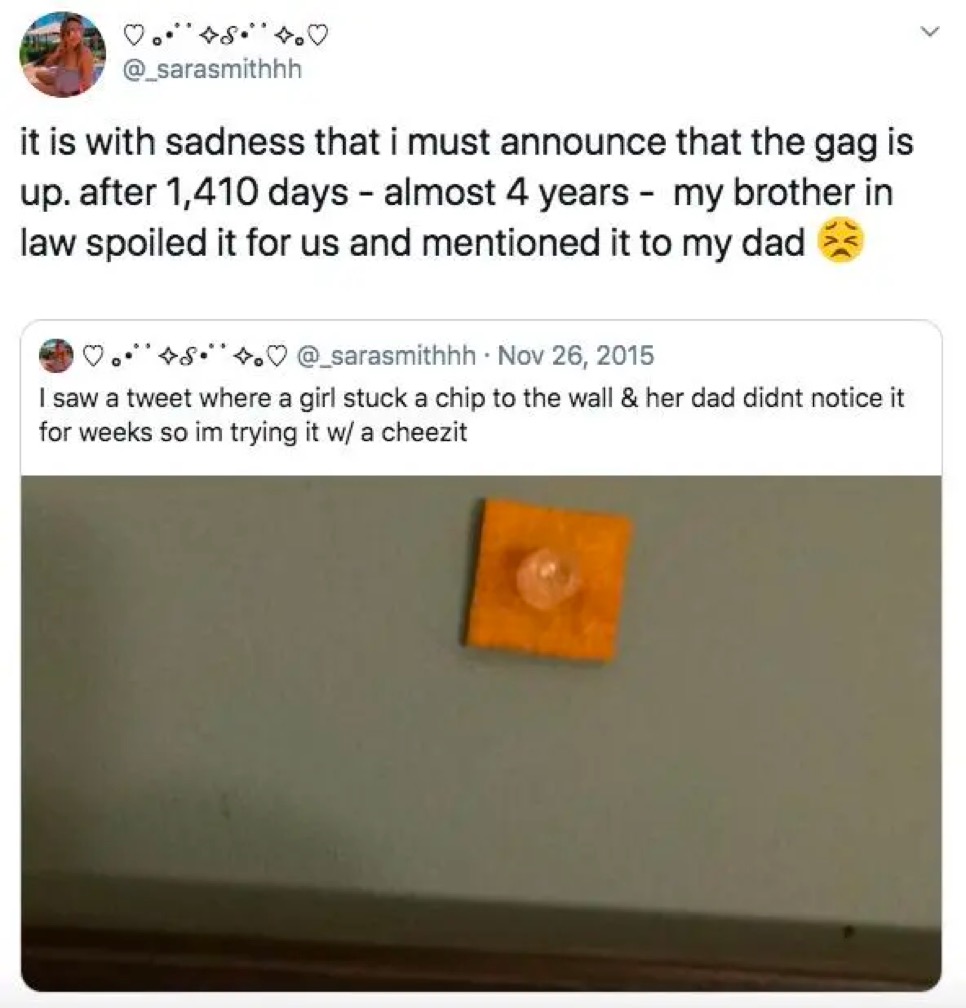 Sara explained that her brother-in-law noticed the Cheez-It missing from the wall and assumed it had finally been discovered. When he asked Sara's dad about it, though, he still had no idea what he was talking about.
It had simply disintegrated from the tack and fallen to the floor by itself.
In a subsequent tweet, Sara explains her frustration that she "will never know just how unobservant my dad is." Though, going 1,140 days was probably overkill as it is.
Personally, I'm just surprised a dad was unable to sense an unclaimed snack in his house to begin with.