Daughter's Photo of Dad a Reminder of the Lives Impacted by Australia Bushfires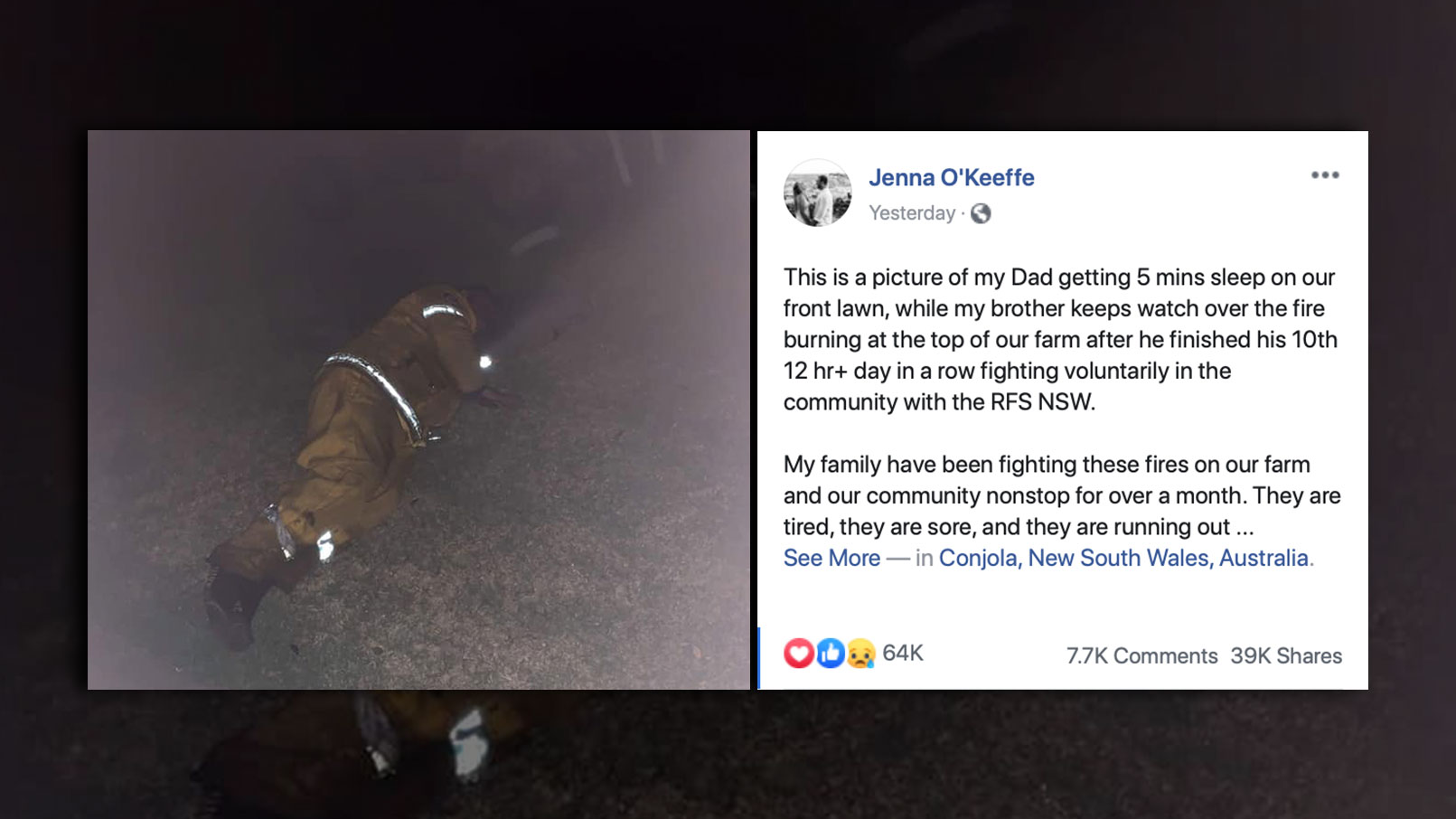 The skies above Australia have been glowing orange since September.
Millions of acres of land have been destroyed by wildfires raging throughout the country as both government officials and residents struggle to keep up. The immediate ramifications are visible and apparent, but the long-term effects won't be as evident until the dramatic blaze can be contained.
Thousands of homeowners have lost everything, including families who have been on their land for generations. Many continue to fight each and every day to save their property — their legacy.
While disasters like this make headlines around the world, the true gravity can often be lost on those of us thousands of miles away. However, in this case, photos and first-hand accounts have painted a picture so clear that it feels like it could be happening right next door.
Photos like the one posted by Jenna O'Keeffe of New South Whales.
It shows her father dressed in full fire gear, laying down on the family's front yard. Through darkness and a haze of smoke, he rests for a few minutes after spending the last 10 days battling a blaze on the family's farm. 12 hour plus days with no chance to recover or find relief. Jenna saying of her family "They are tired, they are sore, and they are running out of resources."
It's the case for so many across Australia who are mentally, physically and emotionally exhausted from a disaster that seems to have no clear end in sight. News outlets and commentators are quick to point fingers and lay blame, but residents like O'Keeffe are pleading for everyone to stay focused on the fire and those still being impacted directly on a daily basis.
"Please don't become numb to what's happening. Don't get caught up in the negativity, the politics, the facebook news, the drama! Australia is on fire and there are brave people all over the country VOLUNTARILY fighting day in, day out to keep our lives and homes safe."
Millions of dollars have been raised to aid in the relief efforts, but the damage to Australia's ecosystem, economy and residents will be felt for decades to come. O'Keeffe and others stressing how important it is to keep fighting. "To all of the people helping directly and indirectly around the country Thank you! To everyone else don't forget to donate what you can to your charity of choice, every little bit will help! This is far from over!"
Our hearts and thoughts are with everyone impacted by the fires and the resulting damage they have and will cause.
Here are some ways you can help: