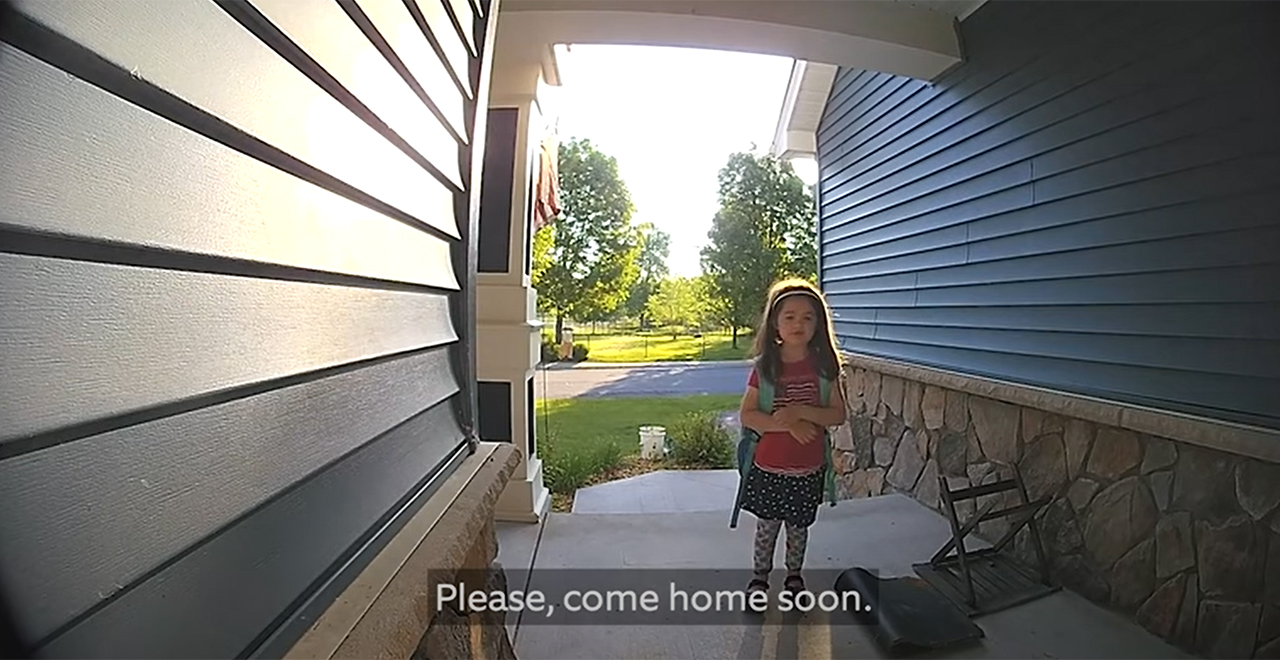 Credit: YouTube/Ring
Though there are certainly drawbacks to living in a world run by technology, advancements in technology provide incredible solutions to many of life's problems. Especially during the era of COVID, technology has allowed us to stay connected when other modes of communication are no longer an option. Even before the pandemic, communication was a challenge for many – particularly members of the Armed Forces deployed overseas. Being deployed means leaving everyone and everything behind in order to bravely defend your country, and sadly, it often means missing out on some of your kids' milestones and celebrations.
While stationed in the Middle East with Minnesota National Guard's 34th Infantry Division, Peter DeCrans bought his family a Ring doorbell, assuming it would help him keep his family safe while he was away. For those who don't know, a Ring doorbell is equipped with a camera that connects to the homeowner's devices. If someone presses the button on your Ring doorbell while you're away from home, you can see the camera's video feed from wherever you are.
This feature brings peace of mind when you're away from home, knowing that you're able to keep a virtual eye on your house from anywhere in the world. But for Peter DeCrans, this feature gave him an incredible gift – one that no doorbell in history has been able to provide (a very odd sentence, yes, but they're just going to keep getting weirder as technology evolves).
Every morning before school, DeCran's 7-year-old son Zerick and 5-year-old daughter Petroula recorded a video using their Ring doorbell. And throughout his 10-month deployment, Peter DeCrans was able to receive them – over 100 videos of his adorable kids to keep his spirits up and remind him why he's doing what he's doing.
The videos became a highly-anticipated part of DeCrans's days, something he eagerly looked forward to and cherished enormously during his time away from home.
DeCrans told the Twin Cities Pioneer Press, "It was one of the best things ever, a little slice of home. When you're gone that long, you miss your kids, and you want to see them. It's a way to feel connected to what's going on."
From thousands of miles away, DeCrans got the latest news from his kids. He heard about their days, new dances they learned, skills they proudly mastered – DeCrans was kept up-to-date on it all.
"It was just part of the routine," he explained. "They'd get dressed for school, and then they'd swing outside and leave a quick message telling me about their day. … One day Zerick had really long hair, and the next day he had a buzz cut because he had a wood tick in his hair, and he didn't want long hair anymore."
In return, DeCrans recorded his own videos. Using a Kindle app he read stories to his kids, continuing a beloved activity the family did together while he was home. DeCrans was able to remain a big part of his kids' lives from thousands of miles away, and it was all thanks to a doorbell.