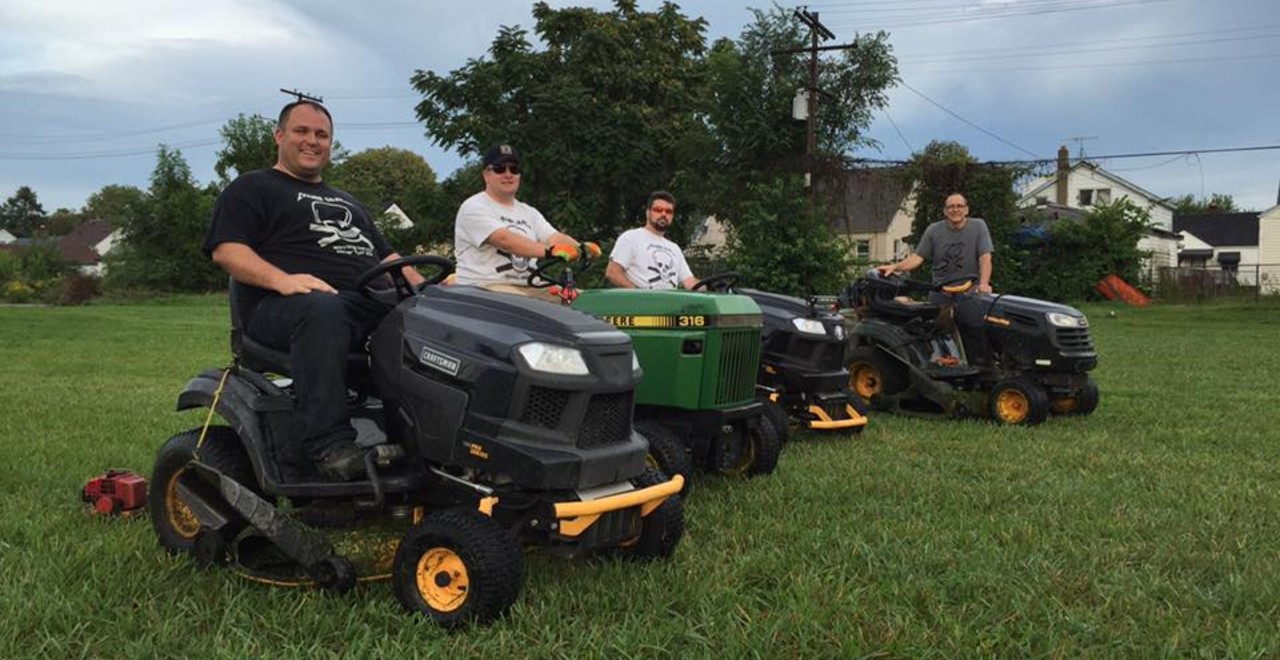 Credit: Facebook/Detroit Mower Gang
Any lawnmower owner will tell you, with great horsepower comes great responsibility. The first rule of lawnmownership (the act of owning a lawnmower) is befriend your lawnmower – nobody wants to be up against what is basically a knife windmill on wheels when the robots take over. The second rule of lawnmownership is know your limits. You may think you can handle a cool 130 miles per hour on your sweet riding mower, but please take another look at rule one (see "knife windmill on wheels") to remember what you're actually dealing with here. The third rule of lawnmownership is use your lawnmower for good, not evil. That's exactly what Tom Nardone did, and it ended up saving his city.
In 2010, Tom Nardone realized Detroit was in trouble. Financial hardship meant that the city had to pick and choose between basic maintenance projects, and the city's inhabitants were left to live with overgrown parks and crumbling playgrounds. Instead of allowing his beloved city to be buried in buckthorn and dandelions, Nardone started a gang. A mower-riding, groundskeeping, donut-eating crew called The Detroit Mower Gang.
The Detroit Mower Gang has been in operation for a decade. Their Facebook page explains, "Every Other Wednesday The Mower Gang gets together to mow the abandoned playgrounds of Detroit. We are a crafty crew that refuses to let small budgets and bureaucracy stand in the way of a great playground." The group is entirely volunteer-based and open to anyone interested in keeping Detroit looking its best.
Once a year, the Mower Gang kicks things up a notch. For 12 straight hours, grass will be cut. Parks will be revamped. Dreams will be crushed. That's right gentleman, start your engines. The annual Detroit Mow-a-Thon is about to begin. There can only be one 'Motown Mowdown' Grand Champion, the mower who cuts the most grass within the 12-hour period.
Congratulations to this year's winner, Gage, who rolled right over his competitors.
Though the group hosts other events such as the stinky fish challenge, ice cream night, and donut tasting (hey, the lawnmowers aren't the only things that need to refuel after a long day's work), the group's main goal is to preserve parks so they can continue to be used by the community. Who would have thought that 40 years ago, when Nardone was running around those very same parks yelling "YOUR ASS IS GRASS" at his rowdy friends, he would return all these years later to say "and I'm the lawnmower", ensuring that the next generation can do the same.