Infamous "Han Shot First" Scene Changed Again for Disney+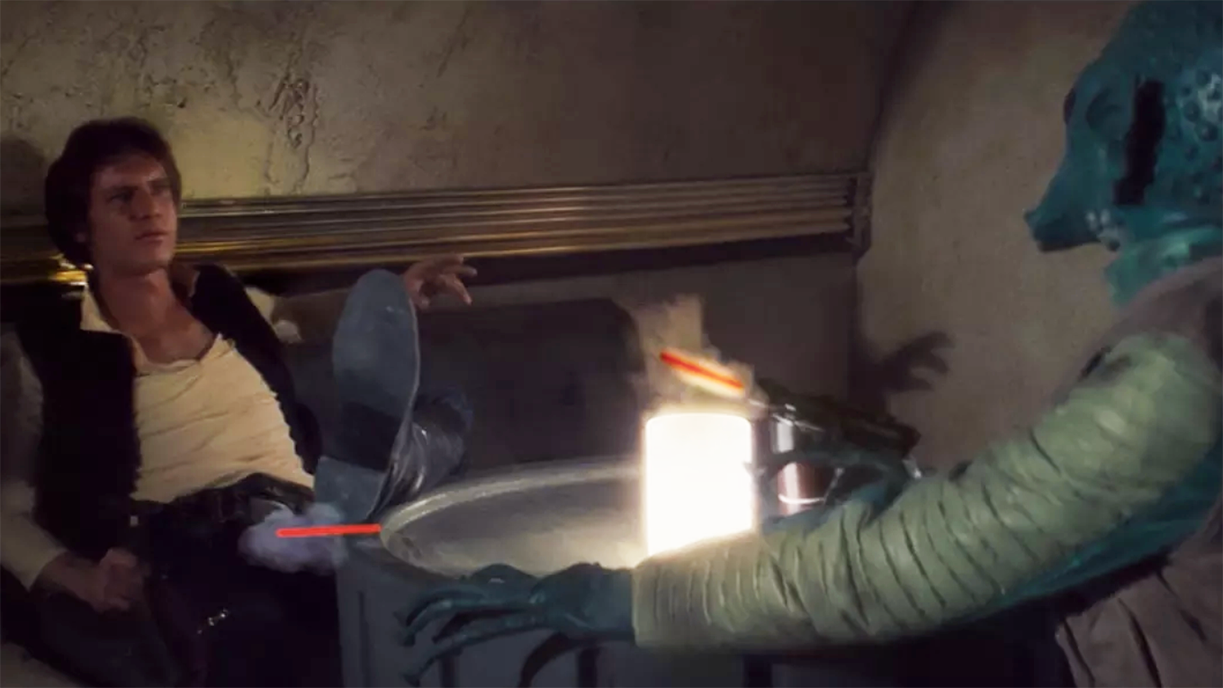 As if we needed additional details to muddy the waters surrounding the infamous shootout between Han Solo and Greedo in 1977's A New Hope, Disney+ has gone back into the source material and to tinker a bit further.
The phrase "Han shot first" is well known among the Star Wars fanbase, coming from the classic scene in Episode IV between the roguish Han Solo and Rodian bounty hunter, Greedo.
In the original release, the two get in a dispute over money owed to Jabba the Hutt, which ends with Solo casually shooting Greedo with his blaster under the table, cementing him as a total badass among fans.
When George Lucas re-released the original trilogy in its "special edition" format in 1997, he altered the scene to show Greedo pulling the trigger first, making Han's shot defensive and waaaay less cool to our childhood selves.
Instead of the lawless smuggler who only looked out for number one, Solo had been softened into just another "good guy" who considers violence to only be a last resort.
Some will argue this was a sign of Lucas beginning to lose touch with his original vision, but now Disney has decided to stir things up even further… though, not quite as drastically this time.
All of the original Star Wars films are available on the new streaming service, and while A New Hope still has Greedo shooting first, this time he does it while yelling out the word, "Maclunkey"?
In the Disney+ version of Star Wars Greedo now shouts "MACLUNKEY" before getting shot. This is now my favorite version because why the hell not? MACLUNKEY! #starwars #maclunkey pic.twitter.com/k1XmP8wAZT

— Eric Fell (@ericfell) November 12, 2019
So, what does "maclunkey" even mean? Could it be a slang or curse word in Huttese (the language Greedo is speaking)? There aren't even any subtitles to help us out figure it out – is Lucasfilm just trolling us??
Well, according to Eleven-ThirtyEight—a Star Wars fan account on Twitter—the word "maclunkey" is yet another change from Lucas himself.
Not making a habit of this but I should correct my assumption: according to Pablo "Maclunkey" is a Lucas thing from the aborted 3D project a while back. https://t.co/1qgnrm0fJS

— Eleven-ThirtyEight (@eleventhirtyate) November 12, 2019
The "Pablo" mentioned in the tweet is Pablo Hidalgo, head of the Lucasfilm Story Group, who has been with the company since long before Disney acquired them in 2012.
Years ago, the films were being prepped for yet another theatrical re-release—this time in 3D—and Lucas decided to add this final word to Greedo's life. Now, even though the 3D release never happened, the change can finally be seen in this new streamable version.
So, what does it literally mean? We simply don't know. But I wouldn't be at all surprised if George just felt like kicking the hornet's nest one last time.
Want to see what the maclunky everyone is talking about? Disney+ is now available for $6.99 a month or $69.99 a year.