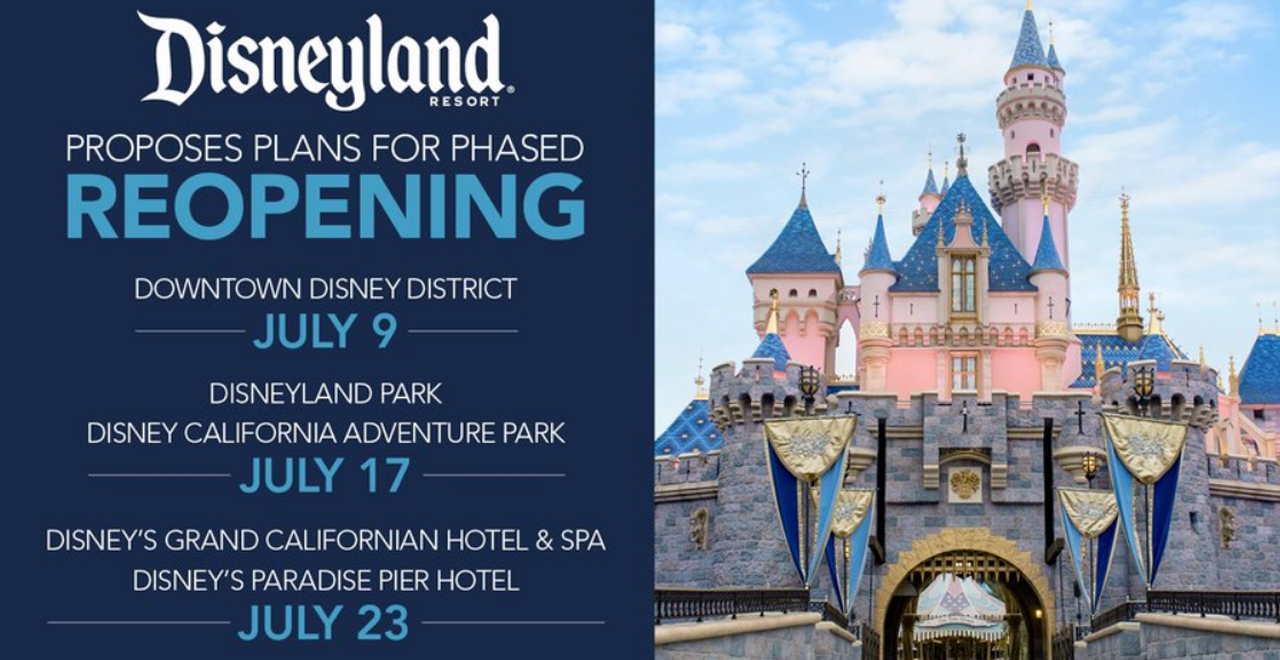 Credit: Twitter/DisneyParksNews
While we all continue to push through an extremely challenging time in world history, there's at least a little magic coming back into the world. Soon, both the "Happiest Place on Earth" and the "Most Magical Place on Earth" will be open for business, as Disney World and Disneyland plan their re-openings. But…things will definitely be different.
All 12 parks that closed around the globe due to the COVID-19 pandemic will start to let customers in again, but it won't be quite the Disney experience you may have been used to. For starters, all employees AND GUESTS must wear facial coverings. Face masks can be a hot topic depending on what part of the country you're in, but they are recognized as playing a crucial role in limiting the spread of the virus. Still, the thought of spending long hot days in a mask may not be appealing to some park-goers, especially if they have to get their kids to keep them on.
We're looking forward to welcoming you back to Disney resort hotels! Here's what to expect from your stay. For more about health and safety measures, visit the blog: https://t.co/2jtZTyKyoV pic.twitter.com/nUebSQNTwH

— Disneyland Resort (@Disneyland) June 10, 2020
Additional safety measures include the elimination of all parades and of the nightly fireworks (sad face). On the plus side, they are also reducing capacity at the parks to encourage social distancing. This is a good thing because if you go, it means shorter lines and less crushing humanity everywhere you go. There will also be additional hand sanitizing stations throughout the parks and an increase in contactless payments.
Disney World is circling a July 11 return for the Magic Kingdom and the Animal Kingdom, with EPCOT coming online July 15. Disneyland is beginning their phased re-opening July 17, the 65th anniversary of the park's opening.
We are pleased to announce our proposed plans to begin a phased reopening of the @Disneyland Resort. We are looking forward to welcoming guests back to the Happiest Place on Earth! Learn more on the @DisneyParks Blog: https://t.co/jWtAONQdzP pic.twitter.com/e9vvkoeVUW

— Disney Parks News (@DisneyParksNews) June 10, 2020
We're pleased to share plans for the phased reopening of @WaltDisneyWorld Resort Theme Parks, Resort Hotels and Disney Stores. Learn more on the @DisneyParks Blog: https://t.co/T6xSgfVddW pic.twitter.com/LnoVYuWQ8T

— Disney Parks News (@DisneyParksNews) May 27, 2020
Disney CEO Bob Chapek told CNN he believes guests will be safe in their return.
"We've done everything we can to open up responsibly," he said. "Taking the guidance of local health officials, state health officials, national health officials, plus our own well-qualified doctors on staff to create an environment to create new operating procedures, to create new policies, to do new training, new standards of hygiene."