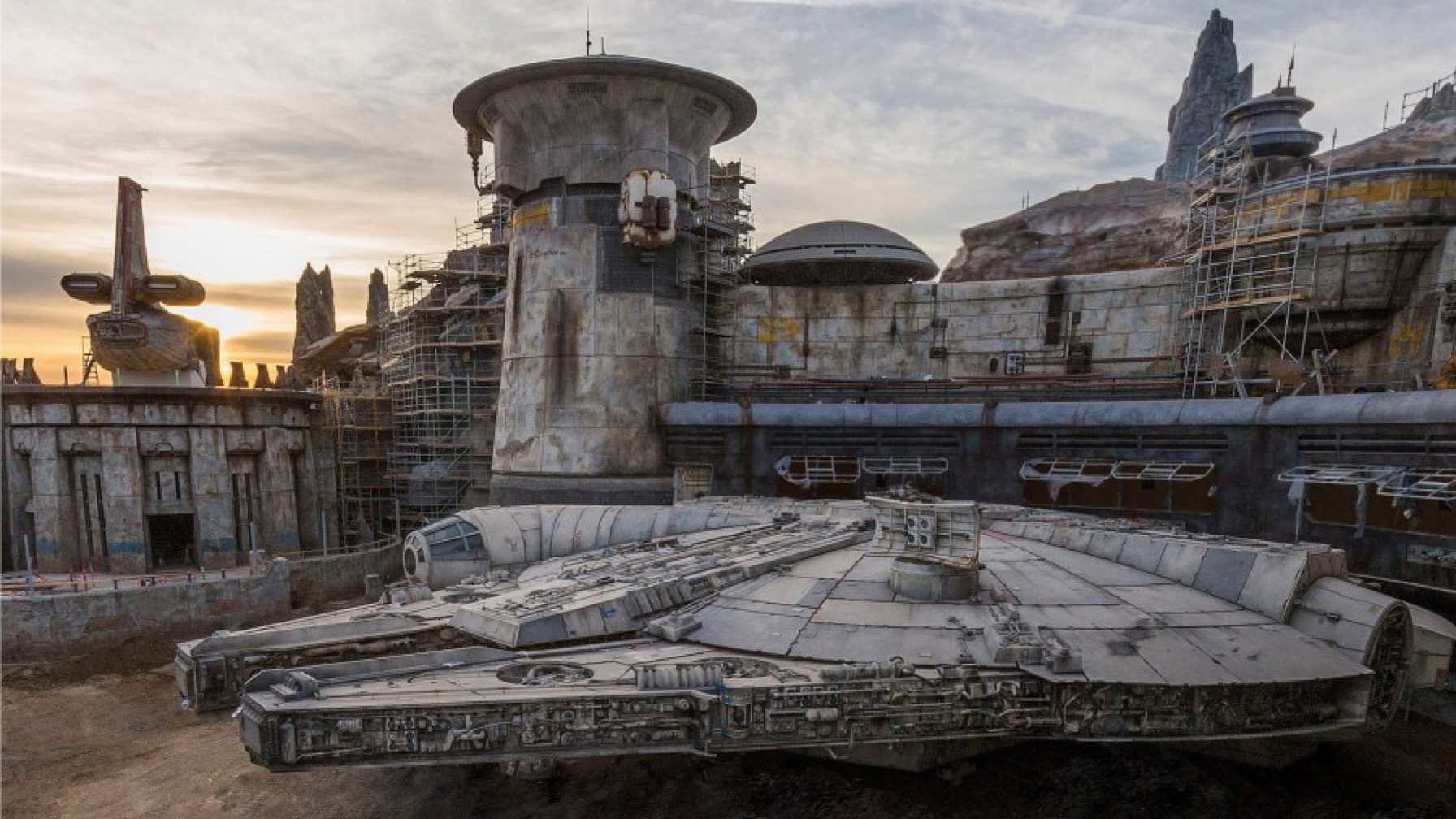 Credit: starwars.com
Crank up the hyperdrive and get ready to punch in the coordinates for either Florida or California. Disney is putting the final touches on their huge Star Wars-themed areas in both Disney World and Disneyland, and they look incredible.
When the attraction was announced in 2015, The Walt Disney Company Chairman and CEO Bob Iger described it as being "occupied by many inhabitants; humanoids, aliens and droids … the attractions, the entertainment, everything we create will be part of our storytelling. Nothing will be out of character or stray from the mythology." And, according to many sources (1, 2, 3), it's on par to be the immersive Star Wars experience as promised.
Guests who enter the new area will find themselves transported to the remote frontier outpost planet, Batuu. By downloading the park specific app, smartphones are transformed into Star Wars datapads that have a number of functions, such as translating signs, conversations, and directions (an intergalactic Google Translate, if you will). It will also be useful for hacking data terminals, listening to various broadcasts, and solving themed puzzles while you wait in line for the two main attractions.
Rise of the Resistance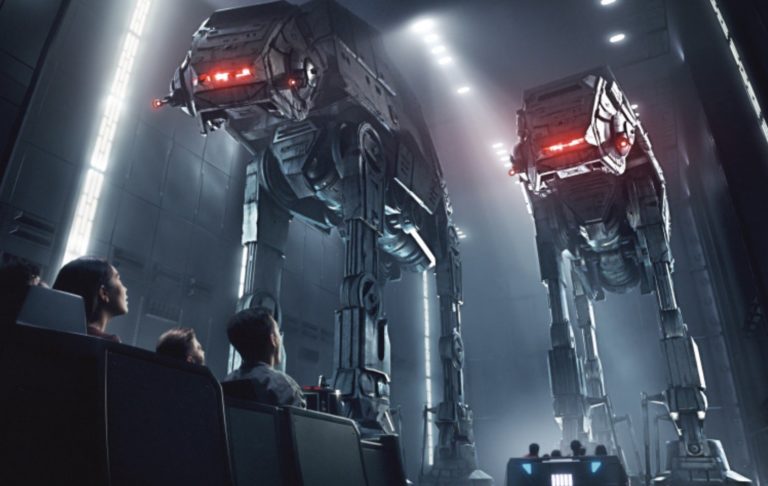 The first of the two rides is currently being hyped as the longest and most elaborate attractions in Disney history. From beginning to end, it is comprised of four separate and exciting experiences:
Guests are asked by Rey and BB-8 to join a mission to assist the Resistance in fighting the First Order. Riding up to space in a transport shuttle, the ship gets caught in a battle and is captured by a First Order Star Destroyer.
Exiting the transport, guests will find themselves in the Star Destroyer hanger (one of the largest rooms in the entire building), complete with a regiment of stormtroopers, TIE fighters, and a view into space.
Guests are interrogated by Kylo Ren and separated into smaller groups for processing; however, a Resistance droid intercepts them and reprograms their vehicle.
The final escape sequence will have guests zooming through the highly-detailed corridors of the Star Destroyer as well as facing off against First Order troops, giant AT-AT walkers, and Kylo Ren himself, all while catching glimpses of the epic space battle going on outside.
Millennium Falcon: Smuggler's Run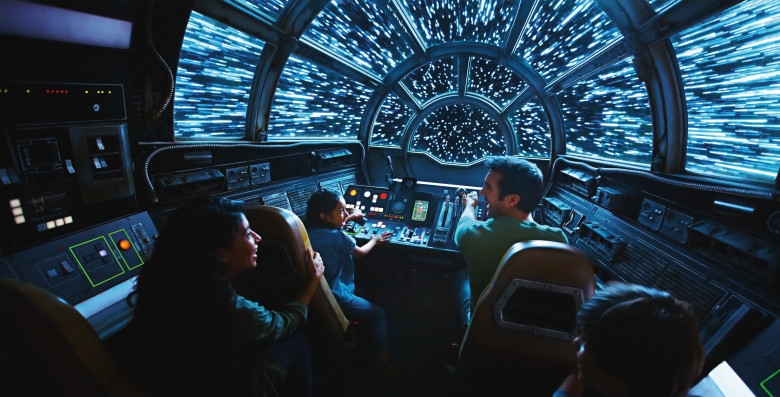 The second major attraction throws you into the pilot's (or flight engineer or gunner's) seat of the most famous hunk of junk in the galaxy to smuggle intergalactic contraband firsthand. The ride provides guests with several different views of the famous freighter—both inside and out—before putting their piloting skills to the test with mission-specific roles.
Don't go thinking this is some automated kiddie ride, though. What makes Smuggler's Run so unique is that guests can actually FAIL the mission if they aren't up to the adrenaline-fueled tasks at hand… and will repeatedly be reminded of their failure over the course of the day as a result (all in good fun, of course).
Galaxy's Edge Restaurants and Food
Sure, traversing through hyperspace and battling against the Dark Side is fun and all but if you're like us (or Chewbacca), you're always thinking with your stomach. Fortunately, Galaxy's Edge will have a number of kiosks, cantinas, and restaurants filled with Star Wars-themed goodies to satisfy that Rancor-sized appetite, including Ronto Roasters, Docking Bay 7 Food and Cargo, and Oga's Cantina.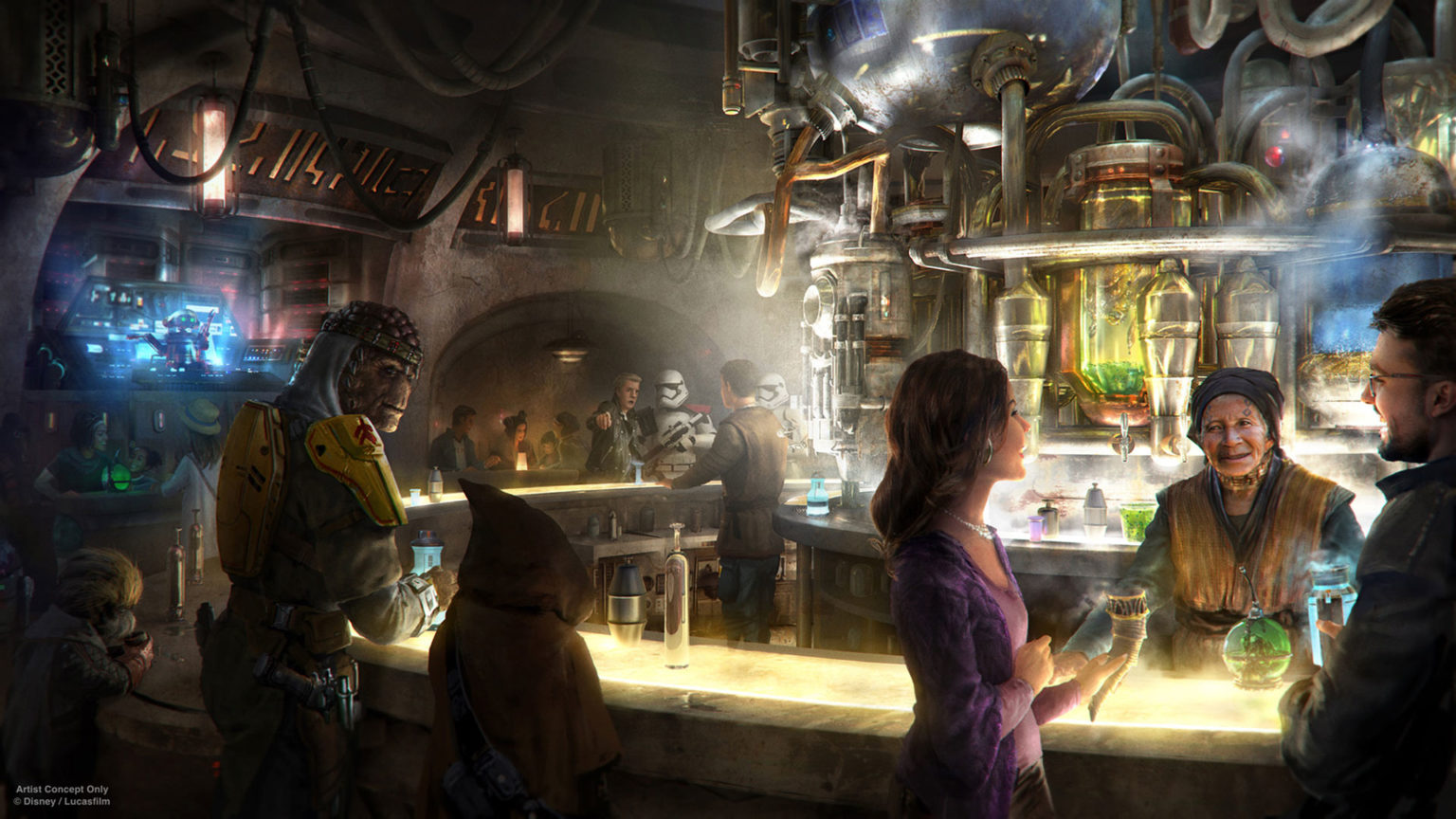 The menus are all in-universe, which means anything you order has been acquired from somewhere in the galaxy far, far away.
Feeling parched after trekking around for hours? Grab blue milk from Tatooine. "They're very flavorful, they're kid-friendly. Guests of all ages can enjoy these," said Brian Koziol, food and beverage concept development director at Walt Disney World Resort.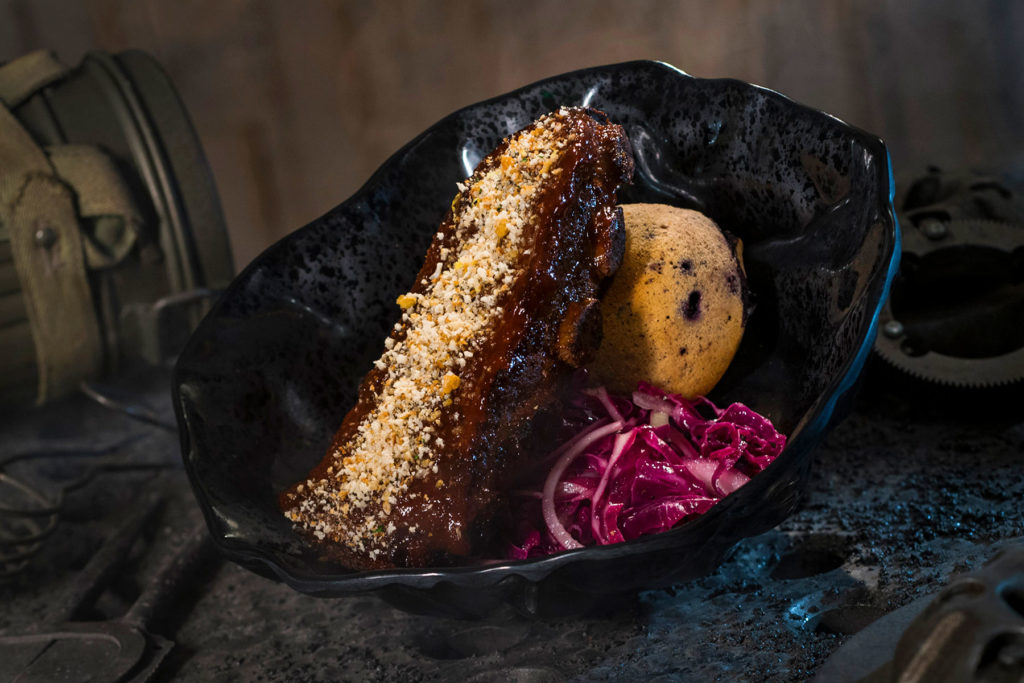 If you're in need of something a little more substantial, try the Smoked Kaadu Ribs, imported directly from Naboo (served with a blueberry corn muffin and cabbage slaw).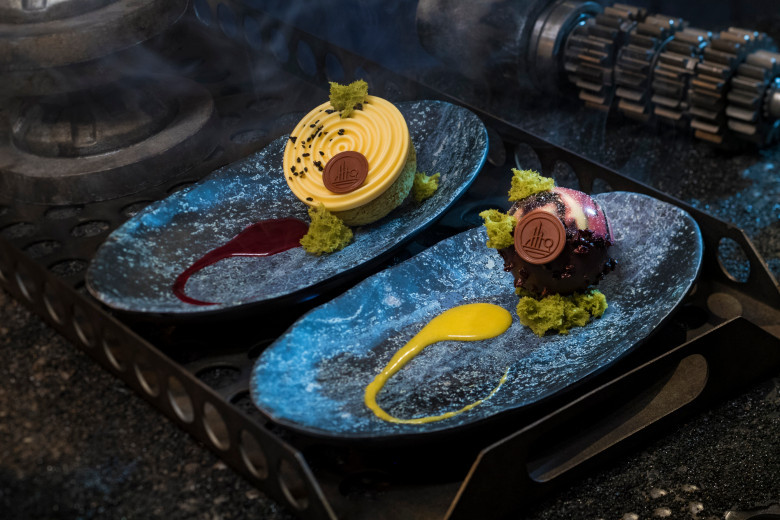 Need to satisfy that sweet tooth? Go ahead and indulge in a raspberry crème puff with passion fruit mousse (left) or chocolate cake with white chocolate mousse and coffee custard (right) at Docking Bay 7 Food and Cargo.
"[We had to] sit back and think about, 'How do we approach this?'" said Brian Piasecki, culinary director of concept development at Walt Disney World Resort. "What is our creative direction of the food, because we don't know. What does it taste like? What does it smell like? What does it look like? So we had that opportunity to really bring all of those touch points to every single guest that's going to visit Galaxy's Edge, and we're super excited about that."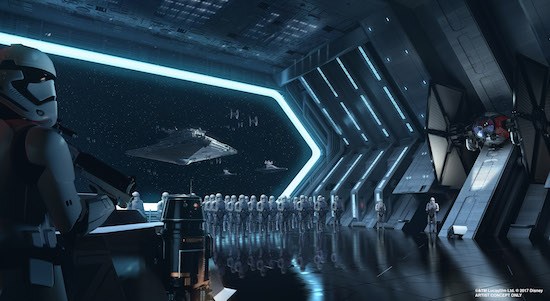 Star Wars: Galaxy's Edge is expected to open at Disneyland in Summer 2019 with a nearly identical setup opening at Disney's Hollywood Studios inside Walt Disney World a few months later in the fall. Once they do, expect them to be the most popular parts of their respective parks for the foreseeable future.
"I am thinking that maybe I should just tweet, 'It's opening' and that will be enough," Bob Iger said. "We are going to end up with incredibly popular and in-demand product with these two new lands. They're large, they are beautiful, and they are extremely innovative … I think that we are going to have absolutely no problem gaining attention for them or to them."
Here's the latest sneak peek: