Diver Finds Lost iPhone in River With Texts From Woman's Late Father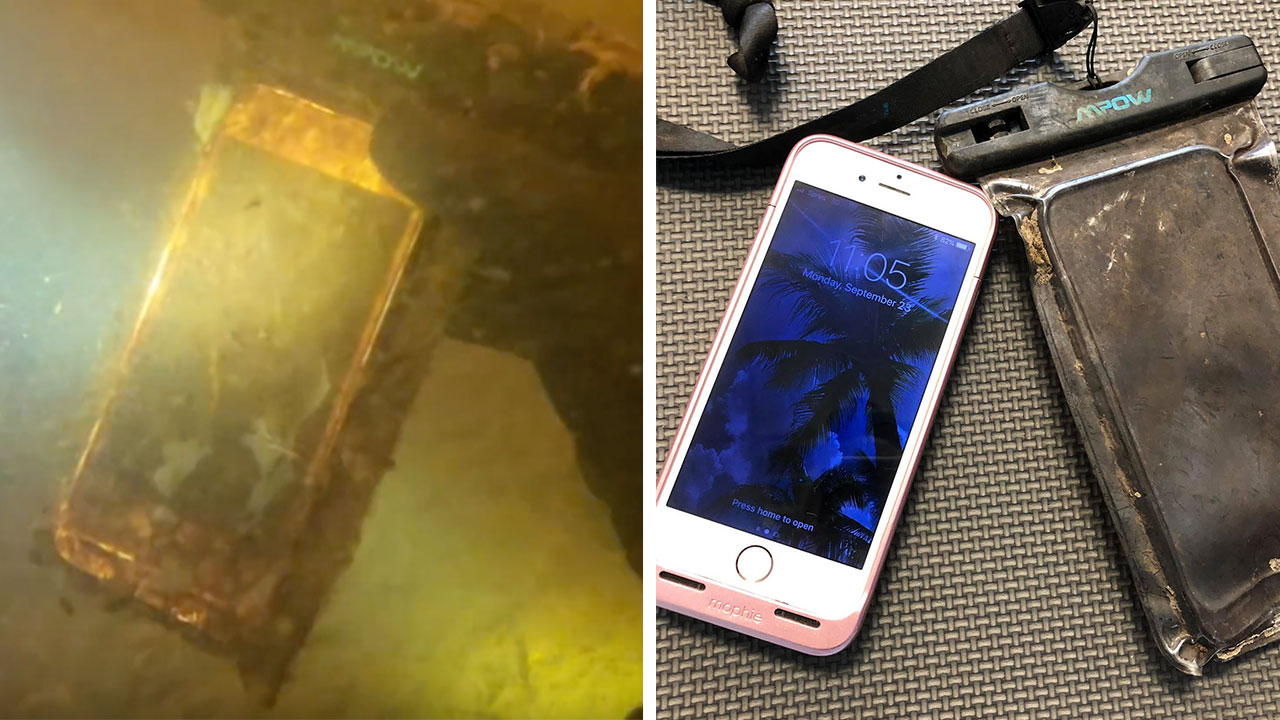 For centuries, explorers have been combing the bottom of the oceans, lakes, and rivers in search of lost treasure and artifacts from the past. From shipwrecks to plundered gold, the deep blue sea is littered with relics and pieces of history just waiting to be discovered.
Michael Bennett, who goes by Nugget Noggin, hunts for these lost treasures on his YouTube channel of the same name. During a recent dive, the metal detector wielding deep-sea detective and his team came across something pretty unusual. Inside a protective, waterproof case, laying on the bottom of South Carolina's Edisto River, was an iPhone 6s. Knowing the contents of the phone may very well be a treasure of sorts to its owner, Michael brought the phone home and plugged it in.
Within just minutes, Michael and his over 742,000 subscribers watched as the once submerged cellphone powered up for the first time in over a year and a half. After a little sleuthing, Michael was able to locate the owner's number, leaving her a message that likely sounded like a prank.
Coincidently, the owner shares the same last name. Erica Bennett, no relation, had been enjoying a day on the river nearly 15 months prior when her phone went overboard. Though her husband attempted to find it, the family had no luck. "I was devastated. I was like, 'That thing's gone,' " she recently told PEOPLE.
While the phone had since been replaced, Erica was unable to recover something truly important: The final text messages that she'd received from her late father who passed away earlier this year after a battle with cancer. "It was tough not having the most recent messages because we had talked about doing things because life is short," Erica recalled. That all changed last week when Michael and Erica were finally able to meet up, reuniting Erica with her phone and those long lost messages once again.
"I cried a little. It's just an awesome story to tell. I was able to see all the photos from that day, along with other photos and messages I had lost because I'm terrible at remembering to back up my phone," Erica admits, urging anyone who reads her story to "Back up your phone!"
The video has been viewed and shared across the web, with many folks commenting on the powerful nature of the story, as well as inquiring where they can buy this seemingly indestructible waterproof case.
Michael telling Good Morning America he was moved by Erica's story. "It's just a memory of their conversations and all the interactions she had with her father." The aquatic explorer adding "I just try to find stuff from the past and things that tell a story." Although this find wasn't particularly old or monetarily valuable, the story and messages contained inside were absolutely priceless.