Doctor Prescribes Grandma a Hug From Her Granddaughter After Vaccination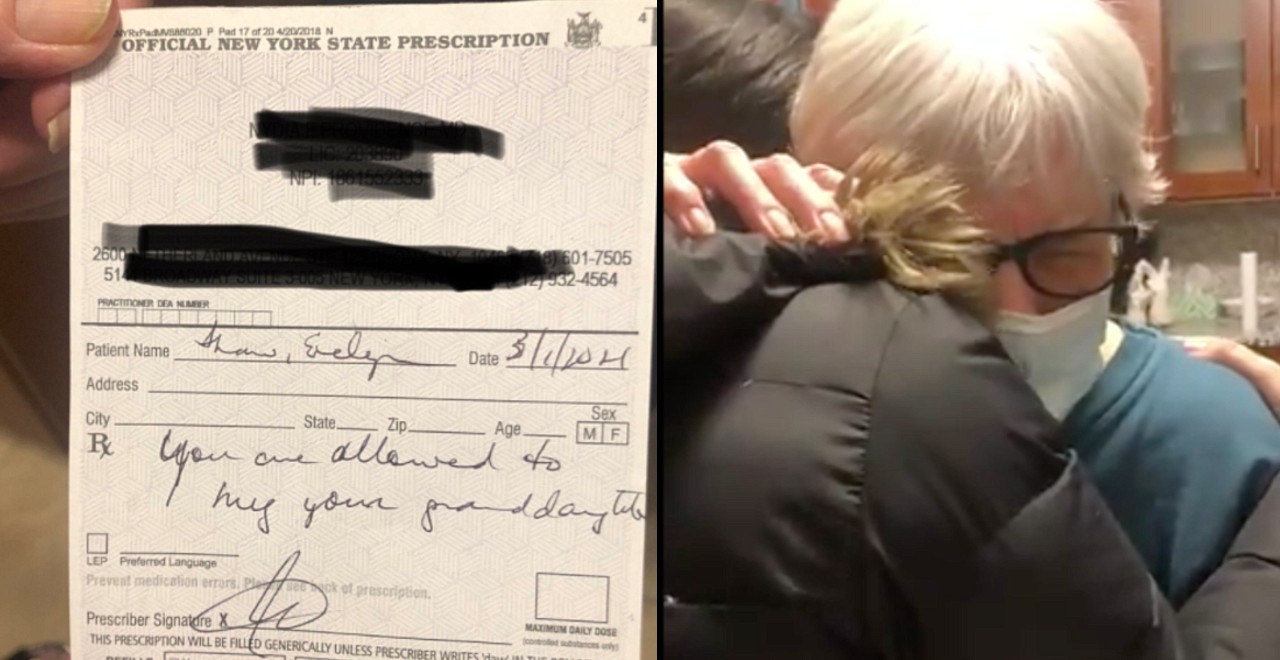 One of the most challenging things about this past year is how much we've had to disconnect from the people we love. Sure, we can call and plan Zoom get-togethers with family and friends, but there's something unparalleled about being together in person. We've found unique ways to stay connected virtually, but a digital embrace is something we haven't quite figured out yet.
Senior citizens have been hit particularly hard by the pandemic, whether they were isolated in an elderly care facility or locked down at home due to the increased risk COVID posed. Recently, we've been hit with a wave of cautious optimism due to the availability of a COVID vaccine. If the past year taught us anything, it's that we can never be fully prepared for anything – but for the first time in a while, it feels safe to allow ourselves to hope.
One year ago, a lifetime in kid years, was the last time Evelyn Shaw was able to hug her granddaughter, Ateret Frank. Even after receiving her vaccinations, Shaw was hesitant to see her family face-to-face. The past year has instilled many of us with a sense of understandable paranoia, and even after being told it's safe to resume some activities with the proper protocols, letting our guard down feels unimaginable.
"My granddaughter had completed her COVID protocol but I was not going to let her in… even though I had completed my vaccines. I was stuck in COVID land," Shaw told CNN.
Shaw's doctor, however, was all-too-familiar with the COVID mindset. To reassure the cautious patient that she was safe, her kind-hearted doctor wrote Shaw an unusual prescription. The prescription couldn't be filled at the pharmacy, but instead, these doctor's orders had to be completed at home.
In a post that quickly went viral on Twitter, Shaw's daughter shared the touching prescription with the world. "My mom's doctor wrote her a prescription to hug her granddaughter," the caption read.
My mom's doctor wrote her a prescription to hug her granddaughter (1/2) pic.twitter.com/bNtCtlcS0s

— Jessica Shaw (@JessicaShaw) March 9, 2021
When Shaw's daughter and granddaughter arrived for a visit, the doctor's note remained at the forefront of her mind. "Having this prescription from my doctor gave me the courage to let her in," Shaw explained.
In a touching second tweet, Jessica Shaw shared the emotional moment her family was reunited. In the short clip, Shaw sheds heavy tears as she embraces her granddaughter. Tears filled with the pain of being separated from those you love most, tears of immense relief, tears of hope.
First hug she's had in a year. Thank you to all the scientists and doctors who made this happen! pic.twitter.com/puvJlJpDoy

— Jessica Shaw (@JessicaShaw) March 9, 2021