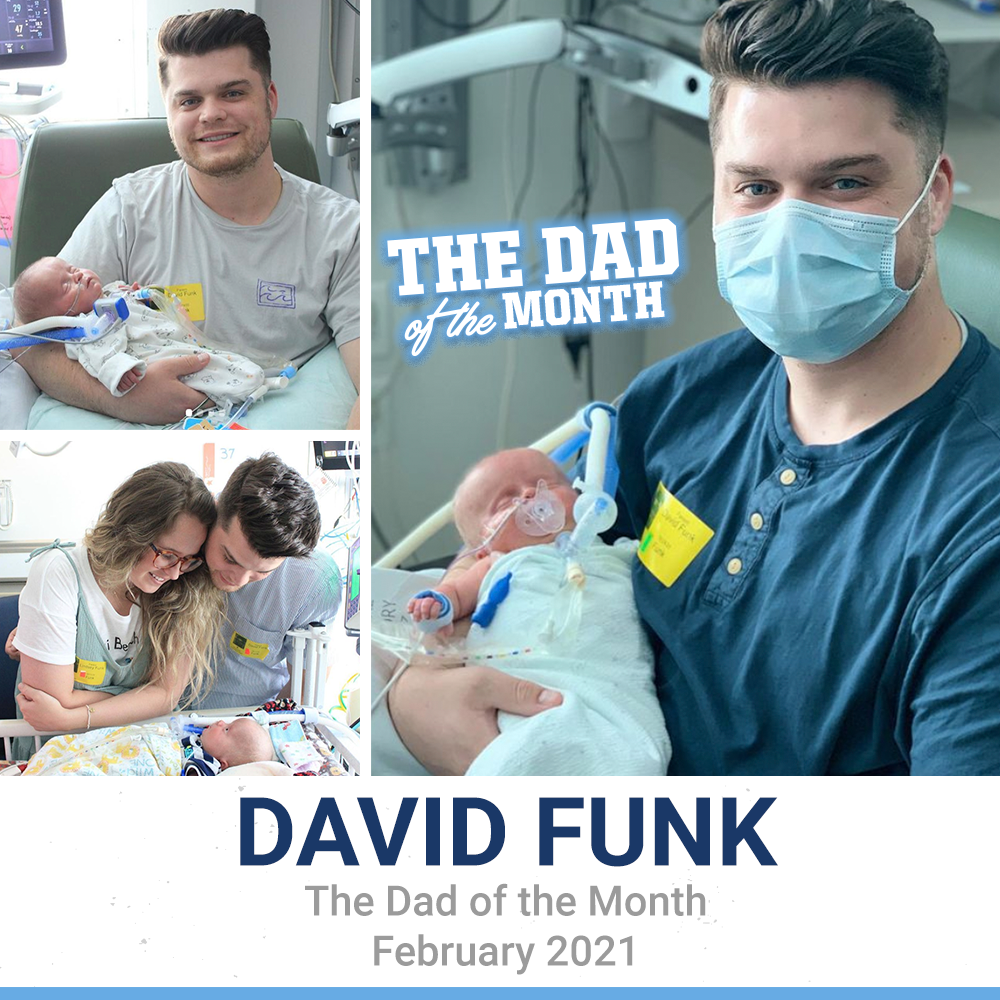 We are honored to announce The Dad of the Month for February 2021: David Funk. Becoming a first-time father is difficult enough for anyone, but few new dads have been put through the wringer like David. His wife, Lindsey, wrote a beautiful nomination entry for him, illustrating how David repeatedly goes above and beyond for his growing family:
"David is simply incredible. In January 2020, we found out our unborn son would most likely not live post-birth. No one with his diagnosis has survived in Utah before. Well, our son Otto was born in March 2020 and LIVED.
"I, the mom, was under anesthesia for the birth surgery to get Otto here so David had to take care of EVERYTHING while I was asleep and sedated for the next 5 days. He had to run to the NICU right after surgery and he has been there for Otto EVERY DAY of our 200-day NICU stay. He dedicated all his time outside of working to visiting our miracle baby in the NICU.
"We just got home from the NICU in October 2020. Our son is dependent on a ventilator and a tracheotomy tube, g-tube for feeding, and oxygen support. He has a lot of care necessary to survive and David never skips a beat to help Otto. Because of the pandemic, we have had to stay home as our child has lung disease. David does such a good job taking it on himself to make sure Otto's life at home is fun and entertaining for our miracle. David loves to cuddle with Otto and pinch his chubby cheeks.
"David knows how to do ALL of Otto's medical care, which is impressive for any father as he has so many other things to do to support our family so I can stay home and take care of Otto during the day. David is involved in all of Otto's physical, occupational, feeding, and speech therapy – not to mention this is our first child. David had not even changed ONE diaper before Otto.
"David was born to be the father of our son. A lot of time the mom, me, gets a lot of recognition for what I've done for Otto, but David never gets it. I would love to see him recognized for all he does for our little son Otto."
To honor David as well as the tireless and selfless work of keeping little Otto happy and healthy, we're giving him $500 and some special edition dad gear. David is an awesome example of what it means to be an amazing dad right out of the gate and regardless of the circumstances. Cheers!