We are honored to announce The Dad of the Month for March 2021: Chris Norton. Even able-bodied men recognize that fatherhood is not for the faint of heart, so it's inspiring to see someone accept the challenge (and wildly succeed at it) while confined to a wheelchair. At 28, Chris—along with his wife, Emily—is a parent to five adoptive daughters and has cared for over a dozen foster children. His friend and colleague Jodi Philip wrote a wonderful nomination entry for Chris that is sure to blow you away:
"Chris Norton might be one of the most grateful dads you will ever meet. I work with him and have been blown away (along with the numerous people inspired by his story) at his positive attitude. At 18, Chris was paralyzed playing college football. Doctors told him he would likely never walk again. But, he believed that he would and he worked really hard in physical therapy. Years later, he walked across his college graduation stage with his fiance. Then they walked seven yards together down the aisle of their wedding. This is Chris – believing in the good – even if it happens step by step.
"That same determined, positive spirit is what led Chris into fatherhood. His wife has always been interested in foster care, but they weren't expecting to be parents at such a young age. One day they got a call about a teenage girl they knew who needed help and a place to go immediately, and they said yes to being her foster parents. And Chris and his wife said yes again when they got a call about a sibling set of four sisters. At age 28, Chris is dad to five adopted daughters and the couple has provided foster care for a total of 18 children. When other people say, 'Nope, I couldn't do it.' Chris finds a way.
"Just as he relearned to walk – over time and one step at a time – he and his wife are building their family in the same way. Chris often says that his accident helps him better relate to their kids as he understands what it is like to be in a place that you didn't expect.
"His favorite part of the day is the time he gets to spend with his kids before and during dinner. They have a tradition of pausing all the homework, chores, and work and going outside to just be together and play. Then, they come in and crowd around the table for dinner and each shares the best part of their day. Chris says it's simply the best to experience fatherhood with kids who are eager to give and receive love.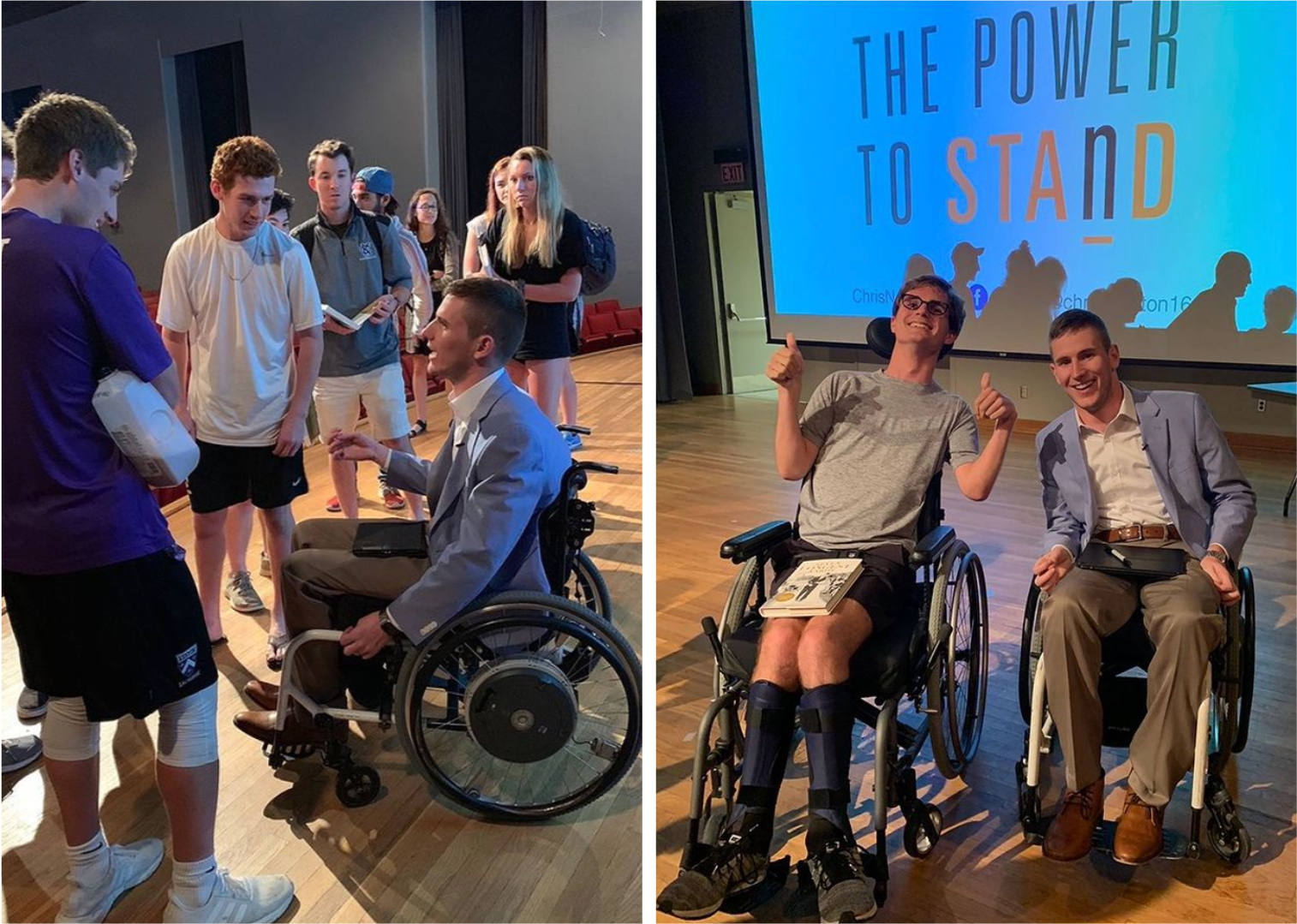 "Apart from being a dad, Chris is a speaker, author, and entrepreneur. He started a foundation to help others with spinal cord and neuromuscular injuries and runs a free wheelchair camp for youth and their families. His story is profiled in the new documentary, '7 Yards: The Chris Norton Story,' on Apple TV and Prime Video."
To honor Chris and his inspirational work as a husband, father, and member of his community, we're giving him $500 and some special edition dad gear. Chris exemplifies the amazing power of positivity, reminding us that we all have the tenacity to get through anything life throws our way if we're only willing to utilize it. Cheers!
Click here to read more or nominate a special dad in your life.