Double-Fisted Fan Sacrifices Body, Not Beers, to Catch Home Run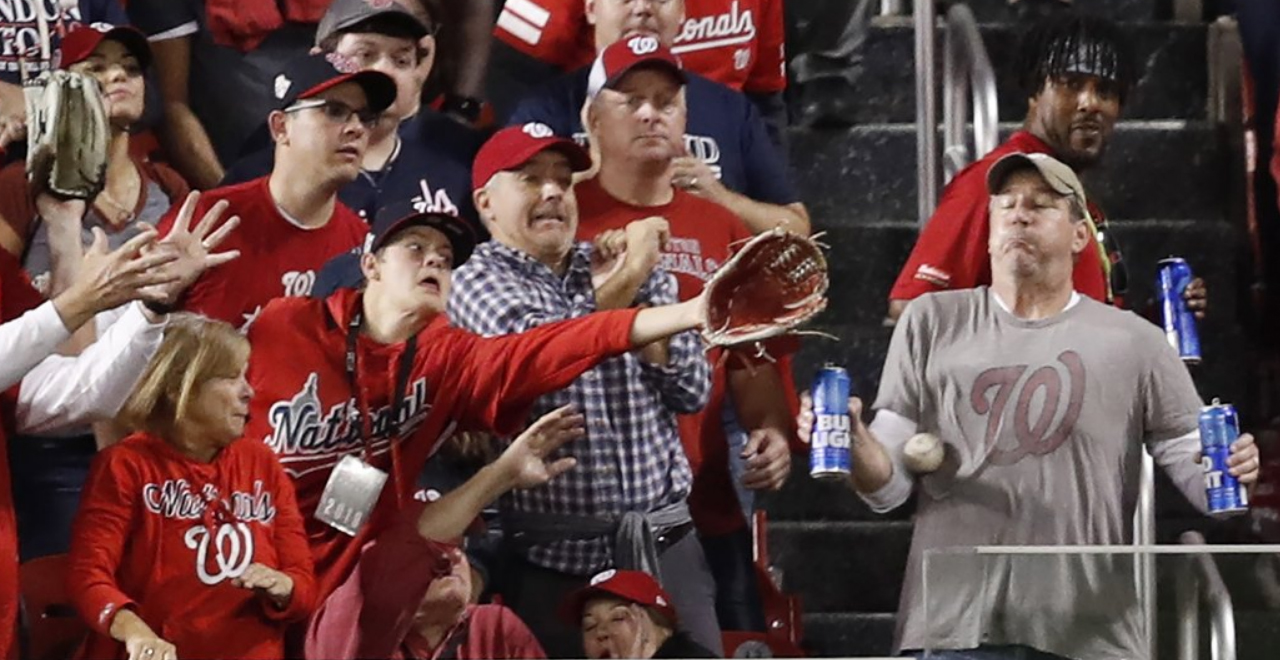 There have been great exhibitions of fandom at baseball games. Heck, we've even covered several of them, especially the fan who caught a foul ball while holding his toddler. All of them pale in comparison to our favorite new fan, the guy who would rather be hit IN THE CHEST with a baseball than risk spilling one of his beers.
And it's not like it happened during some boring, inconsequential summer baseball game. This was during the WORLD SERIES. The Washington Nationals fan seated in the outfield was enjoying not one, but two Bud Lights when an Astros home run ball came straight for him. We all know how expensive those beers are, though, so he made the choice many of us would hope to under the same circumstances.
EPA photographer John G. Mabanglo, bless you for getting this shot of beer-wielding Nats fan taking a home run ball to the solar plexus pic.twitter.com/jYIykAGUuN

— Nate Scott (@aNateScott) October 28, 2019
He held onto both Bud Light cans as the home run hit him in the chest. pic.twitter.com/7X5b0CNAEG

— Jennifer Epstein (@jeneps) October 28, 2019
The Nationals did lose the game, but the fan won the night with his incredible highlight. Even Bud Light had to acknowledge him, calling the man a hero. Which, I mean, duh.
This man is a hero. Twitter please figure out who this guy is so we can reward him. #WorldSeries pic.twitter.com/suMtVECfXY

— Bud Light (@budlight) October 28, 2019
Bud Light made sure to pay the fan's way into Game 6. That's not a cheap ticket, but it's the least Bud Light can do, as it was estimated that the advertising the brand received for the viral clip and ensuing coverage was worth millions. And they've been hinting on Twitter about taking care of the fan, who, honestly, should never be paying for a Bud Light for the rest of his life.
Update: We are in contact with our hero. He's wearing this beauty to Game 6. pic.twitter.com/CobFG9q8kC

— Bud Light (@budlight) October 29, 2019
And, to his credit, he still ended up with the ball. He told the Washington Post he used something his Little League coach taught him about using his chest to angle the ball down, and it worked to perfection. And he said he barely felt a thing.
The ball hit his Chest but JEFF ADAMS says he didn't feel a thing!!! Says the Astros don't hit hard! @fox5dc #WinTheFight pic.twitter.com/EzvLxRIMYU

— Ike Ejiochi (@IkeEjiochi) October 28, 2019
Then Bud paid further respects to this hero with a tribute to him:
We have a new hero so please raise two beers in his honor.