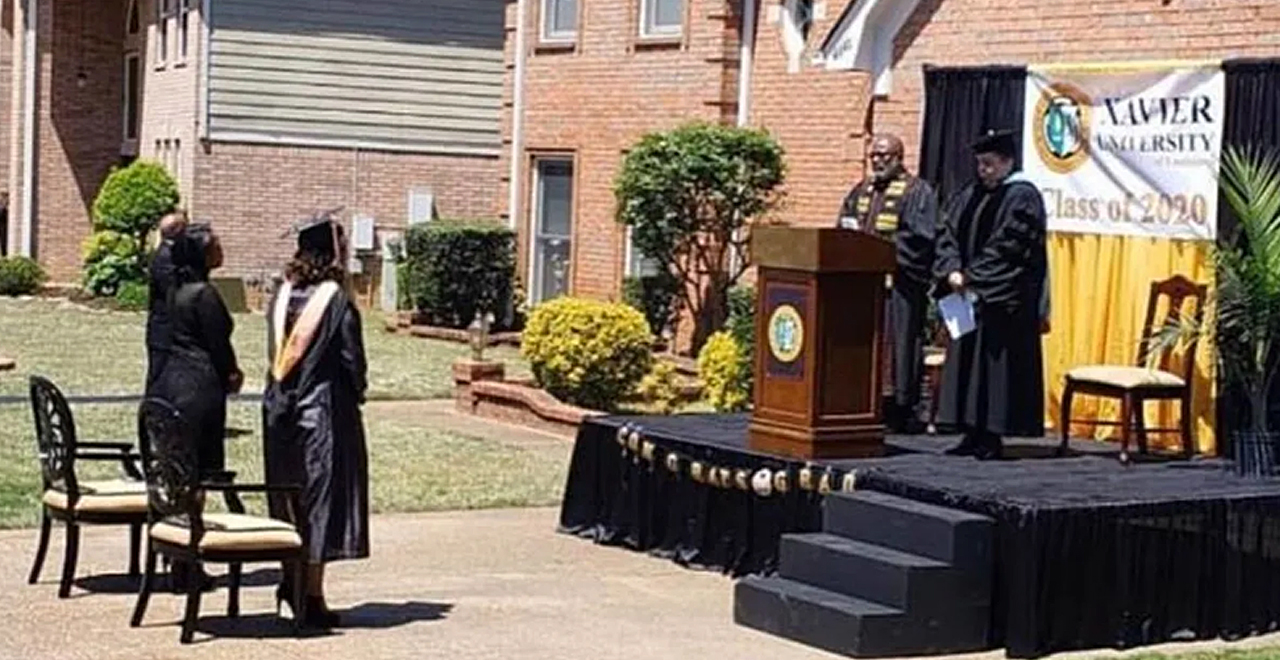 Credit: YouTube/Fox13 Memphis
For the class of 2020, the graduation day they imagined never came to fruition. As the COVID-19 pandemic has made large gatherings borderline illegal, universities and high schools across the globe have had to curtail their traditional graduation ceremonies. This means grads never got the chance to fully celebrate their achievement by walking across a stage, in front of their families, friends, and others forced to attend and accepting their diploma.
But just because they couldn't celebrate traditionally, doesn't mean they are just forgetting about it. Families and grads have been forced to get extra creative with how they recognize the moment, and one dad in Tennessee may have set the bar for all impromptu grad ceremonies that follow, with his top-notch driveway ceremony.
Gabrielle Pierce, of Memphis, was devastated when she learned she wouldn't get to walk across the stage and get her diploma after graduating from Xavier University in Louisiana. And her dad picked up on that and decided to do something about it. So he created their own graduation ceremony.
"After all those years, you're going to walk across somebody's stage if I have to build you one myself," her dad told a local TV station.
And he spared no detail, even building a front-yard stage, blaring music over loudspeakers, and had neighbors lining the street cheering. The ceremony even had presenters and a procession schedule.
"We love our daughter this much. Regardless of the dollar figure, what it took to pull this off. If I had to do this over again, I'd probably do it even bigger," her dad said.
Gabrielle called the graduation even better than what she expected and said she plans to enter the Air National Guard before going back to school to become an epidemiologist. Her goal is to work for the CDC (we could use that, right about now!).
Admittedly, it's a pretty cool final product. And a moving tribute to your child's accomplishments. But he also sets the bar pretty high for the rest of us, so I guess we all have to become amateur stage builders/event planners to now rise to the occasion.