NFL Right Guard Now on COVID-19 Frontlines Months After Winning Super Bowl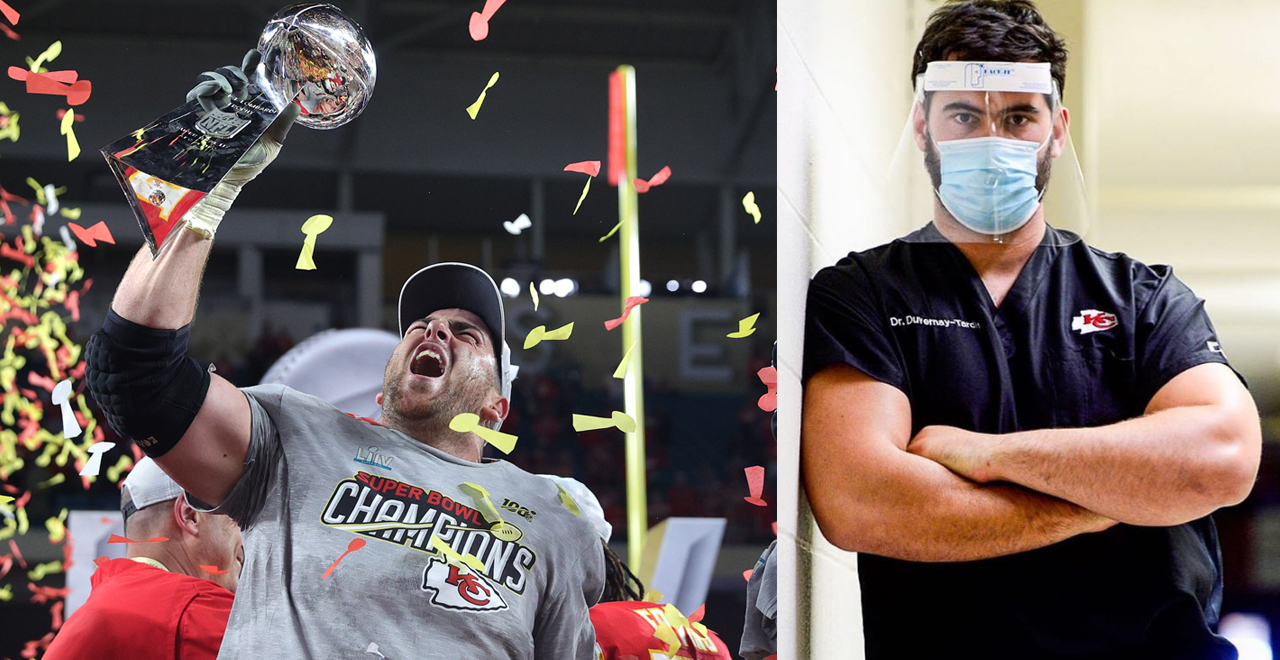 We love to lionize athletes and entertainers, freely tossing around words like "genius" and "hero," often largely because they do things we can't, and wish we could, do. Of course, during times like these, with a global pandemic forcing nearly everyone to reckon with tragedy and fear, we learn what real heroes look like.
The healthcare professionals and other essential workers putting their lives on the line to help others, to help all of us, are truly heroic and selfless, and we owe them all the same reverence we pay our favorite superstars.
Sometimes, those things overlap. Like with Kansas City Chiefs right guard Laurent Duvernay-Tardif, who, just a few months ago was playing in – and winning – a Super Bowl. Duvernay-Tardif had already made a name for himself by being the first medical doctor to ever play in the NFL. He was drafted in 2014 and over the next four years, he earned his doctorate in medicine from McGill University in Canada.
He delayed his residency to play professional football, but when COVID-19 struck, he knew he wanted to be there to help. So he found a way. In a newly penned piece of Sports Illustrated, Duvernay-Tardif wrote about his efforts to get involved.
"I fell into a gray area where they didn't know what to do with me, because I don't have a license to practice — yet," Duvernay-Tardif wrote. "In the interim, officials briefed me on an almost daily basis, and I used my platform and credentials to relay their messages."
Eventually, he was cleared to help with other medical professionals – after receiving a "crash course" on proper sanitizing and getting into a surgical gown, admitting, "That stuff is more important than ever, to protect not only yourself but your patients."
There's so much that needs to happen just to visit with every patient — masks donned and hands washed and equipment like gloves and visors tugged on and off and thrown away. I handled a medication cart, making sure to administer the right dosage and in the proper way. Honestly, I was drained after — and looking forward to going back," Duvernay-Tardif wrote.
As of April 24th, the right guard is working as a nurse in Montreal, at a long-term care facility. The man who just won a Super Bowl wrote about the nerves he felt before switching from football to healthcare.
"My first day back in the hospital was April 24," Duvernay-Tardif wrote. "I felt nervous the night before, but a good nervous, like before a game."
Here's hoping the dedicated trailblazer and dual-threat is just as successful off the field as he has been on it.