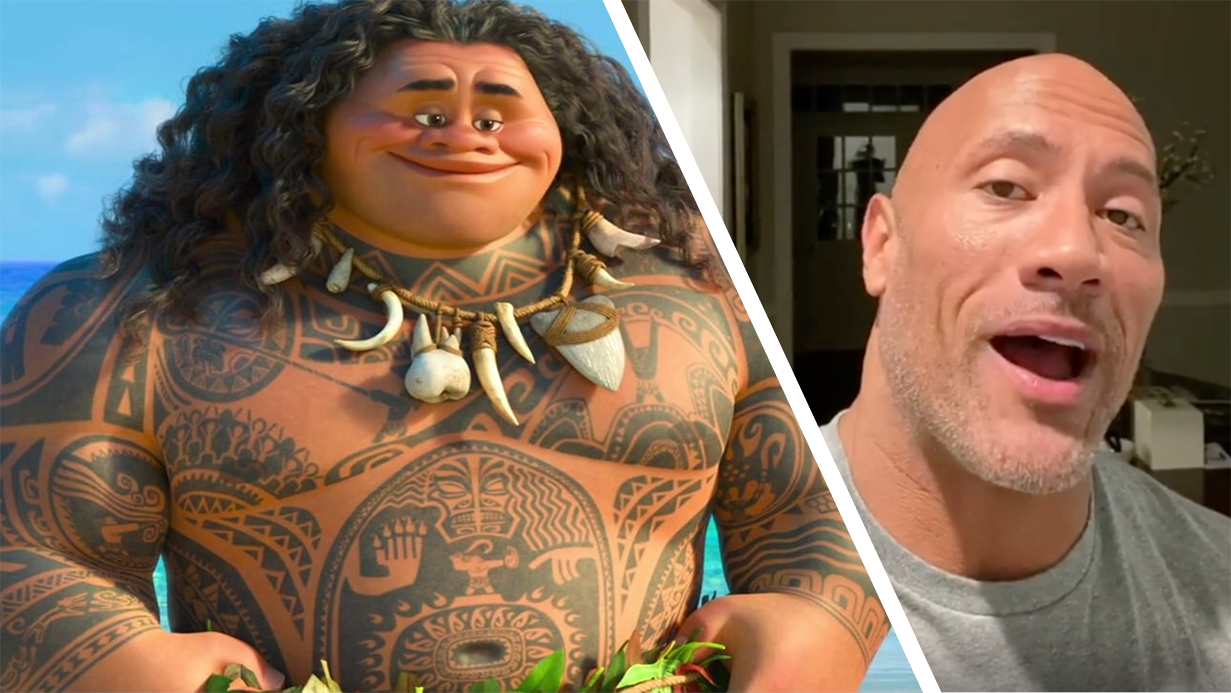 Credit: Walt Disney Studios Motion Pictures; Instagram/therock
In addition to being the highest-paid actor of 2019, it turns out Dwayne "The Rock" Johnson is also just a pretty all-around awesome human being.
On November 18, the studly superstar went to Instagram to give a special pep talk to a 3-year-old superfan who's battling cancer. When the story of the pint-sized "rock" star, Hyrum Harris, reached Johnson, he was understandably emotional.
"The request came across my desk and punched me in the gut a bit," he wrote on the post.
Johnson explains in the video how Hyrum is afflicted by "acute lymphoblastic leukemia, which is complicated by Down Syndrome." While fighting for his life on a daily basis, Hyrum apparently keeps his spirits up "by watching Moana up to 10xs a day because the character he loves, Maui, makes him feel strong."
"I don't know Maui but, like you, I love Maui," Johnson explains to Hyrum, clearly trying to retain the magic of his favorite fictional character. "I love Maui so much, I know a little bit of his song."
Johnson proceeds to jump into an acapella rendition of Maui's iconic song, "You're Welcome," and even though it's a ballad focused heavily on Maui's cockiness, the title is still remarkably appropriate for this situation. In fact, it's this character's mighty persona that inspired the 3-year-old's current mantra: "I strong."
(Damn it, who's cutting onions in here??)
The story doesn't end there, either. A friend of Hyrum's family, Micaela Brown, discovered Johnson's video response and forwarded it to Hyrum's mom, April Harris, who has been sharing her son's journey via social media. According to April, the video came at the perfect time and Hyrum's response was "beautiful."
"It was 3:30 a.m. We had only received the video two hours earlier. His port was not working to draw blood and two nurses were attempting to help by repositioning him in an effort to allow it to flow smoothly," April told Scary Mommy, emphasizing how the video was a delightful distraction during an invasive procedure.
"Hyrum watched intently. Every time Dwayne mentioned Hyrum's name, Hyrum pointed to his chest and, in his soft sweet voice, repeated saying 'Hyrum' — as though he knew this was special for him. At the reference of a head being compared to the size of a rock, Hyrum giggled. When Dwayne began to sing, Hyrum's eyes got very wide. He looked at me. Smiled so big. Sang 'you're welcome' right along with the video. It was touching," she shared.
While the resounding response and support was wonderful, April says that she is not necessarily surprised folks have fallen in love with her special boy.
"Hyrum's smile is infectious — healing to those that serve him and love him. We were all touched that night. And we continue to be astonished and amazed at the outpouring of love and support my little fighter is receiving."
If you'd like to follow Hyrum's journey to health, check out the #HopeForHyrum hashtag across social media. His family is also in the process of setting up a GoFundMe for their strong little man.