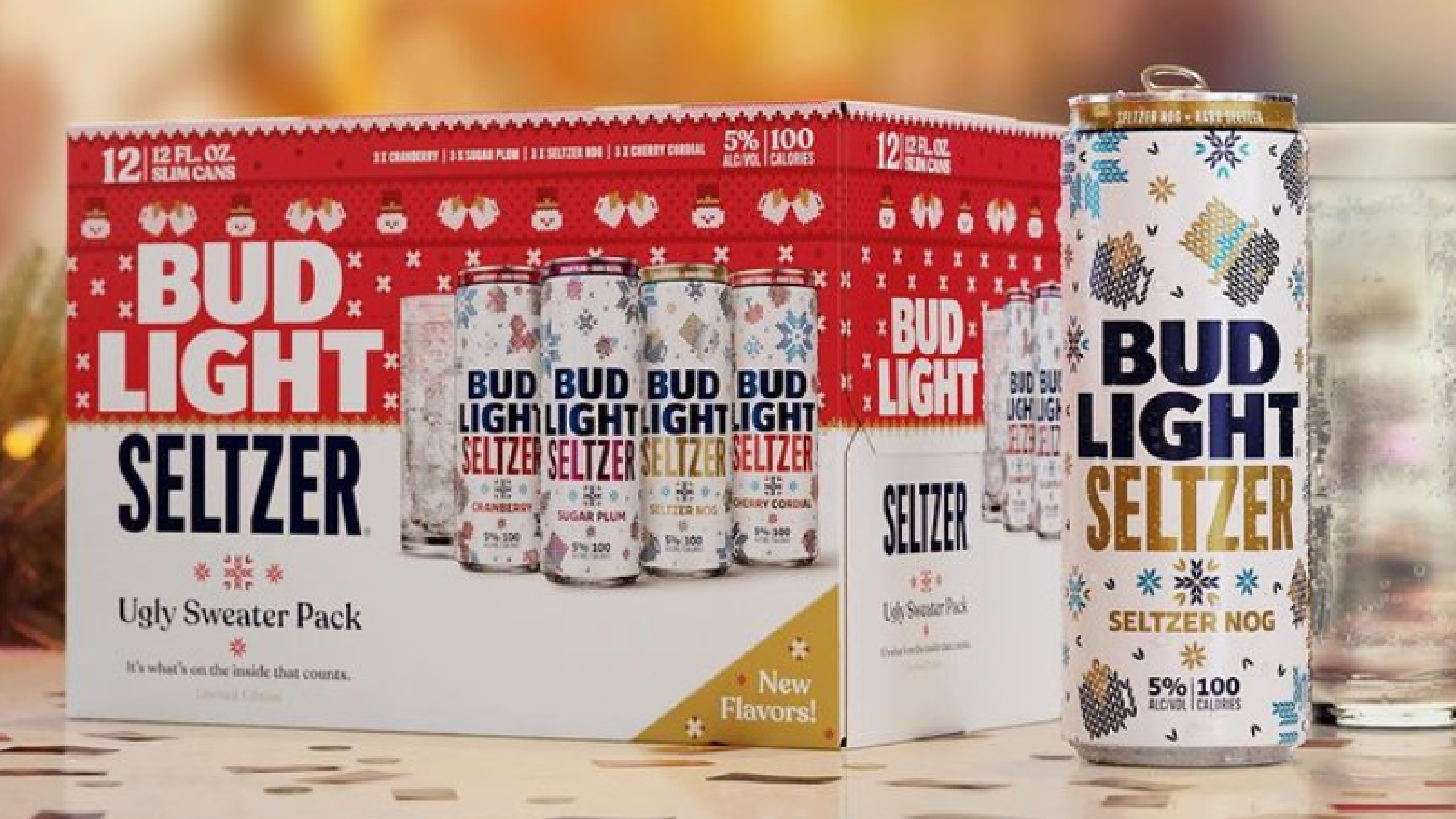 Credit: Instagram/BudLight
The hard seltzer game took off like wildfire and everyone was getting in on the game. So much so that it even sparked a can shortage, and a genuinely great Saturday Night Live sketch. But things have gone too far, as we must now suffer the dominion of Bud Light's Pumpkin Spice and Eggnog flavored holiday hard seltzers.
The need to innovate to stand out in an increasingly crowded market is one thing. Releasing truly hideous iterations upon the public, though, is taking things too far. What originated as fun holiday packaging for some normal-ish flavors has gone off the Pumpkin Spiced cliff. It started with their "Fall Flannel Pack", which included flavors like Apple Crisp (fine), Pumpkin Spice (unavoidable at this point) and Toasted Marshmallow (lol what).
Look, I'm not here to police what people enjoy. Enjoy things! Once you're a dad you no longer need to worry about "cred." But a dietician and writer tested the new flavors for TODAY food and described them as "where potpourri goes to die." That's not a bold endorsement.
Bud Light escalated things even further with their "Ugly Sweater Pack" for the holiday season. If you think the Starbucks Holiday Menu is a little much, you will have to erase this from your memory.
The Cranberry flavor is seasonally appropriate and accepted on the seltzer market. Cherry Cordial is new, and that's where it starts to fall off the rails a bit, with cherry and chocolate flavors. Up next is Sugar Plum, which is a mix of berry and plum flavors, if you're into the sickly sweet. And then there's Seltzer Nog, for when you want the sweet cinnamon and vanilla flavors to imitate classic eggnog in your seltzer. Hard seltzer? How about a hard pass.
View this post on Instagram
Even the Seltzer People (you know who they are) can only drink these with 'special food pairings' and if my booze needs a scoop of ice cream to be palatable, you've gotta pull back. Ice cream enhances everything, but it should always be a bonus, not something needed to bring things to the starting line.
Bud Light set out to launch the "Loudest Flavors" in the industry, so on that beat, they hit their mark. There will be plenty of office holiday parties with people chugging Eggnog seltzer while devouring plates of sugar cookies. We'll just have to hope we're able to rebuild from the ashes in the new year.