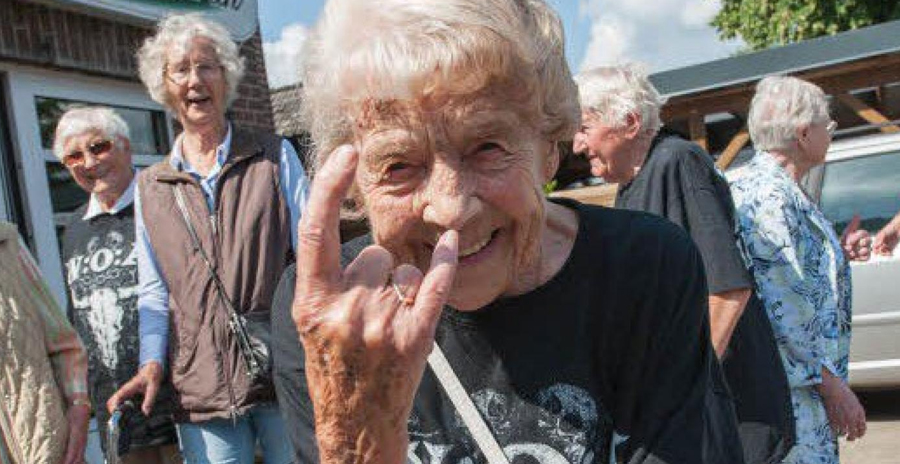 Credit: Twitter/Wacken
I'm in my early forties, which, depending on how you look at it, is pretty old. Technically, I suppose it's middle-aged, and socially 40 is the new 20, so in some ways, it's not old at all. But in terms of things like lower back pain and a general ignorance of the latest music and pop culture trends, I'm no spring chicken.
You certainly won't catch me at a music festival – too many people, too many lines, no seats, porta-potties – and you definitely won't hear me listening to heavy metal music.
But based on a couple of senior citizens who broke out of their nursing home to attend a heavy metal music festival, maybe I'm just old at heart!
The two men were living in a retirement community in Dithmarscher, Germany, and left the facility to somehow travel about 25 miles to Wacken Open Air, a multi-day heavy metal music festival near Hamburg. The fest is described as a "metal mecca" and welcomes some 75,000 people over the course of a few days.
"Assisted wacken. No discrimination of seniors"

Of course not, we might add. Because you're never too old too rock. #wacken #metalfamily #respect #buildingbridges https://t.co/szE7iQ7BWY

— Wacken Open Air (@Wacken) August 6, 2018
The pair were found "disoriented and dazed," after officials at the retirement home informed the police that they were missing.
"They were then taken to the medical tent on the festival site and were sent back by taxi at around 6:30am," Peter Berndt, a spokesperson for the Itzehoe police department, told the Washington Post. "We had to explain to them why they had to go home — but in the end, they went back voluntarily."
The duo seemed to enjoy the fest, authorities told broadcaster Norddeutscher Rundfunk. "They obviously liked the metal festival." But alas, they had to cut their experience short. "The care home quickly organized a return transport after police picked them up."
It is unclear if they were disoriented and dazed due to age and health issues or merely from spending a few hours banging their heads to the righteous noise coming from the stage.