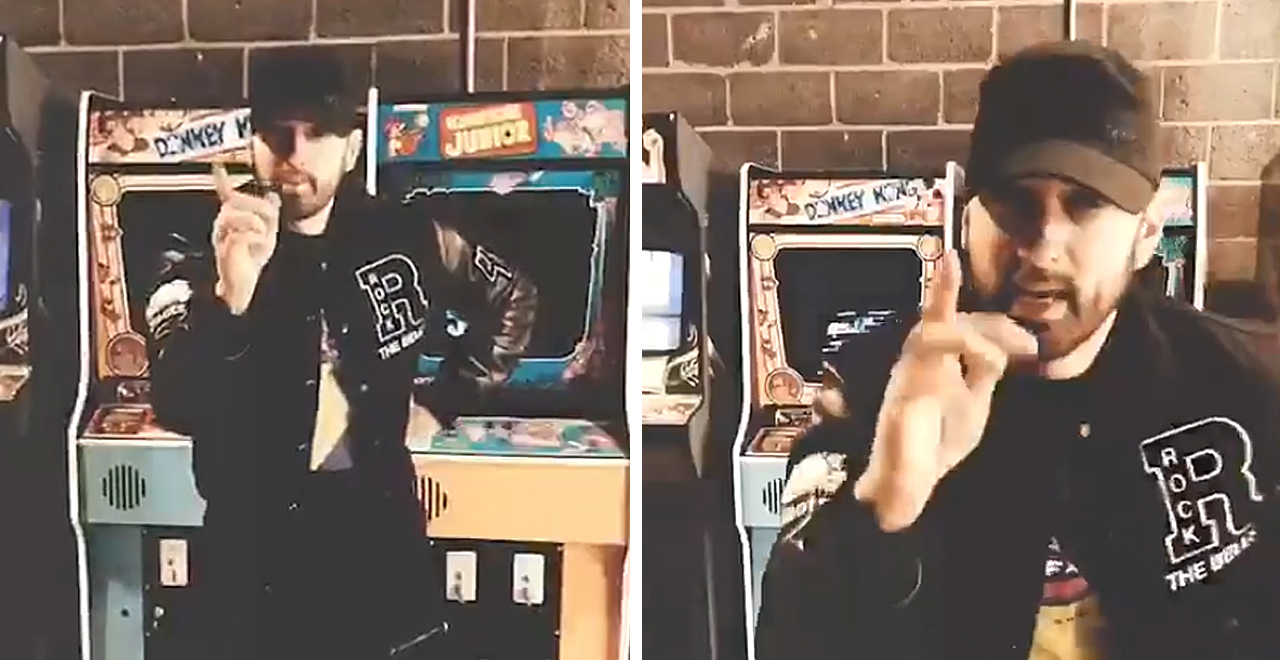 Credit: Twitter/Eminem
I used to think I could talk pretty fast.
Not as fast as the Micro Machines guy, because let's be serious…but it fast enough to impress my friends. As I got older, speaking quickly stopped being something to brag about (if it ever was). But it seems I may have a chance to dust off the old tongue (gross!) and give it another go, this time in an effort to impress Eminem and win some prizes.
Yes, Oscar-winning songwriter and rapper Eminem, well-known for his tongue-twisting talent and rapid-fire rap delivery, is inviting other aspiring rappers and obnoxious people like me to try and match his verbal dexterity by replicating one of his fastest verses.
There's this verse in the rapper's hit song "Godzilla" that he raps so quickly it's sort of barely a song anymore and just becomes a series of staccato sounds designed to do little more than remind everyone that he can rap really fast. Which, more power to him, he really can! I have no idea what he's saying – demon? unavoidable? probably something mean about his mom or his ex-wife or Moby? – but he sure says it quickly!
He actually raps 224 words in just 31 seconds, according to Genius.
"Fill 'em with the venom and eliminate 'em" @triller #GodzillaChallenge is on. Who can spit it? Reposting + got prizes for my favorites. https://t.co/jWfW83X7P8 pic.twitter.com/jKMpJH7nw7

— Marshall Mathers (@Eminem) February 25, 2020
Now he wants to hear how quickly his fans can say it too!
Plenty of people stepped up to the plate, impressively:
Excuse me while I OOP #GodzillaChallenge pic.twitter.com/TlOAs3wZgn

— Craig Thompson (@MiniLaddd) February 25, 2020
@EMINEM @Eminem MEEEEEEEE #GODZILLACHALLENGE I MURKED THIS https://t.co/dFLx6bvl2u pic.twitter.com/3tTMEgMgie

— Phillip Mweemba (@PhillipMweemba_) February 25, 2020
This guy added an extra twist to the challenge:
Did it one breath, Im also trying break the guiness world record book I can do about 650 words per minute for a speech record. Ive done "Rapgod" "Tung Twista by Twista" "Worldwide Choppers Sped Up" "Speedom Sped Up" and more. pic.twitter.com/qwyCDC8OMf

— Michael Yeghiazaryan (@MikeFever23) February 25, 2020
Actor Bryan Greenberg nailed this impressive attempt:
Who wants smoke? I just crushed this #godzillachallenge @eminem I'm ready to battle whenever! pic.twitter.com/GbjbK7b4Mk

— Bryan Greenberg (@bryangreenberg) February 25, 2020
This guy was even more realistic about his prospects:
Me :

I'm going to try & sing "Godzilla " by Eminem.

My lungs :

😂😂 #GodzillaChallenge pic.twitter.com/d6MCncqBMj

— Alex R. (@AlexTheGreatzz) February 25, 2020
Eminem hasn't announced any winners yet, but I think we all know the truth:
Yo Em!!! Ya manz man Bizmarkie ain't playing with this Godzilla challenge!!! 😂😂😂 #GodzillaChallenge!!! @BizMarkie getting it done!!! 💯💯💯 @Eminem @RockTheBells pic.twitter.com/YyDYulu2xx

— LLCOOLJ. (@llcoolj) February 28, 2020