Facebook Group Encourages Everyone to Leave Work and Grab a Beer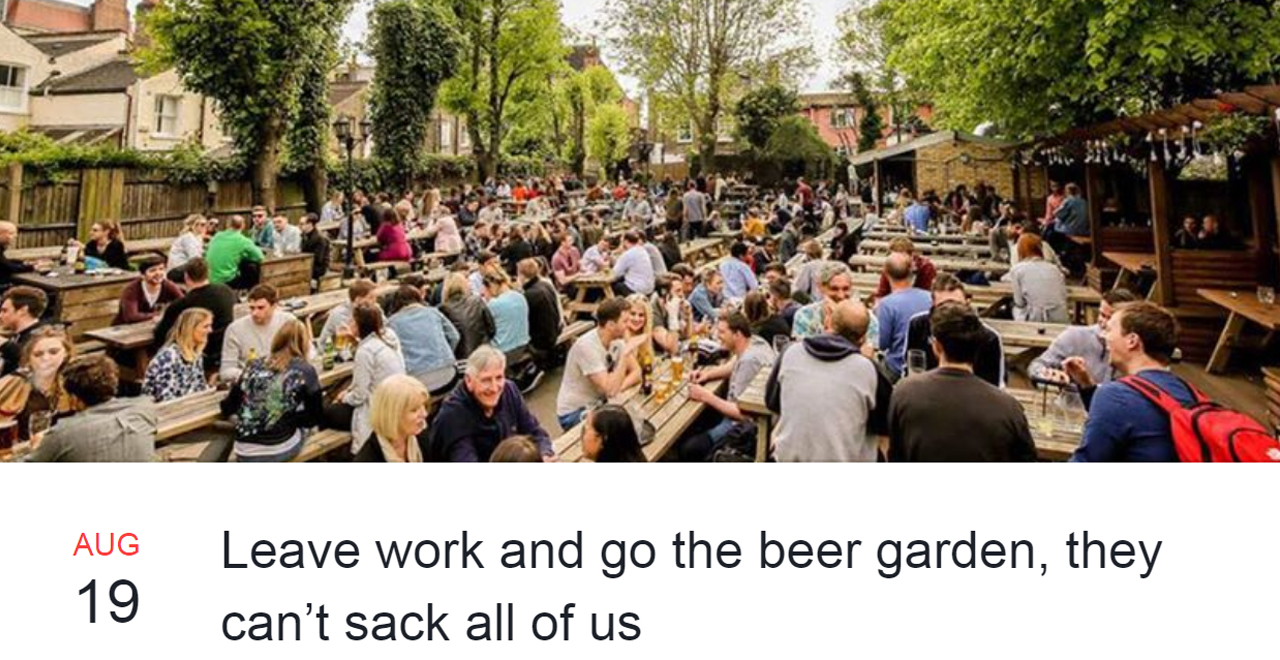 Instead of storming Area 51, workers in the United Kingdom are lining up around a common cause: skipping out of work early to go grab a cold one. While the concept is nothing new, a Facebook group going by "Leave work and go the beer garden, they can't sack all of us," is encouraging everyone in London to simultaneously leave work on Monday, August 19. Organizers insist that if everyone joins in, bosses everywhere would have no choice but to just let it happen.
Although it's a bold claim, it stands to reason that employers around the UK wouldn't be able to fire every single offender, however, a few holdouts could easily throw the whole plan into chaos. Imagine that one kiss-ass at your company becoming your manager simply because she refused to duck out for a pint with everyone else. Friggen' Karen.
While we're still several weeks out from the scheduled date, over 27,000 people ave already responded to the Facebook event as Going while another 91,000 have checked in as Interested. Maybe not the best idea to check in to checking out of work, but at least it's a chance to see which coworkers are cool and which are…well… Karen.
As most will likely attest, it would take very little prodding to convince them to leave work early. While an actual gathering of thousands is unlikely to take place, chances are plenty of people will take the opportunity to play hooky while enjoying an ice-cold ale on that August afternoon. 
Though we can't legally condone this righteous act of rebellion, we can at least plant the seed with our bosses that making this an official holiday – sighting some HR jargon on team building and comradery — might be best for everyone.
Fingers crossed.