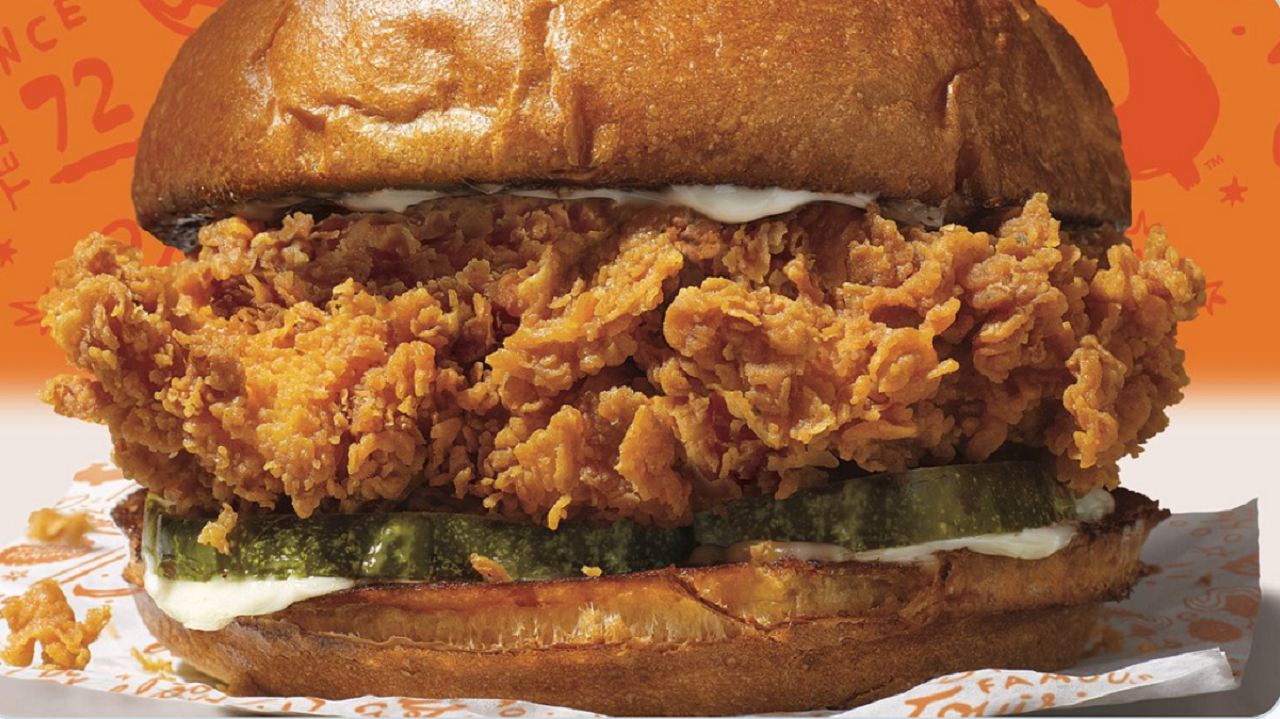 Credit: Twitter/PopeyesChicken
Twitter loves a good debate. Whether you're talking politics, sports, or pop culture, there's probably no platform in the world more full of people ready to throw down in defense of their opinion, no matter the subject.
It's even more fun when the subjects of those arguments get involved, which is exactly what happened during Twitter's recent war over the best fast-food chicken sandwich.
It all started when Popeye's, the fast-food franchise that is best known for its fried chicken, tweeted out an introduction to a new chicken sandwich.
Chicken. Brioche. Pickles. New. Sandwich. Popeyes. Nationwide. So. Good. Forgot. How. Speak. In. Complete. Sandwiches. I mean, sentences. pic.twitter.com/14kXBv4jJw

— Popeyes Chicken (@PopeyesChicken) August 12, 2019
Chick-fil-a, another fast-food chicken joint, responded with a tweet in praise of its own version, which it labeled "the original," because SHADE:
Bun + Chicken + Pickles = all the ❤️ for the original. pic.twitter.com/qBAIIxZx5v

— Chick-fil-A, Inc. (@ChickfilA) August 19, 2019
To which Popeye's rejoinded a faux-concerned:
… y'all good? https://t.co/lPaTFXfnyP

— Popeyes Chicken (@PopeyesChicken) August 19, 2019
And then it was off to the races, with fans, and fast-food franchises, chiming in with their own choices for the best chicken sandwich.
Wendy's, pretty much the undisputed champ of fast food social media, eventually joined the fray, and they didn't pull any punches:
Y'all out here fighting about which of these fools has the second best chicken sandwich. pic.twitter.com/4v9RJFgy0T

— WENDY'S SPICY NUGGETS ARE BACK!!! (@Wendys) August 19, 2019
Popeye's, clearly eager to up their social media cred, and enjoying the attention (their sandwich was reportedly selling out at some restaurants, thanks, no doubt, to all this free publicity):
Sounds like someone just ate one of our biscuits. Cause y'all looking thirsty. https://t.co/89eqI5vk2z

— Popeyes Chicken (@PopeyesChicken) August 20, 2019
Of course, Popeye's should have known better. You come at the queen, you best not miss:
lol, guess that means the food's as dry as the jokes https://t.co/aX3XnRunNW

— WENDY'S SPICY NUGGETS ARE BACK!!! (@Wendys) August 20, 2019
The debate raged on, with Twitter users weighing in and franchises not known for engaging in Twitter wars throwing out barbs:
If you're lookin' for a chicken sandwich (without the beef ????), you know where to find us. pic.twitter.com/2wtV2POvFf

— SHAKE SHACK (@shakeshack) August 19, 2019
Did???? someone???? say???? sandwiches? ???? pic.twitter.com/RUcNboMPwY

— Zaxby's (@Zaxbys) August 20, 2019
Not sure this will ever be resolved. But at least one Twitter follower opted out of the sandwich debate to ask the real questions:
Where do you apply to be admins for fast food restaurant twitter accounts

— ???? (@smallwxrlds) August 20, 2019