Father and Son Record Harrowing Escape Through Forest Inferno [WATCH]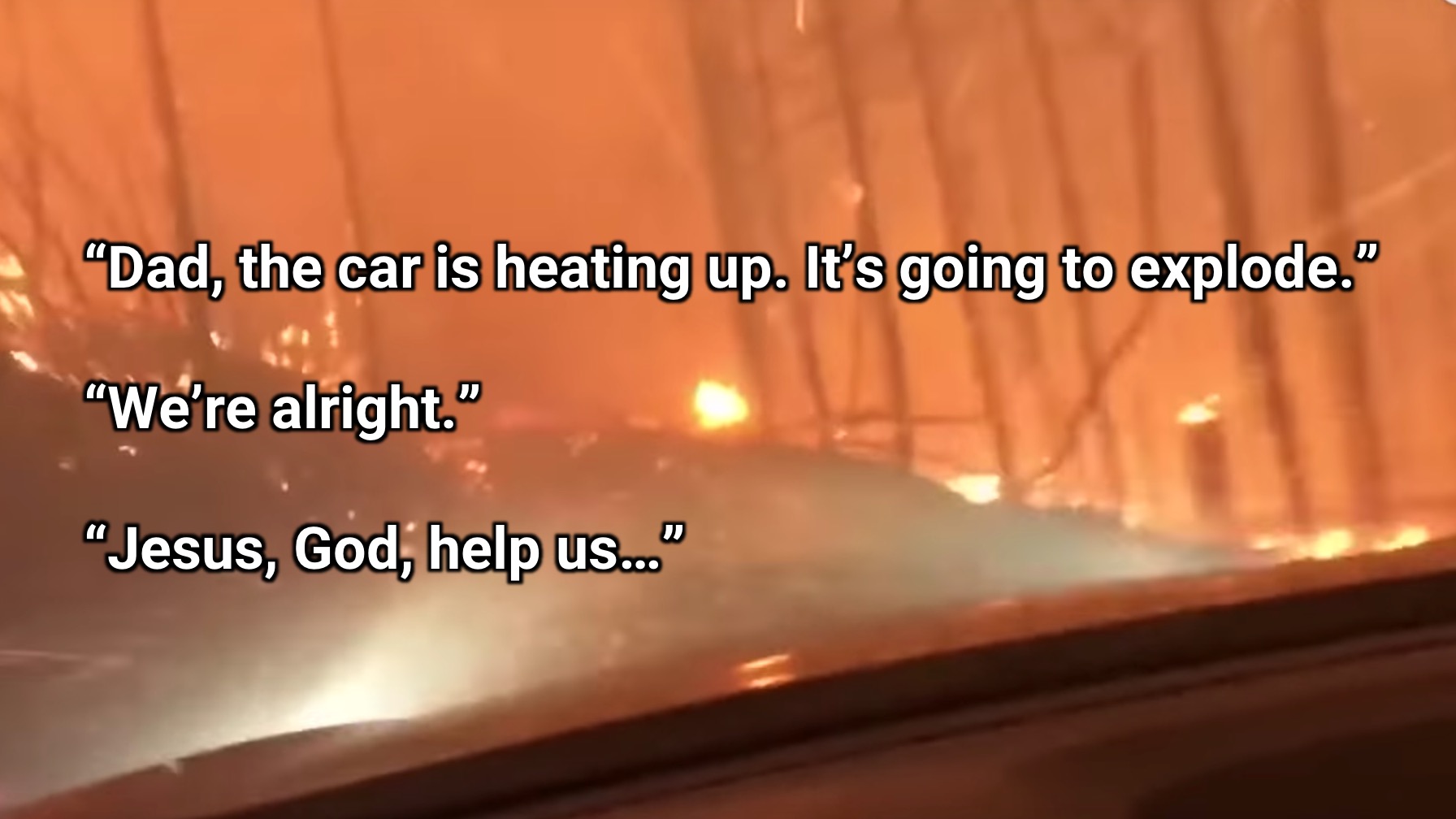 When hikers head into Montana's Glacier National Park, they expect to see crystal clear lakes, glacier-carved mountain peaks, and maybe some rare wildlife—not a life-threatening wildfire. However, that's exactly what Justin Bilton, 37, and Charles Bilton, 70, faced after their hike along Howe Ridge.
Thinking the blaze was far enough away for them to get out in their rental car, the father and son put the pedal to the metal in hopes of getting out before things got even worse.
Justin began recording their drive as they drew closer to the flames.
Viewers would never know this was a conversation between a nearly middle-aged man and his elderly dad. Justin falls right back into his role as a son looking to his father simply for reassurance that things were going to be okay.
Despite the video ending prematurely, the two did indeed make it out unharmed.
Instead of trying to bypass the roadblock, they decided Justin should reverse back the way they came.
"I was shocked how fast he backed that up, and how steady," Charles told CNN. "We were on an 8-foot-wide dirt road with a lot of ruts. And it was hard to see because of the flames and because of the intensity."
"And he did an amazing job. He backed it up. We were able to turn it around, and he drove out of it."
Back at the trailhead, knowing they still needed an alternative way out of the danger, they were relieved to see two park workers with a motorboat on nearby Lake McDonald.
"We kept yelling and waving, and they just waved back at us like we were saying hi," he said. "And … we're going, 'No, come here, come here, we need help.'"
The workers accompanied them back to their campsite to gather their belongings, and finally escorted them to safety.
The Howe Ridge Fire began on August 11 due to a lightning strike and is still raging to this day, having burned over 14,000 acres of the National Park.
Recalling the incident, Justin still can't believe they made it back to the trailhead after their journey into the flames.
"Once we saw that downed tree, I really didn't think we were going to be able to get out of there alive," he said.