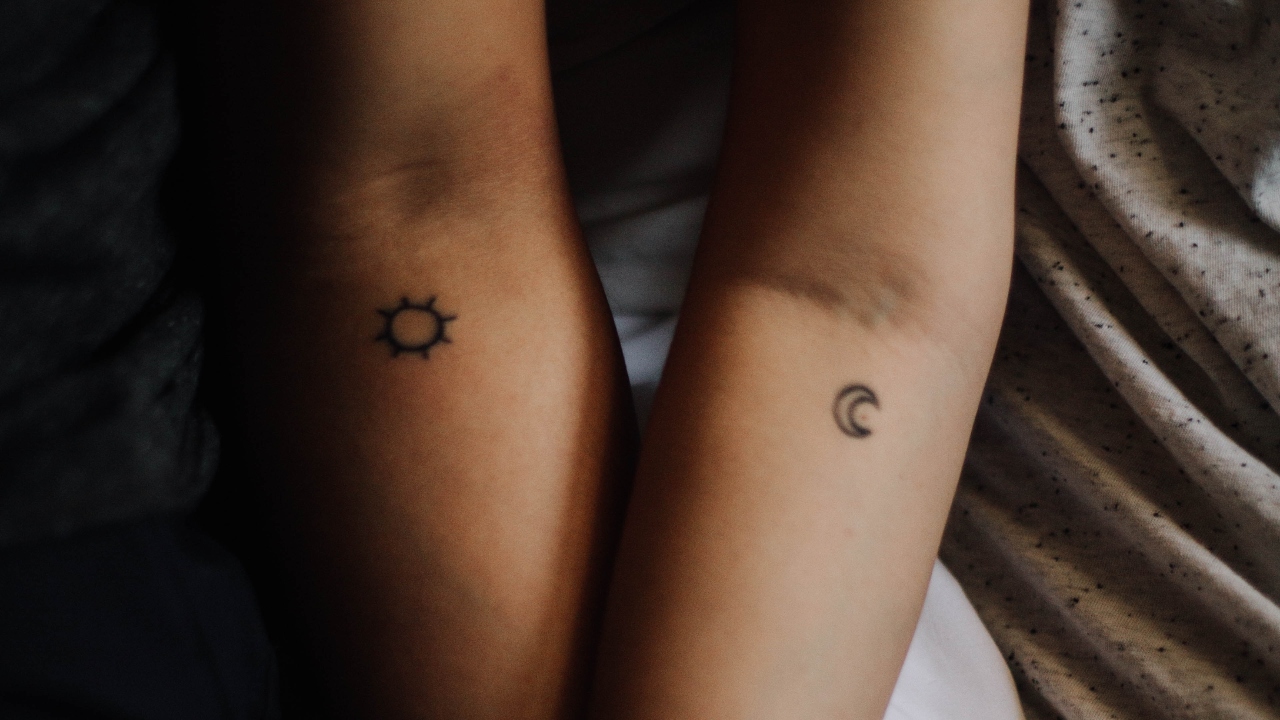 Credit: Elizabeth Tsung/Unsplash
If your "little girl" is a functioning adult now, but you want to do something special with or for her, you might want to consider a tattoo. Hear us out! If you've never had a tattoo before and had no intentions of getting one, this might seem oddly out of character and a bit trite. If you're already tatted up or if you've spent time talking about what tattoos you always wanted, this might be the way to go. Whether you two just faced an incredibly rough time together and overcame the odds as a father-daughter duo or you're simply besties, matching or corresponding tattoos could be a fun and memorable thing to do.  Heck, you can even get lyrics from your favorite father-daughter songs as matching tattoos. Be still your Girl Dad heart!
Even if you're not together anymore, you can make an old-school "daddy-daughter date" to get your tattoos done at the same time and maybe even FaceTime the experience. But, if you can be there together to hold each others' hands through the pain, it'll be another memory of you she'll carry in her heart long after you're gone. Worried you'll cry? Good. It's okay for dads to cry. You really should have figured that out by now.
Anyway, here are some ideas to get you started.
Tattoo Inspo
Listen. If you both want to get matching roses or rip curls with "Daddy" and "Madison" written on them, go for it. If you opt for the random little paw print inside a big paw print, that's cool, too. But, the best tattoos are a little more unique than that. And just because they're father-daughter tattoos doesn't mean they need to represent your familial relationship. If you two watched Star Trek together each week when she was a kiddo, matching "Live long and prosper" tats might be the perfect ink. If you read all the Harry Potter books to her, did all the voices, and saw all the movies together, any Harry Potter-themed tattoo will work.
Keep in mind, also, that the tattoos don't have to match… though it's a little more meaningful if they at least correspond. What do we mean? Think of those married couples who get tattoos on their ring fingers: One says, "to infinity" and the other says, "and beyond." If you stick with a Harry Potter theme, your daughter could get "I solemnly swear that I am up to no good." As the rule maker, your corresponding tattoo would then be, "Mischief managed." Pretty cute, right?
The takeaway? Consider your shared experiences and interests. If you're close enough to your daughter to want to get tattooed together, you probably share more than just DNA. Talk about the aspects of your bond that mean the most to each of you. With a bit of discussion and reminiscing, we're certain you'll find a tattoo that fits you both and beautifully illustrates your bond.
Father-Daughter Tattoos — Examples and Ideas
1. Moon Phases
This is great for any father-daughter duo that enjoys astronomy…or astrology. We especially love that this pair got matching tattoos but different placement.
2. A Meaningful Phrase
Change is good for some people. But, is there a phrase the two of you repeated often that might work better? Choose matching fonts or coordinating placement to really seal the deal.
3. A Favorite Song
Whether the two of you danced in the living room to "Margaritaville" or you sang, "Surfer Girl" to her every night before she went to sleep, there's an inspiration to be had there. Maybe it's a salt shaker or a surfboard. Maybe, like the tattoo below, it's a cute play on the song title itself.
4. The Inside Joke
What's a cat's favorite food? Avo-cat-do! Why would anyone choose to tattoo avocados on themselves? We've no idea. But, they're cute… and they probably mean something important to this father-daughter pair.
5. Look At This Photograph
No. Seriously. Look at that photograph and how the artist turned it into a simple, sweet line drawing. Do you two have a favorite picture together? (Word to the wise: Don't do a photo from her wedding… not all marriages last.)
6. Handwriting
It's super easy for a tattoo artist to scan a written message, transfer it onto your skin and then trace it with their tattoo gun. You could opt to write the same word or phrase in each other's handwriting. Or you could each use something that they already signed, like an old birthday card. The end results will always be 100 percent unique.
7. Something Simple
My dude. Tattoos fucking hurt. If one or both of you have never had a tattoo before, some of these options seem like giant, painful commitments. Your father-daughter tattoo doesn't need to take a ton of time (or space) or cost a bunch of money. Some simple $50 hearts at the end of your last family vacay will probably be enough to create another special moment and make a lasting memory. These two are just as cute as the others.