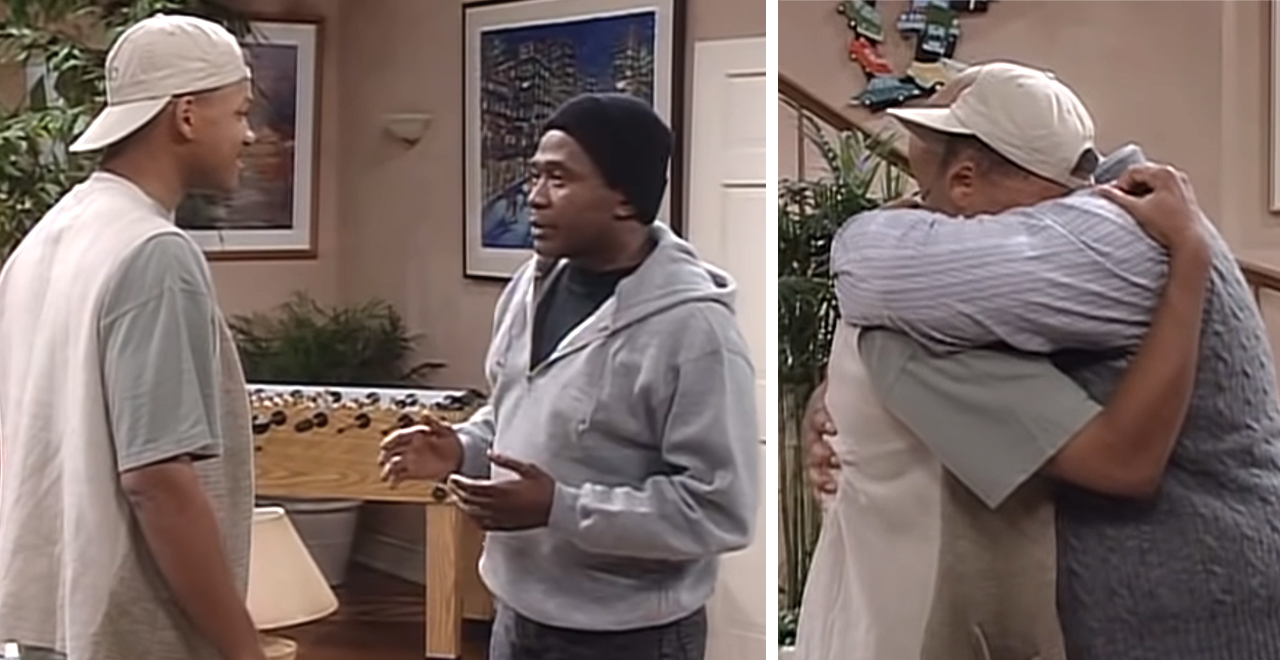 Credit: Warner Bros
1990 was a riveting year for Will Smith. As half of the successful hip-hop duo, 'DJ Jazzy Jeff & The Fresh Prince' (it was the 80s, cut him some slack), he had spent money lavishly but ended up getting in trouble with the IRS when he underpaid his income taxes. His wages were garnered and most of his assets were seized.
While teetering on the edge of bankruptcy, Smith got a phone call from NBC regarding a new sitcom they wanted to build around him: The Fresh Prince of Bel-Air.
Ever since Smith has been at the forefront of the Hollywood machine as both a performer and the patriarch of his own star-studded family.
Over the years, he has not only been surprisingly transparent about parenting styles and special moments of fatherhood, but he's responsible for some of the most iconic father-son moments on the big and small screens—the first of which undoubtedly came from season 4 of Fresh Prince.
The episode in question, "Papa's got a brand new excuse" just celebrated its 25-year anniversary.
It featured one of the most heart-wrenching sitcom scenes from the 90s when Will reacts to his deadbeat Dad, Lou, breaking a promise and leaving him, yet again.
25 years ago today, The Fresh Prince of Bel-Air aired the saddest scene ever.

I'm not crying, you're crying.
pic.twitter.com/Ud41nbUk6b

— Kevin Gross???????? (@BatmanR20) May 9, 2019
If you've got five minutes to spare, here's the more powerful complete scene:
Smith's performance as an abandoned and angry teen was so convincing, myths arose that he had actually gone off-script, tapping into the genuine emotions the scene evoked since he had been neglected by his actual father while growing up.
Fortunately, these rumors were totally false and only add credit to the stunning performance. Smith's father was actually a strong influence and participant in his son's life, encouraging him to pursue his dreams and passions at an early age.
Smith said in an interview with Reader's Digest:
"I told my parents I wanted to rap. They said, 'Rap?' My mother graduated from Carnegie Mellon. She thought college was the only way. My father could kind of see doing something differently. We agreed that I would take a year making music, and if it did not work out, I would go to college. That year we won the first Grammy given to a rap artist."
Smith's father remained close throughout his life and career until his passing in 2016; though, Smith emphasized on Ellen about the incredible influence he played up to the very end—teaching his son firsthand about loss and loving someone through the mourning.
At the other end of the spectrum, Smith has shown audiences amazing fatherhood qualities, the most notable of which probably being his portrayal of Chris Gardner in The Pursuit of Happyness.
The biopic follows a brilliant father struggling through a year of homelessness and taking any opportunity necessary, not only to achieve a stable career for himself but to provide for his son (played by Smith's actual son, Jaden).
Smith's role as Gardner strikes an immensely emotional chord, acknowledging the desire within all of us to be recognized for who we are and provide for those we love.
Similarly, in this age of social media, Smith has repeatedly been open about his lifelong desire to connect with and prioritize his actual children.
A few weeks ago, he logged in to Facebook to share a raw parenting moment regarding his eldest son, Trey. Their relationship has not always been an easy one. Smith's divorce from Trey's mother left a rift that took years of work to repair. He felt betrayed and abandoned.
Smith, however, has continued to pursue his son, resolved to become the father that Trey deserves.
Fatherhood looks different to everyone. Depending on what one sees on TV, film, or most of all, in one's relationship with their own father, expectations always fluctuate.
From Will Smith's onscreen performances to his role as an actual father, the good and not-so-good examples of fatherhood are obvious. However, in all of these instances, it's evident that priceless lessons are being learned.
Whether it's a son promising to be better than his deadbeat dad or a father coming to terms with his own shortcomings, Smith continually exemplifies the search for redemption and growth when it comes to fatherhood, which is all anyone can really ask for.